Honoring International Women of Courage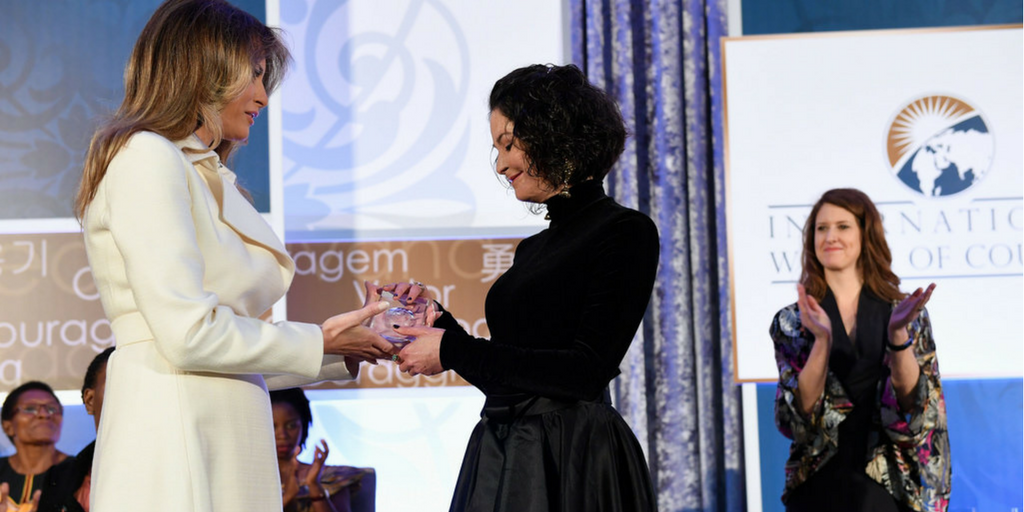 Acid attack. Forced marriage. Paralysis. Rape. Imprisonment.
"On the day of my attack, I died. But on that day, I was reborn from the ashes." ~ Natalia Ponce de Lion, Colombia
On March 29, 2017, I had the great privilege to attend the U.S. Secretary of State's International Women of Courage Award ceremony hosted by First Lady Melania Trump and Under Secretary of State for Political Affairs Thomas A. Shannon. This annual award recognizes women around the world "who have demonstrated exceptional courage and leadership in advocating for peace, justice, human rights, gender equality, and women's empowerment, often at great personal risk."
As I sat in the audience, I listened to story after story of 13 courageous women. And as I listened, my emotions ran deep.
Shock. Disgust. Despair. Humility. Inspiration.
Because as the stories unfolded, I was struck by one single fact; how an act of violence or repression against one woman can turn into hope for millions more around the world. As awardee Natalia Ponce de Leon from Colombia noted, after a near fatal acid attack, she had two choices: to stay indoors and mourn the loss of life as she knew it, or to being living a life dedicated to helping other victims.
And victims are plenty. The World Health Organization estimates that 1 in 3 of every woman around the world has been the victim of physical and/or sexual violence at some point in their lives. According to the Girls Not Brides initiative, 15 million girls under the age of 18 are married every year; that's 28 girls married every minute of the day. According to the Global Report on Trafficking in Persons, women and girls together account for about 70 per cent of all trafficking victims worldwide.
While international outrage regarding these statistics grows, the fact remains that all too often progress in combatting these societal ills remains hampered by weak systems of rule of law which fail to ensure women's equality, rights and protections, and often fail to provide justice for them. I have sat with many women around the world whose families, communities and countries have left them feeling less than equal, less than human, and devoid of justice.
It is often noted that "change must come from within." However, when it comes to women's rights, we can't expect that change to occur when women are rarely part of decision making processes that fail to establish the protections, equality and justice they deserve. Even though women represent 50% of the population, IPU data reveals that they represent only 23.3% of the national level legislatures across the world—with four national legislatures including no women at all. The average of women leading executive branches averages at 17% and women heads of government even lower. This should be concerning to everyone, not just women, because women's political leadership and representation in public office, affects all of society. Gains in this sphere have been linked to better public services, improved economies, higher literacy rates, and peace and stability, just to name a few.
However, while progress is being achieved, the gains have been slow. Women's access to public office remains unbalanced with male counterparts, and biases and stigmas against women's political participation remain. Our decades of work in this field has evidenced the power of coupling capacity building with confidence building. Even in highly developed, democratic countries, politics can be a very lonely place for women. To this end, in 2006, IRI launched the Women's Democracy Network to increase women's political activism and leadership, by linking women with their peers in other countries to share their challenges, their successes in overcoming them, and the motivation to never give up. WDN allows women a global support network. We are the voice for those whose voices are routinely silenced. We seek to lift up those who struggle under the weight of oppression. We understand the mantra that "strength is in numbers" because we have witnessed it firsthand.
So, to the 2017 International Women of Courage, I want to say thank you. Thank you for inspiring not only me, but millions of men, women and children across the world. Thank you for reminding us that every day is the opportunity to live for others, not for self.
To the reader of this blog, I encourage you to read the bios of these amazing women; hear their stories, and join us in supporting their efforts around the world. Together, we can make a difference.
Sharmin Akter, Activist Against Early/ Forced Marriage, Bangladesh
Malebogo Molefhe, Human Rights Activist, Botswana
Natalia Ponce de Leon, President, Natalia Ponce de Leon Foundation, Colombia
Rebecca Kabugho, Political and Social Activist, Democratic Republic of Congo
Jannat Al Ghezi, Deputy Director of The Organization of Women's Freedom in Iraq, Iraq
Major Aichatou Ousmane Issaka, Deputy Director of Social Work at the Military Hospital of Niamey, Niger
Veronica Simogun, Director and Founder, Family for Change Association, Papua New Guinea
Cindy Arlette Contreras Bautista, Lawyer and Founder of Not One Woman Less, Peru
Sandya Eknelygoda, Human Rights Activist, Sri Lanka
Sister Carolin Tahhan Fachakh, Member, Daughters of Mary Help of Christians (F.M.A.), Syria
Saadet Ozkan, Educator and Gender Activist, Turkey
Nguyen Ngoc Nhu Quynh, Blogger and Environmental Activist, Vietnam
Fadia Najib Thabet, Human Rights Activist, Yemen
"You may encounter many defeats, but you must not be defeated. In fact, it may be necessary to encounter the defeats, so you can know who you are, what you can rise from, how you can still come out of it." ~ Maya Angelou
Top