In 2003, 75 members of the opposition were arrested and condemned in Cuba; a time now called the Black Spring. The Cuban government believed that the wives, mothers and daughters of the political prisoners would remain silent, as they wouldn't want to cause more problems for their imprisoned loved ones. The regime could not have been more wrong.
From this crackdown, the Ladies in White were born.
At first they seemed like a small disjointed group. Distance separated the women and organizing the movement was a large undertaking. However, the Ladies' belief that Cuba deserved better overtook any feeling of fear.
In 2003, dressed in all white, the women marched in silence to the Church of Santa Rita, in Havana Cuba, with a gladiola in one hand, and a photo of jailed relatives in the other.
Since their first march 14 years ago, the Ladies in White have become a symbol of freedom. At the beginning, the women who joined were only protesting the imprisonment of their loved ones. Now, their movement has amplified and their mission has become larger. The Ladies in White are fighting to change the course of their country. They march in silence not only for their imprisoned family members, but for freedom and rights for all Cubans
Today, the 100 plus Ladies face increasing threats and violence. This past Sunday, the Cuban regime arrested nearly 50 Ladies in White in different parts of the country. Berta Soler, the leader of the Ladies, said both Cuba's Department of State Security and its National Revolutionary Police had "besieged the headquarters to prevent the ladies from entering, and assaulting" those who were inside.
The Ladies in White's determination for freedom and perseverance is why IRI is presenting them with the 2017 Freedom Award.
Established in 1995, the Freedom Award honors individuals who have worked to advance freedom in their countries and around the world. We honor the Ladies in White for the work they have done to fight for freedom the past 14 years. And we are proud to stand with them while they continue marching for liberty, freedom and a better Cuba.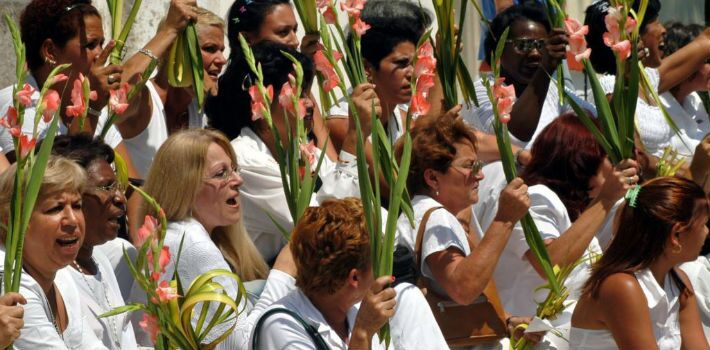 Top