I Am the Arab Women's Leadership Institute: Sora Alghazaly

The International Republican Institute established the Arab Women's Leadership Institute (AWLI) nearly one decade ago. Founded in 2008, AWLI has brought together over one hundred women across the Middle East and North Africa (MENA) region based on one simple principle: democracy in the Arab world cannot be achieved without the full participation of women.
This year, The Women's Democracy Network (WDN) brought together women leaders, mostly youth, from civil society and politics from eight countries across the MENA region. Through the summit, WDN advanced dual objectives by convening standout talent from the region. In connecting them with one another and providing skills-building opportunities that centered primarily on advocacy and community organizing, WDN provided a platform to build necessary awareness and buy-in for the next generation of AWLI leaders as well as enable the participants to better meet their own goals by providing them with a growing support network.
Name: Sora Alghazaly
Age: 33
Country: Iraq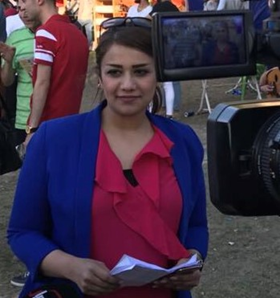 Top 3 things people should know about you?
I'm an Information Engineer and manager at the Institute for War and Peace Reporting (IWPR).
I am also a shareholder at New Horizon Beam (NHB) trading company.
I'm married and have three kids.
What is one highlight from your job?
Through my job, I am able to work with and encourage young women by supporting peace and reconciliation projects in underserved communities.
Why did you join AWLI & how long have you been a member?
I recently joined AWLI because I feel that it will empower me to achieve my goal of progressing women's rights in my country.
What is one of your favorite memories from participating in AWLI?
My favorite moment in AWLI was when we drew our mentors and shared their qualities with the rest of the group. My mentor has always taught me to exercise patience and never give up. Sharing these stories with the rest of the group made me feel affirmation and solidarity with the other women as many of us have shared similar experiences—I felt incredibly proud of their resilience.
What would you consider your biggest accomplishment?
My proudest accomplishments are establishing my own business and striking a balance between my own work and my volunteer work. Through my volunteer work I help Iraqi women and girls who were kidnapped, raped, abused, enslaved and forcibly displaced because of the Islamic State of Iraq and Syria's (ISIS) rule.
What does the word democracy mean to you?
It means freedom, and life is meaningless without freedom.
What does the word freedom mean to you?
Freedom means life.
If you could choose one place to live for a year where would it be?
I would live in London.
What is the best advice you were ever given?
Never give up. The conflicts we face in Iraq require patience and persistence.
Imagine you're stranded on an island. What are the three things you could not live without?
My computer with internet connection, my family and my friends.
Top