IRI took part in various inauguration events in Guatemala on Thursday, January 16.
Apart from the swearing-in of President Jimmy Morales, these included the opening of the 2016-2020 legislative session, observing the swearing in of the 2016-2017 Congressional Board of Directors and annual state of the nation address by outgoing president, Alejandro Maldonado. Maldonado stressed his limited, transitional role, one of statesman, in service to the nation in the midst of crisis. His discourse focused on the future, opportunities and challenges, not the ills of the past. Indeed, his testimony devoted only eight paragraphs to the institutional crisis that so engulfed Guatemala for more than six months.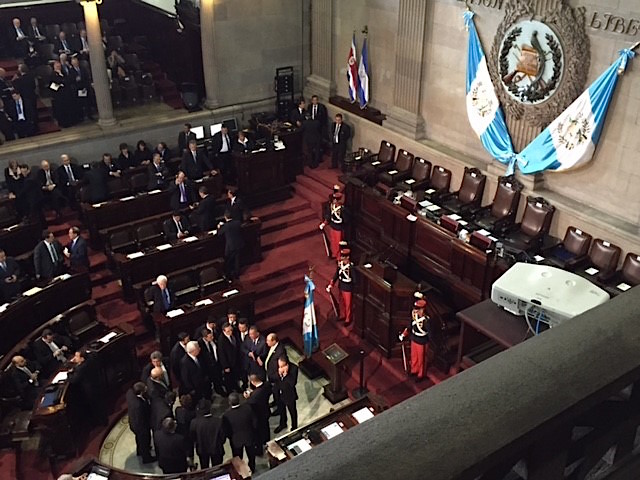 The newly installed Congress is diverse and divided, made up of 13 political parties, including 77 freshman members and 25 women, with at least two having a pending judicial case against them for corruption. The two legislators, both from the Libertad Democrática Renovada (LIDER- Renewed Democratic Liberty) party, assumed their posts, albeit temporarily, awaiting a final verdict from the Constitutional Court. As the country struggles with unprecedented levels of violence, legislators face the daunting task of strengthening institutions, reestablishing the rule of law, dealing with dwindling public coffers and much needed political and electoral measures such as civil service and state procurement reforms.
Congressional make-up is likely to change in the near term. While LIDER remains the largest party bloc, as many as 22 members are expected to switch with the creation of two new political movements, Movimiento Progresista and Alianza Ciudadana. One might expect the same in the former ruling party, Partido Patriota (PP). The art of transfuguismo (party-hopping) is still alive and well.
Meanwhile, membership of the newly installed Congressional Board of Directors—an administrative body—bodes well for the future of the institution. There is political party diversity with only opposition parties represented—Unidad Nacional de la Esperanza (UNE-National Unity of Hope), Movimiento Reformador (Reformist Movement), TODOS (Everyone), Renovación, Orden y Compromiso (CREO-Renovation, Order and Compromise), and Visión con Valores (VIVA-Vision with Values). This is a first for a Congress whose leadership has traditionally concentrated self-management in the hands of the governing party. On this occasion, the President's own Frente de Convergencia Nacional (FCN-National Convergence Front), with only 11 members, is in the minority. Not since 1992 has a sitting president failed to hold a majority in Congress. This presents both a challenge and opportunity for the Morales Administration which must push through much needed reforms. The honeymoon will be short, with negotiation and tact the requirement of the day.
The responsibilities facing the Congress and executive are vast. At his inauguration, Morales indicated his tenure would be focused on a more participatory democracy, rooting out and fighting corruption. Establishing citizen trust in government will be a top priority. His cabinet choices are a nod in the right direction. The cabinet is made up of technocrats and professionals with diverse backgrounds, including two women and a member of Guatemala's Garifuna (Afro-Caribbean) community. These newly minted officials do not represent any political faction, an opportunity for a fresh start, yet loyalty to the party and president will be diminished. President Morales, it seems, has heeded the call of his fellow citizens.
Throughout the coming year, IRI's CEPPS, Less Violence, More Inclusion project, will focus on building congressional capacity to help advance democratic reforms. It will seek to promote key measures in the areas of transparency, oversight and anti-corruption by providing technical assistance to various commissions. These include Transparency, Integrity, Legislative and Constitutional Issues, Finance, Human Rights, Economy, and Tax Collection, among others. IRI will work with its partners to develop a legislative transparency manual to enhance access to information and encourage the publication of information to keep citizens apprised of its work. Initiatives will also include supporting development of a legislative agenda with an emphasis on human rights for the LGBTI community. A busy year lies ahead. One complete with opportunities to enhance governance and democratic practice.
Top