With Iraq's next parliamentary elections scheduled for October 10, this five-part series highlights the critical voter education and mobilization work that IRI's partners throughout the country are undertaking. Against a flood of misinformation about Iraq's electoral system and how ballots are cast and counted, Iraqi citizens distrust many political institutions that have promised to deliver a better future. Through our programs, IRI works with committed civic organizers and democracy-focused civil society organizations that seek to encourage voter turnout and educate voters about their rights, responsibilities, and the democratic framework under which they live. Here is the third of five columns highlighting citizen empowerment ahead of the October 2021 elections.
Baghdad Master Trainers Link the Independent High Electoral Commission with Potential Election Monitors: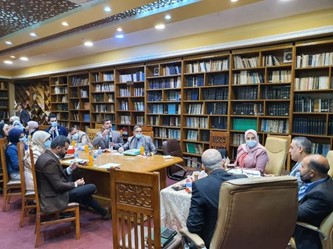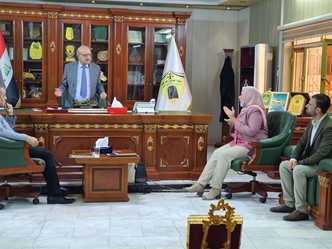 In May of this year, IRI's Baghdad-based Master Trainers (MTs) held a community dialogue with the Independent High Electoral Commission (IHEC) and the Iraqi Bar Association. The IHEC was represented by their head of media in the Karkh office in Baghdad and two senior trainers during the meeting. Twenty-three lawyers from Baghdad, including nine women, and the head of the Iraqi Bar Association, Dhya'a, a known supporter of the Tishreen protests, attended the meeting. This event provided the opportunity for both parties to communicate with influential community members about their efforts to implement fair and transparent parliamentary elections in October 2021. The head of the Iraqi Bar Association seized this opportunity and asked one of the Master Trainers to connect him with the IHEC to involve and train lawyers in an election monitoring program they wanted to organize.
According to Dhya'a, this election needs new types of observation and monitoring to produce legitimate and verifiable results. Subsequently, the Iraqi Bar Association created a list of at least 50 lawyers from all Iraqi provinces for the IHEC National Office. With this, the IHEC plans to issue monitoring badges to these lawyers and enlist them in election monitoring trainings. The Iraqi Bar Association also negotiated with IHEC to receive five more monitoring badges, expanding their reach. More election observers can positively impact elections – both encouraging voters to turn out as they know that independent observers are keeping an eye on parties and the IHEC – as well as contributing post-election to public discussions and media coverage based on their first-hand experience poll watching. This new relationship is a success for Iraq and supports IRI's project objective of creating better engagement with government officials and advocating for community needs. This activity exceeded expectations because it was developed and initiated by the MTs and was made possible by the knowledge they gained and the connections developed during IRI trainings and program activities.
Click to read part one and part two of the series.
Top