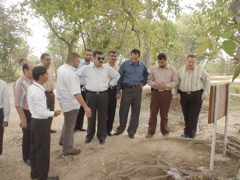 A delegation, representing 10 political parties in Iraq, arrived in Cambodia on March 24, to serve as election monitors for Cambodia's commune council elections on April 1. The Iraqis are part of the Committee for Free and Fair Elections in Cambodia's (COMFREL) election monitoring effort and the International Republican Institute (IRI) helped organize the trip for the Iraqi delegation.
As part of COMFREL's election monitoring efforts, the Iraqis and other monitors have meet with representatives of Cambodia's political parties, civil society, the National Elections Commission and members of the media. They have also been briefed on the rights and responsibilities of election's observers and Cambodian election law.
On Election Day, the Iraqi delegation will accompany COMFREL monitors to eight provinces across Cambodia – Batan Menchay, Battambang, Kampong Cham, Kandal, Kratie, Phnom Penh, Prey Veng ans Sray Veng. Monitors will visit polling stations to identify and evaluate strengths and weaknesses in Cambodia's election system, including campaign regulations, the balloting process, vote tabulation and reporting.
In addition to assisting COMFREL in their election monitoring efforts, the Iraqi delegation will gain first had experience at monitoring elections. The trip also allows the Iraqis to learn how Cambodia is transitioning from a post-conflict society to a democracy.
Members of the Iraqi delegation include representatives from the Assyrian Democratic Movement, Daawa Party, Kurdistan Democratic Party, Iraq Islamic Party, Kurdistan Islamic Union, Iraq National Accord, Iraq Turkomen Front, Islamic Virtue Party, Patriotic Union of Kurdistan and Supreme Council of Islamic Revolution in Iraq.
IRI, nor its staff, are serving as election monitors. Statements and findings of COMFREL monitors and the Iraqi delegation are theirs and should not be attributed to IRI. IRI supports the rights of independent groups to monitor elections to ensure openness and transparency.
Top