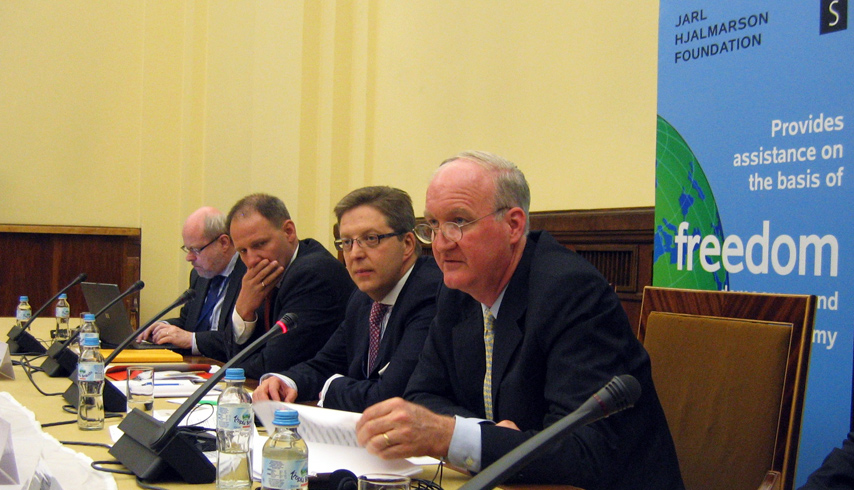 The president of the International Republican Institute (IRI), Lorne Craner, along with IRI Board Member Ambassador Richard S. Williamson, joined more than 3,000 delegates in Warsaw, Poland from April 28-30 at the European People's Party (EPP) party congress. The trip further broaden and deepen IRI's relationships with partner parties across Europe. Under the banner of the European Partnership Initiative (EPI), IRI has seen its ties grow with the EPP, and its member parties, in a wide range of areas that have greatly assisted IRI in its democracy assistance efforts around the globe.
At the party congress, Craner spoke on IRI's experience in democracy programming in Belarus as part of a seminar organized by the EPP, its new Center for European Studies (CES), and the Swedish Jarl Hjalmarson Foundation. Williamson presented an analysis of the impact of the economic crisis on US economic, trade, and foreign policy in a half-day session on European foreign policy and trans-Atlantic relations for the CES International Visitors Program.

As a result of the congress, agreements were also reached with the four European party foundations and institutes with which IRI has worked most closely in its democracy programming in Europe and around the world. Based on these discussions, IRI plans to sign memoranda of understanding with the Political Academy of the Austrian People's Party, the Eduaro Frei Foundation of the Christian Democratic Appeal of the Netherlands, FAES of the Partido Popular of Spain, and the Constantinos Karamanlis Institute for Democracy of the New Democracy Party of Greece. In each case, a memorandum of understanding would outline areas within which these organizations and IRI are currently working together on joint efforts and suggest possible future collaborative projects.
During the course of the congress, the IRI delegation held more than 20 bilateral meetings with partner-party leaders as well as representatives of European party foundations, IRI's closest partners in Europe. Meetings with party leaders included those with Prime Minister Sali Berisha of Albania; Vice Chancellor Josef Proll of Austria; Mayor of Sofia Boyko Borisov and Citizens for the European Development of Bulgaria Party Chairman Tsvetan Tsvetanov of Bulgaria; Prime Minister Ivo Sanader of Croatia; former Prime Minster Mart Laar of Estonia; Union for a Popular Movement Secretary General Xavier Bertrand of France; Prime Minister Nikola Gruevski of Macedonia; Prime Minister Jan Peter Balkenende of The Netherlands; Hoyre Chairwoman Erna Solberg of Norway; former Prime Minister Mikulas Dzurinda of Slovakia; Christian Democratic Movement Chairman Pavol Hrusovsky of Slovakia; and former Prime Minister Janez Jansa of Slovenia. Each of these parties has now taken part in IRI programs and projects in Europe and elsewhere, including, for example, Mexico, Jordan, Iraq, Belarus and Turkey.
Top