IRI Builds Political Momentum to Counter Municipal Vulnerabilities to Corruption in Bulgaria
The International Republican Institute's (IRI) Bulgaria team held a national anticorruption conference, "Combatting Vulnerabilities to Corruption at the Municipal Level," on July 19-20, in the capital city of Sofia. The conference built upon IRI's report, "Assessing Municipal Vulnerabilities to Corruption in Bulgaria: An Examination of Ten Bulgarian Municipalities," and polling in those municipalities. With the signing of a municipal anticorruption pact – an object of substantial media coverage, and an in-depth exchange of know-how – the conference managed to secure public commitment to anticorruption and transparency by local government as well as civic energy for the upcoming anticorruption reform agenda writing process.
Despite the salience of anticorruption at the national level, it has long been overlooked at the local level, including by foreign NGOs. To address this problem, IRI's program has managed to secure buy-in from mayors of the ten participating municipalities that span the four corners of the country, selected on the basis of their geographic location, local politics, economic profile, population, and demography. IRI has overcome programmatic challenges created by the sensitivity around discussing corruption, limited municipal government experience, and low citizen participation through its programmatic approach detailed below.
IRI first connected the dots for local government and nongovernment stakeholders by showcasing vulnerabilities to corruption and how these undermine public trust in municipal institutions through IRI's Vulnerabilities to Corruption Approach (VCA). To ensure validation and consensus-building on identified vulnerabilities, IRI established a working group in each municipality, comprised of government (representatives of the mayor's team, the administration and the council) and nongovernment representatives (local CSOs, civic activists, journalists, business associations).
Municipal polls, conducted in parallel to the VCA, showed over 50% of citizens perceived municipal corruption as a serious or very serious problem. Briefing mayors and working groups on poll results raised awareness of the strong public opinion on municipal corruption, transparency, and adjacent issues. IRI created a tangible energy for change through its national anticorruption conference to go from creating consensus and demonstrating public perceptions to writing and adopting anticorruption reform agendas.
Most significant was the signing of the municipal anticorruption pact during the conference, which constitutes an unprecedented commitment by the mayors of ten Bulgarian municipalities to work toward more transparency and anticorruption measures. It turned the conference into a watershed event as it showed mayors' acknowledgement of the challenges and support to address them through reforms.
It is this public commitment that provides impetus for the working groups to design reform agendas in the upcoming months, knowing that these documents will not fall on deaf ears. The pact also provides a basis to hold local governments accountable for adoption of the designed reform agendas, and it empowers local civil society organizations (CSOs) to ensure that reform agendas correspond to the principles of the pact.
The conference contributed to normalizing the debate on corruption in a non-partisan, principled, and pragmatic way. Ten mayors and deputy mayors came together for a panel discussion on the state of municipal transparency and anticorruption. The overall atmosphere of the event allowed for a candid discussion of common challenges and good practices. Through conference panels, participants benefitted from hearing about the experience of reform leaders in other EU municipalities, as well as resources provided by international networks. National and international CSO experts on transparency and citizen participation provided reform ideas to working group members. Breakout sessions allowed participants across municipalities to exchange views and create a network of like-minded reformers.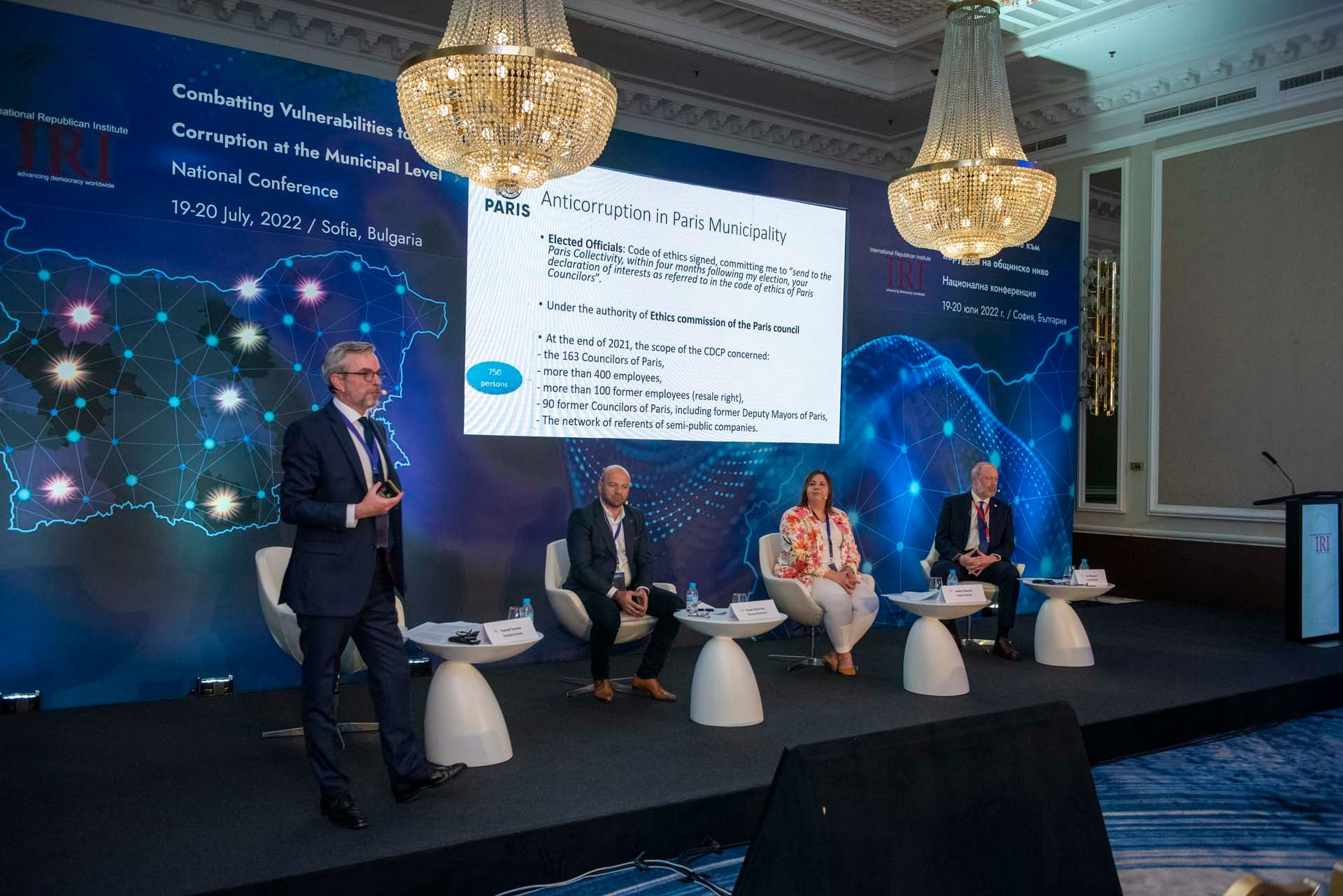 Finally, US Ambassador Herro Mustafa's opening remarks, as well as attendance by national members of parliaments and political party representatives, contributed to the sense of national and international backing and support for meaningful change. Now, with political energy generated from its national anticorruption conference, IRI will be helping municipal working groups draft reform agendas that translate political will into political action.
Top