Brussels, Belgium – IRI and the Centre for European Studies (CES), the think tank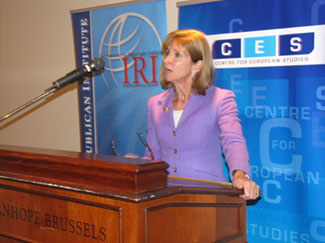 Dobriansky delivers the keynote address.f the European People's Party (EPP), organized a high level conference on transatlantic relations on October 12-13 in Brussels. Entitled The Future of the West: Transatlantic Relations in a More Difficult Global Environment, the conference brought together elected officials, policy experts and think tank analysts from Canada, Europe and the United States (view photos from the conference).
The conference examined some of the key challenges facing western democracies, among them the halting recovery from the financial and economic crisis, protectionist tendencies that threaten international trade, shifts in economic and political power to China, Russia, and other emerging powers, and the global threat of terrorism. The conference also examined the state of global democracy promotion, which in many parts of the world has faced increasingly sophisticated pushback from autocratic regimes. Meanwhile, the relationship between the United States and Europe has been under strain for many years.
Former Undersecretary of State Paula Dobriansky was the keynote speaker at the conference. In a wide ranging talk, Dobriansky posed and answered a series of questions facing democracies on both sides of the Atlantic. Former Congressman and IRI Board member Jim Kolbe, currently the Senior Transatlantic Fellow at the German Marshall Fund of the United States, was the opening and closing speaker, and gave an additional address on the future of NATO.
In addition to Dobrianksy, Kolbe and IRI President Lorne Craner, IRI's delegation from North America included Scott Carpenter of the Washington Institute, Brian Lee Crowley of Canada's MacDonald Laurier Institute, Seth Cropsey of the Hudson Institute, Mark Milke of Canada's Fraser Institute, Myra Miller of the Winston Group, and John Noonan from Foreign Policy Initiative. Europe's top policy institutes and think tanks were represented, including participants from Austria, Belgium, Estonia, Finland, France, Germany, Greece, Hungary, the Netherlands, Norway, Romania, Spain, Sweden and the United Kingdom.
Senior European officials taking part included Wilfried Martens, former Belgian Prime Minister and President of the EPP; Antonio Lopez-Isturiz, a Spanish Member of the European Parliament and Secretary General of the EPP; Tomi Huhtanen, Director of CES; Roland Freudenstein, CES Research Director; and Klaus Welle, Secretary General of the European Parliament.
The aim of the conference was to assess the transatlantic relationship one year after the entry into force of the Lisbon Treaty, which has fundamentally remade the governing structures of the European Union. Participants were emphatic about the ongoing desirability of a strong and unified West, as opposed to fashionable theories about the "End of Atlanticism."
IRI and the EPP have partnered on a number of initiatives over the past five years; the Brussels conference was the first formal cooperation between IRI and CES. The institutes agreed to hold similar conference in Washington, DC in 2011, with the aim to make the transatlantic gathering an annual event.
Top