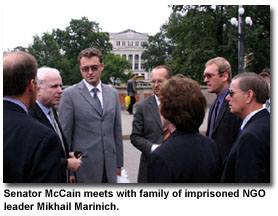 IRI Chairman Senator John McCain (R-AZ), along with Senators Susan Collins (R-ME), Lindsey Graham (R-SC), and John Sununu (R-NH), traveled to Latvia to meet with members of the Belarusian opposition.
Senator McCain and his colleagues were prevented by Belarus officials from visiting Belarus. At a press conference in Riga on August 21, 2004, Senator McCain reiterated IRI's emphatic support for the democratic leaders in the upcoming October parliamentary elections and that, regardless of the outcome, IRI would continue its engagement in the democratic development of the former Soviet state.
Following the meeting, Senator McCain held a press conference during which he condemned the Belarusian government for arresting and attacking opposition activists during the campaign period.
"President Alexander Lukashenko has manipulated the constitution to solidify his control," McCain said. "He has ordered the disappearances of opposition activists and journalists. He runs Belarus as if it was the Soviet Union, instilling a climate of fear, repression and arbitrary rule."
After the press conference, Senator McCain met with the family of opposition leader Mikhail Marinich who is being held in a Belarusian prison without charges.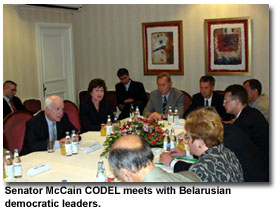 Top