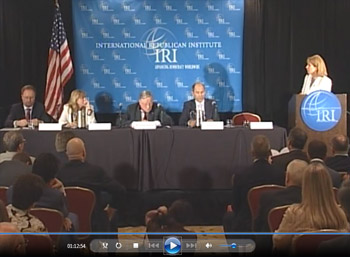 IRI, in cooperation with the Ronald Reagan Presidential Foundation Centennial Celebration,commemorated the anniversary of President Ronald Reagan's 100th birthday with a panel discussion that looked at the impact President Reagan had on the spread of democracy in Central and Eastern Europe and the former Soviet Republics.
The May 23 event featured a panel discussion moderated by Ambassador Paula J. Dobriansky, former Under Secretary of State for Democracy and Global Affairs and the Distinguished National Security Chair at the U.S. Naval Academy. Panelists were Janez Janša, former Prime Minister of Slovenia and President of the Slovenian Democratic Party; Roman Joch, Executive Director of the Civic Institute in the Czech Republic and Special Advisor to the Prime Minister for Foreign Policy and Human Rights; Vytautas Landsbergis, Lithuania's first Head of State following independence from the Soviet Union and a member of the European Parliament; and Maria Schmidt, Executive Director of the House of Terror Museum in Hungary and former Special Advisor to the Prime Minister.
The event opened with each panelists talking not only about what President Reagan meant to them personally, but what advice Reagan would give today.
Janša spoke first and talked of his life in the former Yugoslavia. He talked of his imprisonment and the protests that followed. "Tens of thousands came to the streets, they demanded a fair trial for us, they demanded human rights and also they demanded free elections."
Reminding the audience that Reagan had challenged communist governments to let their citizens' vote if they were so confident in their system, Janša talked about how the President's words where written on posters carried throughout the protest. He went on to say, "When the United States and President Reagan stood-up for the universal value of freedom…this was the beginning of the fall of communism and this was the beginning of the end of the Cold War."
Landsbergis spoke next. He said of Reagan, "He was convinced that slavery for a human being or an entire captive nation was an evil…and he acted of a man of conviction, consistently weakening the wall of communism's prison."
Landsbergis went on to comment that if Reagan were with us today he would reject the idea that a country without the rule of law was a democracy, and the idea that non-western, specifically Muslim, countries were sentenced to not become democracies because of their civilization.
In her remarks, Schmidt recalled how the communist controlled media in Hungary reacted to Reagan's election. "The contemporary Hungarian press described him as a war monger putting our planet in dire danger…American presidents have never had a good press in communist Hungary, but Reagan was getting adjectives that were offending common sense. We understood immediately what that meant, they were afraid of him, which filled us with hope."
Joch spoke last, commenting that Reagan was the first American president that didn't just wish to co-exist with communism, he wish to destroy it. "Communism did not collapse on its own…There was a very defiant and sustained pressure in the 1980s, generated by Ronald Reagan. That is why he is our liberator and that is why people in Central and Eastern Europe are free now."
At a luncheon following the panel Alexey Semyonov, son of Andrei Sakharov and Elena Bonner, spoke. Reading a letter written by his mother, Yelena Bonner, Semyonov said, "Democracies are capable of achieving great things – the greatest in the history of mankind – but they need leaders that inspire such achievements. Ronald Reagan was such a leader."
The luncheon also featured IRI board member Congressman David Dreier and Stewart McLaurin, Executive Director of the Ronald Reagan Centennial Celebration.
Biographies of event speakers:
Congressman David Dreier (CA-26) was first elected to Congress in 1980 on a platform of free markets, limited government, strong national defense and personal freedom. Throughout his service in the House of Representatives, Dreier has remained true to these principles as he has worked to secure the border, keep taxes low and promote democracy abroad. He became a member of the House Leadership in January 1999 when he was named Chairman of the House Rules Committee. Dreier is also a member of the Council on Foreign Relations and has served on IRI's Board of Directors since 1990. He is the founding chairman of the House Democracy Partnership, which works directly with the legislatures in 12 countries around the globe, helping to build democratic institutions in new and re-emerging democracies.
Ambassador Paula J. Dobriansky holds the Distinguished National Security Chair at the U.S. Naval Academy. She is also an adjunct Senior Fellow at Harvard University's JFK Belfer Center for Science and International Affairs and is Senior Vice President and Global Head of Government and Regulatory Affairs at Thomson Reuters. From May 2001 to January 2009, she served as Under Secretary of State for Democracy and Global Affairs; in February 2007, she was appointed the President's Special Envoy to Northern Ireland. Other government positions include serving on the Presidentially-appointed U.S. Advisory Commission on Public Diplomacy and Director of European and Soviet Affairs at the National Security Council, the White House during the Reagan administration. She received a B.S.F.S. summa cum laude in International Politics from Georgetown University School of Foreign Affairs and an M.A. and Ph.D. in Soviet political/military affairs from Harvard University.
Janez Janša began writing and speaking about conditions in the Yugoslav People's Army in the early 1980s. His work, labeled counter-revolutionary, brought him to the attention of the regime and he was kept under strict surveillance by the state security service. In 1988 he, and three others, were arrested and tried for exposing military secrets. The trail led to large-scale protests against the regime marking the beginning of the Slovenian Spring. In 1989, Janša helped found the Slovenian Democratic Alliance, one of the first opposition parties in Slovenia. After a coalition of democratic parties defeated the Communists in Slovenia's first free elections in 1990, he was named Minister of Defense, a position he held during Slovenia's war for independence. In 1993 he was elected president of the Social Democratic Party of Slovenia (later renamed the Slovenian Democratic Party). In 2004, Janša was elected Prime Minister of Slovenia after his party won the general elections. Today, Janša is leader of the opposition in Slovenia's parliament.
Dr. Roman Joch was born a little more than three years after the Prague Spring, growing up in Banska Bystrica, Czechoslovakia in the early 1980s. In the period that would come to be the last gasp of Communism in Czechoslovakia, Joch was a high school student in central Slovakia. He subsequently moved to Prague, where he studied medicine and was a member of the student movement involved in the Velvet Revolution of 1989. After graduating, Joch worked as Foreign Affairs Secretary of the Civic Democratic Alliance from 1994-1996. He joined the Civic Institute full-time in 1996 and soon became a well-known commentator and lecturer. Joch was named Executive Director of the Civic Institute in 2003. In August 2010, Joch was named Special Advisor for Human Rights and Foreign Affairs by Prime Minister Petr Nečas.
Dr. Prof. Vytautas Landsbergis was one Lithuania's leading musicians and music scholars before the changes that led to the fall of Communism and independence. His political engagement for a free Lithuania began in 1988 when he played a key role in the founding of the Lithuanian Reform Movement called Sąjūdis. After Sąjūdis' victory in the 1990 elections, Landsbergis became President of the Supreme Council of Lithuania and presided over the session of parliament which proclaimed Lithuania's independence from the Soviet Union. In 1993, he helped found a new political party, the Lithuanian Conservative Party-Homeland Union, which won the 1996 parliamentary elections. From 1996 until 2000, Landsbergis served as the Speaker of the Lithuanian Parliament. Still active in politics, Landsbergis is a Member of the European Parliament and a signatory to the Prague Declaration.
Dr. Maria Schmidt spent the 1980s working on her doctoral dissertation on the Austro-Hungarian Monarchy and held a series of scholarships for the study of the situation of Hungarian and East-Central European Jews in Budapest. A prolific writer and lecturer, Schmidt has also served as Chief Advisor to Hungarian Prime Minister Viktor Orbán (1998-2002), Director of the Institute of the Twentieth Century (1999-present), Director of the Institute of the Twenty-first Century (2000-present), and Director of the House of Terror Museum (2002-present).
Top