IRI Delegation Travels to Burma, Launches Program, Meets with Burmese Leaders and Citizens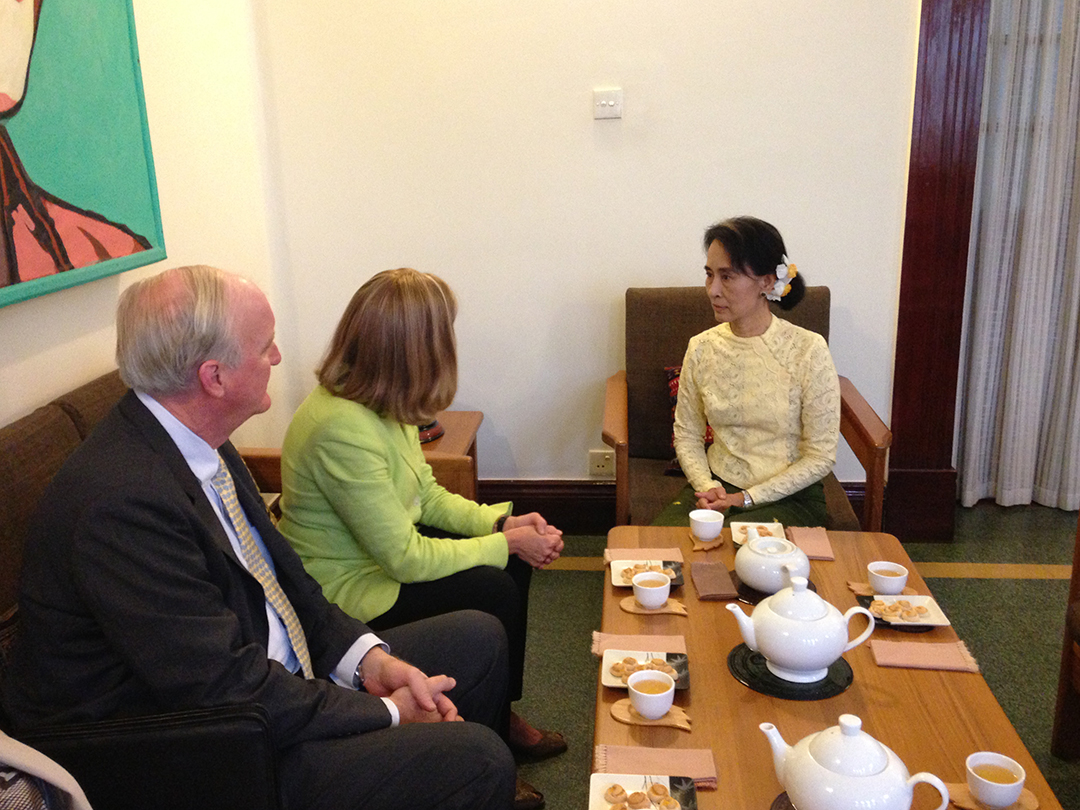 "While international focus is rightly encouraging the reform process in Burma, it will be Burmese citizens who will help shape the rate of change and the types of change they wish to see," said Ambassador Paula Dobriansky during a visit to Burma hosted by IRI.
Dobriansky, former Under Secretary of State for Democracy and Global Affairs, led an IRI delegation that visited Burma June 17-21 to officially launch IRI's political party and civil society programming inside Burma, and meet with Burmese leaders, including Daw Aung San Suu Kyi. Other members of the delegation were Lorne W. Craner, President of IRI, and Julija Belej Bakovic, Director of IRI's Asia programs.
During their meeting with Daw Suu the delegation heard her perspectives on Burma's transition process and discussed how IRI's programming fits into the long-term strategic goals of the National League for Democracy (NLD).
On June 19, the delegation officially launched IRI's programs inside Burma at an event entitled "Priority Issues Surrounding the Formation of Representative Democracy." The event brought together a diverse selection of political stakeholders including representatives from 38 political parties and civil society organizations. During the event, Dobriansky and Craner led a discussion on the importance of developing strong democratic institutions as part of the ongoing reform process, as well as the need for dialogue among political stakeholders to enable them to identify and build consensus on important issues surrounding the formation of representative democracy. As part of the discussion the speakers fielded question from participants on important issues such as national reconciliation, constitutional reform and women's political participation.
As a part of the delegation's visit to Burma, Dobriansky and Craner also participated in an event held at the American Center in Rangoon. The event "Democratic Transitions in a Diverse Society: Challenges and Opportunities" included a panel discussion led by Dobriansky and Craner and discussed the importance of dialogue among political parties, civil society, government and citizens to ensure a successful democratic transition within a diverse society. During the discussion, Dobriansky provided practical examples of successful transitions and discussed how diverse societies can cope with the challenges and embrace the opportunities of their population.
Speaking on the importance of democratic governance, Craner said, "The development of a transparent, accountable, representative government responsive to the needs of the people is critical for a successful democratic transition."
The visit also provided an opportunity for the IRI delegation to experience first-hand Burma's fluid and transitioning political and economic environment and gain insight from relevant stakeholders on their perceptions and understandings of the transition process. During their visit the IRI delegation met with a range of political parties, including ethnic political parties, the main opposition NLD and the governing Union Solidarity and Development Party.
The delegation had the opportunity to learn more about the burgeoning role of civil society organizations in Burma and gain insights on the ongoing peace negotiation process through meetings with groups such as the Myanmar Peace Center and representatives of the Generation 88 Students group. In addition, the delegation met with U.S. Ambassador Derek Mitchell and Chris Milligan, United States Agency for International Development (USAID) Mission Director in Burma.
IRI has worked in Burma since 1992. Since February 2012, IRI has been able to conduct direct programming inside Burma for political parties and civil society organizations and conducted an assessment of the 2012 by-elections with support from USAID.
IRI is a partner for USAID's electoral and political processes assistance program, a three-year effort to assist Burma in the run-up to general elections slated for 2015. IRI also receives funding from the National Endowment for Democracy to support policy discussions between political stakeholders on topics essential to the developing Burma's democracy.
Top