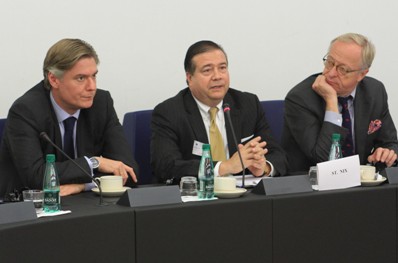 As part of IRI's efforts to expand relations with the European Parliament and the European People's Party (EPP), Stephen B. Nix, Director of IRI's Eurasia programs, traveled to Strasbourg, France on October 23, 2012, to brief the EPP Group's Working Group on European Union Enlargement, Neighbourhood Policy and Euronest on IRI's work and elections in Georgia and Ukraine. The Working Group is chaired by Gunnar Hökmark, a Member of the European Parliament (MEP) from Sweden.
In his presentation, Nix discussed the impact of Georgia's October 1, 2012 parliamentary elections on Eastern Europe and the outlook for Ukraine's October 28, 2012 parliamentary elections. Nix specifically emphasized the importance of the Georgian election as it was the first peaceful transfer of power in the Caucasus republic. In Ukraine, Nix noted, the jailing of the major opposition figures created an uneven playing field favoring the ruling party.
Also attending the briefing were Vytautas Landsbergis, an MEP from Lithuania and the first head of state of Lithuania after its independence from the Soviet Union; Alojz Peterle, an MEP from Slovenia and the former Prime Minister of Slovenia; Jerzy Buzek an MEP from Poland, former Prime Minister of Poland and former President of the European Parliament; Antonio López-Istúriz White, an MEP from Spain and Secretary General of the EPP; and Monica Luisa Macovei, an MEP from Romania and the former Minister of Justice of Romania. Štefan Füle, the European Commission's Commissioner for Enlargement and European Neighbourhood Policy also briefed the Working Group.
In addition to his presentation to the Working Group, on November 16, 2012, Nix also briefed the U.S. Helsinki Commission, chaired by Congressman Christopher H. Smith (NJ) and co-chaired by Senator Benjamin L. Cardin (MD), on the obstacles Ukraine's October 28, 2012 parliamentary elections pose to the country's democratic development.
In that briefing Nix said, "Unless and until Ukraine improves the environment in which campaigns are conducted, it will not be considered a full democracy and will not be able to fully integrate into Euro-Atlantic structures."
Top