IRI Honors Former Secretary of State James Baker with Freedom Award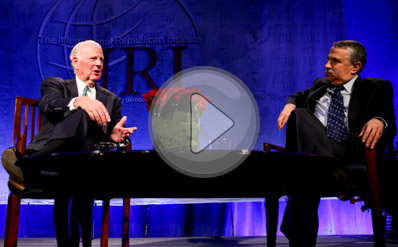 IRI honored former Secretary of State James A. Baker, III with its 2011 Freedom Award for his exemplary public service and his work in international diplomacy which resulted in freedom for millions at an event in Washington, DC on November 10. The event featured a conversation with Secretary Baker moderated by Thomas L. Friedman, who covered the Secretary from 1989-1992 as chief diplomatic correspondent for The New York Times.
Former Secretary of State Lawrence Eagleburger, who served on IRI's Board of Directors before he passed away in June, was posthumously honored at this year's event for his years of service to America and IRI. His sons Drew and Jason were on hand to accept the award on behalf of their family.
In presenting the Freedom Award to Secretary Baker, Senator Graham highlighted the importance of IRI's work stating, "I believe what we do in Iraq and Afghanistan and throughout the world does make a difference, and sometimes a USAID [U.S. Agency for International Development] project can have greater impact then a brigade of troops."
Of Secretary Baker, Senator Graham went on to say, "He was the right guy at the right time in so many circumstances and he has served our country in so many ways…When it comes to spreading freedom, you have done more than your fair share and when it comes to setting a standard, you are a role model."
In accepting the award, Secretary Baker thanked IRI and thanked the evening's guests for their support of IRI. "Thank you for supporting this wonderful institution and the good that it does around the world."
During the conversation the Secretary and Freidman discussed how the job of Secretary of State has changed over the years and how changes in the media landscape has impacted it, the success of President George H.W. Bush's national security team, what needs to be done to address the Arab-Israeli conflict, advice to Secretary Baker's successors on being successful negotiators, the European debt crisis, the Arab Spring, the rise of China, how to address the U.S. debt crisis, how to deal with Iran and its nuclear ambitions, and the U.S. political landscape.
James A. Baker, III has an accomplished career in public service and politics. Among his many appointments, he served in senior government positions under three United States presidents. He served as Secretary of State from January 1989-August 1992 under President George H.W. Bush; as Secretary of the Treasury from 1985-1988 under President Ronald Reagan and as Chairman of the President's Economic Policy Council; and as White House Chief of Staff to
President Reagan from 1981-1985.
Baker's record of public service began in 1975 as Under Secretary of Commerce to President Gerald Ford. It concluded with his service as White House Chief of Staff and Senior Counselor to President Bush from August 1992-January 1993. Baker led presidential campaigns for presidents Ford, Reagan and Bush over the course of five consecutive presidential elections from 1976-1992.
During his tenure as the nation's 61st Secretary of State, the Soviet Union dissolved, ending the Cold War. Baker worked to ensure the United States played a lead role in the democratization of the newly freed former Soviet-bloc nations, and laid the groundwork for the 1990 unification of Germany. That year, he helped forge the international coalition that forced Saddam Hussein from Kuwait, restoring that nation's sovereignty. He was also the architect of the 1991 Madrid Peace Conference, which for the first time brought Israel together with neighboring Arab countries for face-to-face peace talks.
In 1993, Baker founded the James A. Baker III Institute for Public Policy at Rice University. From 1997-2004, he served as the Personal Envoy of the United Nations to seek a political solution to the conflict over Western Sahara. In 2003, at the request of President George W. Bush, he served as Special Presidential Envoy to restructure Iraq's sovereign debt. In 2005, he and President Jimmy Carter chaired the bi-partisan Commission on Federal Election Reform. In 2006, Baker and Congressman Lee Hamilton chaired the Iraq Study Group, which offered a bi-partisan plan for a way forward in the war-torn country. In 2008, he and the late Secretary of State Warren Christopher served as co-chairs of the National War Powers Commission.
A native Houstonian, Baker graduated from Princeton University in 1952. Following two years of active duty as a lieutenant in the United States Marine Corps, he received his J.D. with honors in 1957 from The University of Texas School of Law at Austin and practiced law with the Houston firm of Andrews and Kurth from 1957-1975. Baker is presently a senior partner in the law firm of Baker Botts.
Friedman is the author of six bestselling books, among them From Beirut to Jerusalem and The World is Flat. He is the recipient of three Pulitzer Prizes: the 1983 Pulitzer Prize for international reporting (from Lebanon), the 1988 Pulitzer Prize for international reporting (from Israel) and the 2002 Pulitzer Prize for distinguished commentary. In 2004, he was also awarded the Overseas Press Club Award for lifetime achievement and the honorary title Order of the British Empire (OBE) by Queen Elizabeth II. In 2009, he was given the National Press Club's lifetime achievement award. Friedman is currently the foreign affairs columnist for The New York Times.
Top