Washington, DC – Last night, IRI took time to honor a few of democracy's greatest heroes, Speaker John A. Boehner, Dr. Mo Ibrahim and Boris Nemtsov. Each have been strong advocates for democracy, freedom and good governance at a time when those ideals are under attack around the world.
The evening began with the Freedom Award presentation to Speaker Boehner by Senator John McCain, chairman of IRI's Board of Directors. In his remarks, McCain highlighted the support Speaker Boehner has given to democrats around the world and praised his support of Ukraine against Russia's invasion. "Speaker Boehner has spoken out against Russian aggression; helped pass the Ukraine Freedom Support Act; and worked to strengthen ties with countries in Europe to stand against Russia's belligerence."
In his acceptance speech, Speaker Boehner recognized the important work of IRI saying, "A generation ago, in his speech to the British Parliament, President Reagan called for a 'crusade for freedom.' Well this is it. It is happening. And this is why IRI is so important. Because freedom is a powerful idea, but even a great idea is not enough. We know you can't just issue a declaration, and claim there's freedom. You can't just have an election, and call it a democracy. It all takes time and tremendous vigilance."
The evening's next honoree was Sudanese philanthropist Dr. Mo Ibrahim, who was honored for his service and commitment to transparency, accountability and good governance on the African continent. The Honorable Constance Berry Newman presented the award to Dr. Ibrahim highlighting his work through the Mo Ibrahim Foundation and his work to engage African youth in the governance of their countries. Newman quoted Ibrahim saying, "Dr. Ibrahim has rightly said, Africa will only fully reap the benefits of its youth if its decision-makers listen to young people, engage with them and provide them the education, skills and support they need to prosper."
Newman also announced the formal launch of Generation Democracy, a new global youth network that equips young men and women with the leadership skills necessary to become the next generation of democratic actors in their communities and countries. Inspired by Dr. Ibrahim, Generation Democracy has already grown into a global coalition of committed, politically active young people and more than 200 youth organizations with the drive to make a difference in their communities.
The evening featured two surprises. Ambassador Mark Green, president of IRI, and Ken Wollack, president of the National Democratic Institute, honored Barbara Haig for 30 years of service at the National Endowment for Democracy.
The second surprise of the evening was the announcement that IRI will name a conference room in its offices after Senator McCain. Senator Mark Kirk, a member of IRI's Board of Directors, presented Senator McCain with a picture of a painting by Vietnamese artist Tran Quang Thai of a memorial to McCain at Trúc Bạch Lake where McCain was shot down on October 26, 1967. The painting will hang in IRI's new conference space.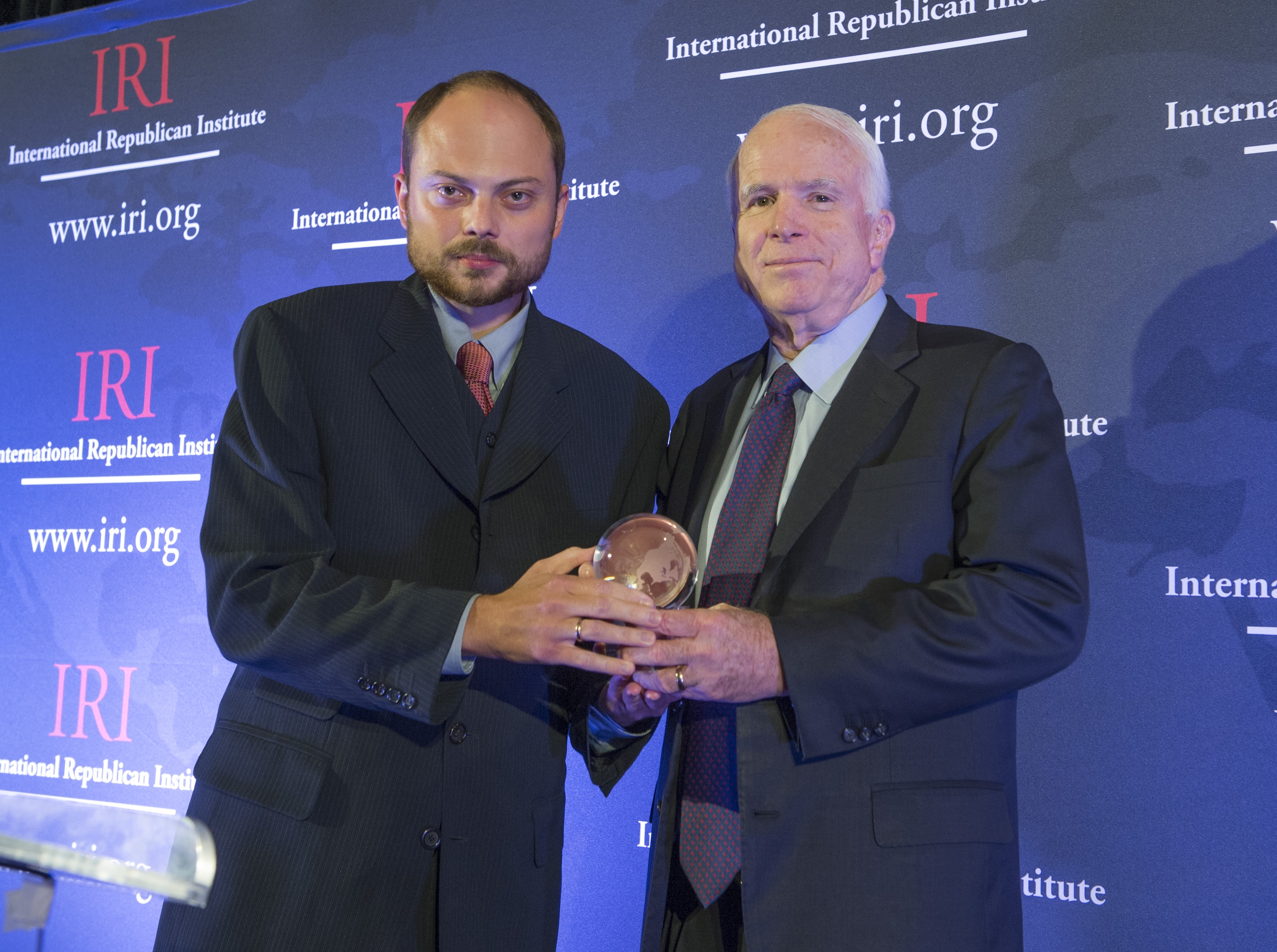 The evening ended with an emotional posthumous presentation of the 2015 Freedom Award to Boris Nemtsov who was assassinated on February 27, 2015, for his work in support of Russian democracy.
Senator McCain gave moving remarks about his friend and the growing repression and corruption in Russia saying, "Boris wasn't afraid. He knew his enemies. He knew what they were capable of, but he would not be oppressed. He would not be oppressed by unjust laws or by violence and fear. He was a free man, and bravely so. He was accustomed to danger. But he lived for love and justice and truth. He had been threatened repeatedly and demonized by the regime's propaganda apparatus. Yet when his enemies took his life in the shadow of the Kremlin, they found him walking in the open air, enjoying the evening, unafraid."
Vladimir Kara-Murza, a long-time friend and colleague of Nemtsov, accepted the award on behalf of the family. Kara-Murza, who himself has been a target of the Putin regime, said of his friend, "As a political leader, Boris Nemtsov was always a maverick. He always said what he believed and always did what he said. He never betrayed his principles or his friends."
Honoree and Speaker Biographies
Speaker John A. Boehner
John Boehner was elected the 53rd Speaker of the United States House of Representatives in January 2011 and has represented the Eighth Congressional District of Ohio since 1991. Throughout his career, Speaker Boehner has been committed to building a strong America at home and abroad. He has spoken out against Russian aggression, helped pass the Ukraine Freedom Support Act and worked to strengthen ties with countries in Europe to stand against Russia's belligerence. He has also led the fight to expand free markets and free trade, winning passage of trade agreements with South Korea, Colombia, Panama and won passage of Trade Promotion Authority.
Speaker Boehner is committed to advancing the cause of freedom and democracy around the world and supporting those struggling for liberty. As Speaker, he has met with leaders and activists who have led the struggle for freedom and democracy in their own countries. He was instrumental in crafting the landmark 1994 Contract with America and the 2010 Pledge to America.
Commenting on the support for democracy promotion, he has said, "We know freedom and democracy don't come on the cheap. They require vigilance – and rely on the tools of persuasion and progress. One election doesn't cut it. There needs to be a lasting rule of law and fundamental respect for human rights."
Dr. Mo Ibrahim
Mo Ibrahim is a leading voice for good governance, government accountability and transparency in Africa. As the founder and chair of the Mo Ibrahim Foundation, which he established in 2006 to support good governance and leadership in Africa, he has worked tirelessly to improve and strengthen democratic governance. Born in Sudan, Ibrahim has had a successful career in business and has said of Africa's future, "Governance is everything. Without governance we have nothing."
Through the Ibrahim Foundation African leaders are gaining the tools needed to govern more effectively and the recognition they deserve for governing democratically. The Ibrahim Prize for Achievement in African Leadership recognizes leaders who have dedicated their tenure in office to developing their countries, improving the welfare and livelihoods of their people and paving the way for sustainable development. The Ibrahim Index of African Governance is an annual assessment of the quality of governance in every African country. The Ibrahim Forum brings together African political and business leaders, representatives from civil society, multilateral and regional institutions as well as Africa's major international partners to identify policy challenges and priorities. The Ibrahim Leadership Fellowship prepares the next generation of African leaders by providing them with senior-level work opportunities at organizations whose mandate is to improve the economic and social prospects of Africa.
Boris Nemtsov
Awarded Posthumously
Boris Nemtsov was a Russian statesman and leader of Russia's democratic opposition. A fierce critic of Vladimir Putin, Nemtsov was assassinated for his work on February 27, 2015, just steps away from the Kremlin. A co-chair of the Republican Party of Russia-People's Freedom Party (RPR-PARNAS) and a leader of the Solidarnost movement, Nemtsov was one of the highest profile democratic activists speaking out against Putin and his regime.
Following the collapse of the Soviet Union, Nemtsov was an up-and-coming reformer who was committed to building a democratic Russia. He served as the first governor of Nizhny Novgorod (1991-97) and later served as minister of fuel and energy (1997) before being named deputy prime minister (1997-98). In 1998, he co-founded Right Cause, a coalition group of democratic parties that became a leading advocate for reform in Russia. The following year he co-founded the Union of Right Forces and was elected to the State Duma where he served as vice speaker until 2003. In 2010, he helped establish the Coalition for Russia without Lawlessness and Corruption. From 2012 until his assassination, Nemtsov co-chaired RPR-PARNAS, one of the few true opposition parties in Russia.
Nemtsov is widely known as an author, and at the time of his death was working on Putin. War, a report which proves the presence of Russian military in eastern Ukraine.
Vladimir V. Kara-Murza
A leading opposition activist in Russia, Vladimir Kara-Murza was a close friend and colleague of Boris Nemtsov. Throughout their careers, Kara-Murza and Nemtsov were committed to a democratic Russia, creating democratic political parties and movements including the Union of Right Forces, RPR-PARNAS and Solidarnost. Kara-Murza also served as an advisor to Nemtsov while the latter was the leader of the opposition in the State Duma.
Nemtsov and Kara-Murza actively campaigned for the passage of the U.S. Magnitsky Act, which sanctioned Kremlin officials for human rights abuses. Following Nemtsov's death, Kara-Murza pushed for the addition of eight employees of the Russian state media to the Magnitsky Act for creating an atmosphere of "hatred, intolerance and violence" around Nemtsov. For his work, Kara-Murza has come under attack, and was recently evacuated from Russia following a mysterious illness that many worry was an attempt on his life.
Of his friend, Kara-Murza has said, "Boris Nemtsov was the best president Russia never had."
###
Top