IRI hosted Wilfried Martens, President of the European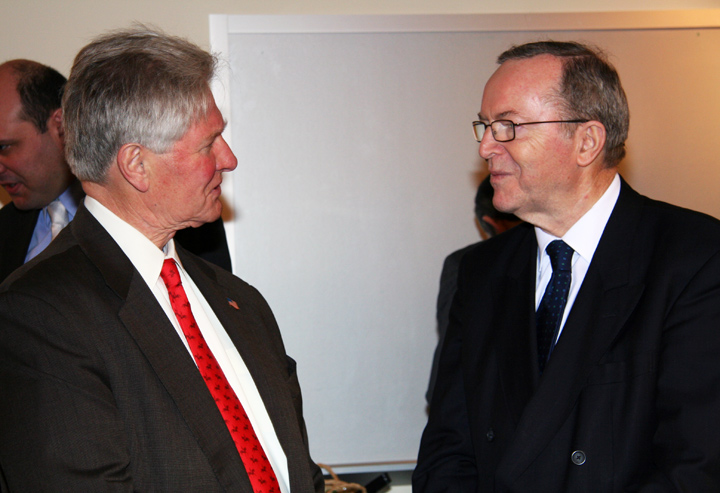 Ambassador Minikes (left) visits with President Martens at a luncheon hosted at IRI.People's Party (EPP) and former Prime Minister of Belgium, from January 29-February 2, 2007. Martens traveled to Washington for the National Prayer Breakfast and a week of meetings to discuss transatlantic issues.
During his time in Washington, President Martens met with European Union Ambassador John Bruton; Barry Jackson, Deputy Assistant to President George W. Bush; Deputy Assistant Secretary of State for European Affairs Kurt Volker; and Deputy Assistant Secretary of State for Democracy, Human Rights and Labor Jeff Krilla.
In addition Martens met officials at the Hudson Institute, Heritage Foundation, American Enterprise Institute, Ethics and Public Policy Center, European Institute, Konrad Adenauer Foundation, and Congressional offices. Among the most important topics discussed during the visit were the reconsideration of the EU Constitution, energy policy and security, and further EU membership expansion to Turkey and the Balkan states.
President Martens attended a luncheon with IRI's Board of Directors and senior staff on January 30. IRI Board members Frank Fahrenkopf, Jr.; Cheryl Halpern; and Ambassador Stephan Minikes, former United States Ambassador to the Organization for Security and Cooperation in Europe attended the luncheon. President Martens discussed the growth of the EPP and its plans for the future. As the largest voting bloc in the European Parliament, the EPP unites center-right parties throughout the region on issues of transnational concern.
Through its European Partnership Initiative, IRI has partnered with the EPP to build transatlantic relationships as a way of increase dialogue between American and European policymakers on pivotal issues facing the world today.
Top