IRI Kosovo Poll Finds Optimism with Serbia, Progress Fighting Corruption, Support for EU Membership
Pristina, Kosovo – A nationwide poll in Kosovo by the International Republican Institute's (IRI) Center for Insights in Survey Research shows optimism over relations with Serbia, fewer concerns about corruption, and strong support for accession to the European Union (EU).  
When asked when they expected Kosovo to have normalized relations with Serbia, 55% said within the next five years. Despite this optimistic view 79% of Kosovars do not believe any concessions should be given to obtain Serbian recognition.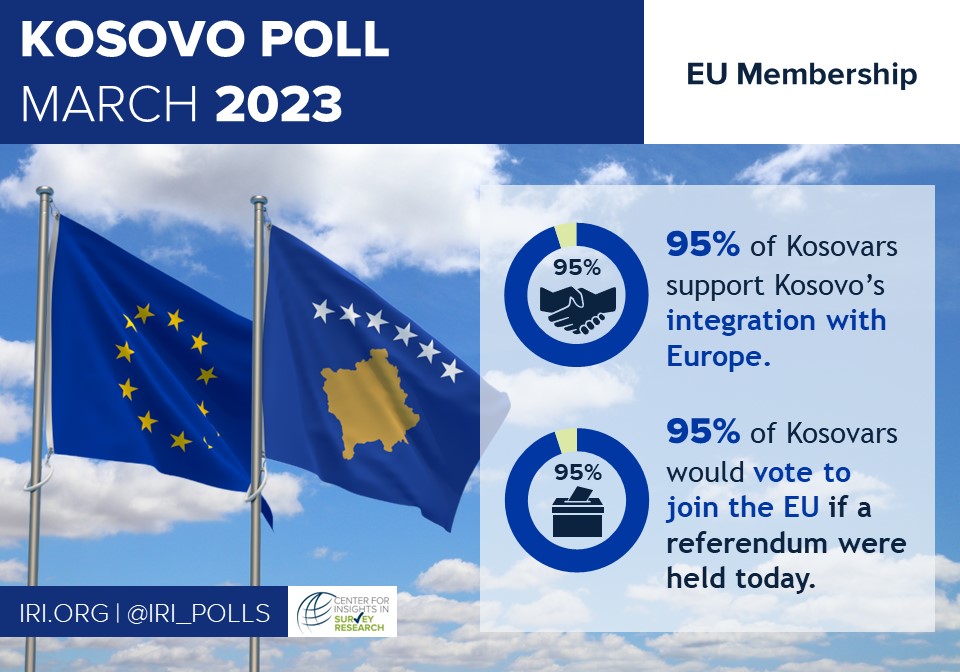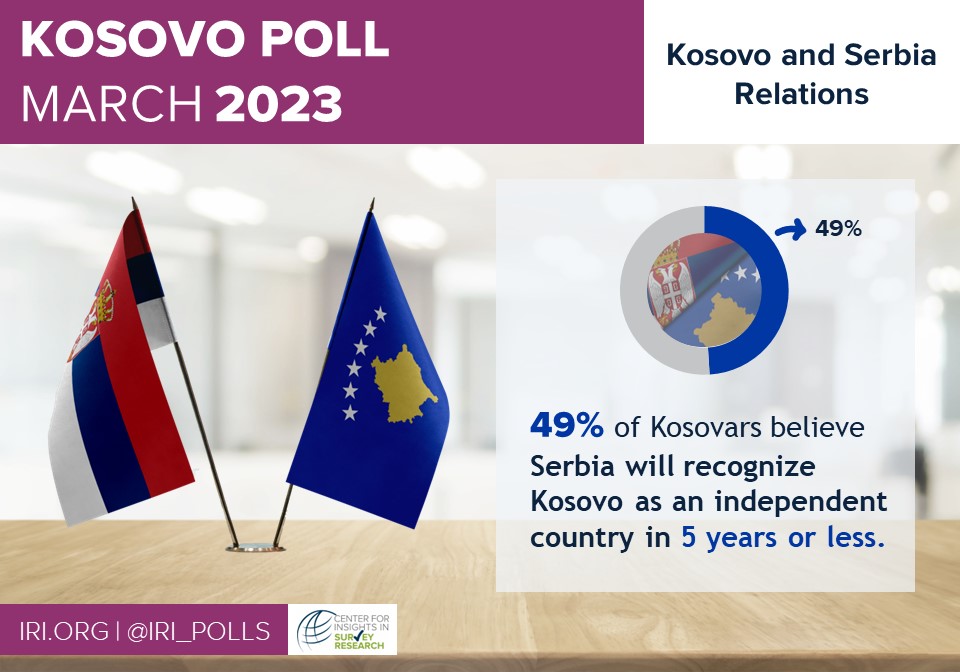 "These numbers clearly reflect an optimistic outlook with Serbia," said Paul McCarthy, Director for Europe at IRI. "Although concessions appear to be a sticking point right now, it's a positive development that a majority of Kosovars believe relations with Serbia will be normalized in the next five years."
The poll also shows that fewer people are concerned with corruption than in years past. The percentage of people who answered that corruption was the most or second most important problem facing Kosovo fell from 29% in September 2021 to 8% in this poll.
Additionally, accession to the EU and democratic development in Kosovo have strong support. Ninety-Five percent of Kosovars said they would vote to join the EU if a referendum were held. Further, 66% of people are very or somewhat satisfied with the way democracy has developed in the country.
"The strong support for the EU and democratic governance are signs that Kosovars understand that further integration with the West is a recipe for success," said McCarthy. "Accountable and transparent political institutions will help build a future of peace and prosperity for Kosovo."
Methodology 
The survey was conducted on behalf of the International Republican Institute's Center for Insights for Survey Research by UBO Consulting. ​Data was collected between February 20, 2023 and March 13, 2023, through CAPI administered face-to-face interviews at respondents' homes. ​The sample consists of n=1,200 residents of Kosovo aged 18 and older.​ The sample was weighted for gender, age, and ethnicity based on the 2011 Census and OSCE Municipal profiles. ​ 
The response rate was 74%. ​The margin of error for the mid-range of the full sample does not exceed ± 3.0 points at the 95% confidence level.​ 
Top