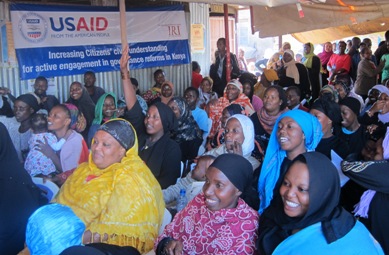 IRI, the Women's Democracy Network (WDN) and the Arab Women's Leadership Institute are proud to recognize March 8, 2013, as International Women's Day, a global day celebrating the economic, political and social achievements of women past, present and future.
For nearly 30 years, IRI has worked with women all over the world as they run for political office, strengthen government institutions and improve their communities and countries. In 2006, IRI established WDN to empower women from around the world to greater activism and leadership in public life. To date, the Network is active in 61 countries worldwide and features 15 country chapters.
WDN achieves its goals by connecting women to their best resources: themselves. WDN programming connects aspiring and accomplished women leaders within and across regions to foster mentoring relationships and the sharing of best practices, and conducts skills-building trainings to provide women with the tools they need to participate effectively in the public arena.
AWLI was established in 2008 to empower women and strengthen their leadership role in the Arab region. AWLI roots its foundation in the belief that the implementation of democracy in the Arab world is only possible with the integral participation of women in all sectors, including cultural, economic, political and social.
To celebrate International Women's Day, WDN will host its annual conference in Washington, DC during which it will present its Jeane J. Kirkpatrick Award to U.S. Senator Kelly Ayotte (NH) and Selima Ahmad, founder and former president of the Bangladesh Women Chamber of Commerce and Industry. Members and friends of AWLI will gather in Amman, Jordan for a reception to recognize the day and the work of AWLI members.
To view photos of some of IRI's, WDN's and AWLI's work, please visit our photo gallery.
Top