IRI's Democratic Governance Program Helps Boost Civic Participation in Mombasa, Kenya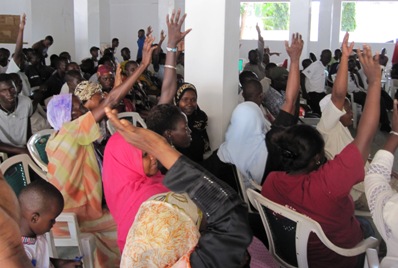 When IRI launched its democratic governance program in Mombasa, Kenya in 2009, an overwhelming 85 percent of citizens were unaware that they could directly request public works funds from the federal government for projects of their choosing through the Local Area Service Delivery Action Plan (LASDAP) program. The government's innovative program was failing as a result of low citizen participation.
In October 2010, IRI went to work and engaged civil society in Mombasa to promote public awareness and participation in LASDAP. IRI soon learned that meetings to vote on projects were only briefly advertised in local newspapers and, even when selected, LASDAP projects were implemented inconsistently or not at all. To remedy this, IRI conducted four forums to educate citizens about LASDAP and emphasized that the process is most effective with robust public input. More than 500 citizens attended IRI's forums, and 80 percent of participants stated that they would attend the upcoming LASDAP meeting.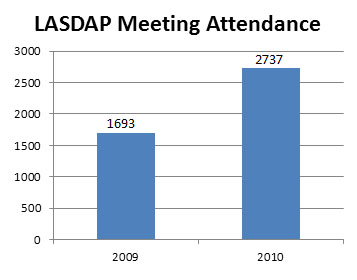 When the LASDAP meeting occurred later in October, 2,737 citizens attended, representing a 62 percent increase in participation from 2009. Not only did citizens vote on development projects, they also utilized what they had learned about voting procedures during IRI's forums. When a candidate for ward representative tried to rig the election by having people from outside the ward vote for him, residents who had attended IRI forums recognized this and demanded that proof of ward residency be shown by each voter ensuring that only legitimate ward residents were able to vote.
As a result of IRI's work, the citizens of Mombasa strengthened their role in the LASDAP program which has led to a consensus on development projects that have the community's long-term needs in mind. As the community turns its focus to the implementation of LASDAP projects, IRI will support their efforts to ensure the projects are completed in a timely and transparent manner.
IRI first became active in Kenya in 1992 when it fielded an international election observation mission. IRI's programming grew to include poll-watcher training, public opinion polling, constitutional reform, and eventually a vibrant civil legislative and political party support program that focused on strengthening parties' ability to implement legislative agendas. More recently, IRI worked with young members of parliament to support agenda-building strategies for party parliamentary groups.
Top