In early July, IRI held the second annual Southeastern Europe Democracy Summit (SEE|DEM), as part of the Institute's Western Balkans regional program. IRI's regional work supports research through its Western Balkans Task Force – a cadre of leading analysts, non-governmental actors, and journalists from across the region – and hosts regional events to discuss solutions key issues in the region, such as ethnonationalism. Panelists included Kosovo's President Vjosa Osmani, Montenegro's Deputy Prime Minister Dritan Abazovic, Bosnia and Herzegovina's (BiH) Minister of Security Selmo Cikotic, and North Macedonia's Minister of Education and Science Mila Carovska, as well as members of IRI's Western Balkans Task force.
The event included three panels focusing on issues central to IRI's Western Balkans regional program, including the rise of ethnonationalism and rightwing extremism, the prevalence of hate-speech and revisionist narratives, Euro-Atlantic integration, and the challenges faced by youth. The panels provided an opportunity for high-level government officials and thought leaders from the region to discuss these issues which are key to the region's stability and democratic development.
The Far Right in BiH and Montenegro: Historical Revisionism and Genocide Denial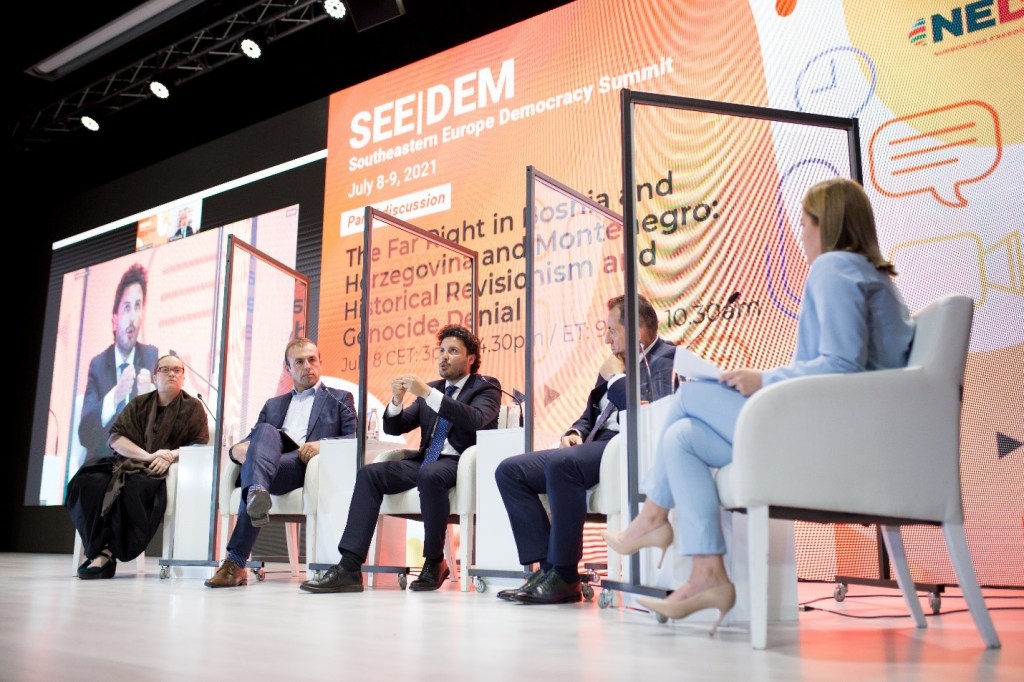 The first discussion at SEE|DEM focused on the causes of right-wing extremism and ways to combat it within the region. The panelists agreed that historical revisionism, especially surrounding the 90s, allows for extreme, right-wing narratives. With that consensus, there were multiple solutions offered. Cikotić advocated for increased power for statesmen rather than politicians. Abazović, when asked specifically about Montenegro, proposed creating a new political narrative for all countries in the region. Lastly, Turčalo suggested emphasizing effective counter-narratives and re-educating people on transitional justice and what it involves.
The panelists also discussed the Srebrenica genocide, a sensitive political issue in BiH. Solutions included promoting new values in society, other states adopting a unified position on Srebrenica and allowing Serbia to distance itself from it, increasing the standard of living to create an environment where reconciliation can occur, and eliminating the Office of the High Representative and giving the powers to the Parliament, President, and Constitutional Court to address this delicate situation.
The Cracks in Kosovo's Euro-Atlantic Consensus: Grievances, Narratives, and Disinformation Methods.
During this panel, participants agreed the people in Kosovo are still strongly oriented towards the European Union (EU) and the West but are increasingly frustrated regarding visa legalization and the stalled process of EU accession. They were also united on the fact that Kosovo needs to stop the younger generation from leaving. Deda suggested a common regional market to retain the human capital of the entire region and that the leadership in Kosovo needs to be willing to take decisive action. Maligi stated elites need to assume responsibility instead of externalizing it and increase international engagement with a realistic perspective on Kosovo's influence. Ilazi focused on civil society and the need for it to become a rational actor who holds the government accountable.
Kosovo President Vjosa Osmani was unable to attend but sent a video that emphasized the need to improve domestic stability to improve international engagement.
Addressing Narratives of Hate: Ethnic Intolerance and Nationalism in North Macedonia and Serbia.
In the discussion surrounding hate speech, Minister of Education and Science of North Macedonia Mila Carovska (not pictured) emphasized the need for multiethnic values at the primary education level to create a sustainable future. Popoviki added that youth are critical for a multiethnic society and pitched police involvement in online media platforms to stop hate speech from escalating. Svilanović mentioned the need for positive narratives to destigmatize migrants. Klačar stressed that fear often drives people to extremes and called for new tools to improve digital literacy in this media driven world.
Across all three panels, the participants agreed that the youth are key to the region's success. Further, they expressed that governments need to make a push and educate the younger generation on multiethnic values and social skills that allow them to look beyond stereotypes and see all their peers as human beings. By bringing these issues to the stage and facilitating productive discussion on solutions with regional experts, IRI once again took steps to bring people together and progress the cause for a more free and fair society.
Top