"Dear Daddy,
How is America? How is your friends? Daddy there is war in Buea. They shoot guns every night. When are you coming to take us? Don't forget to buy a video game. I love you. Bye."
IRI's very own YALI fellow Clifford Akonteh read aloud this emotional letter from his son in Cameroon as an introduction to his TED-style talk on his "Not Too Young To Vote" campaign." Akonteh highlighted his family's political history of arbitrary arrest and the current tragedies of the Anglophone crisis in Cameroon as his motivation for his relentless pursuit of democracy. He was one of five YALI fellows that represented the human face to the ongoing struggle for democracy, justice, and youth empowerment across the African continent at IRI's YALI Voices event.
YALI Fellows Siba Koulemou from Guinea, Sambro Lupai from South Sudan, Nasreen Ali Mohamed from Kenya, Saibana Balde from Guinea Bissau, and Clifford Akonteh from Cameroon presented their respective platforms and initiatives toward "Creating Safe Spaces for Youth Engagement in Party Politics and Democratic Processes." Their platforms address a variety of topics within this space including economic entrepreneurship, empowerment of girls and women, civic engagement, and political participation. Across their various initiatives, a theme of cultural and social revolution aimed to "groom a new generation" of political actors permeated the discussion.
African Youth as Change Makers
Africa is home to one of the largest youth populations in the world creating a demand for innovation, economic expansion, and new democratic transitions. Providing safe spaces for youth to organize, develop, and engage with political institutions has become critical to overcoming obstacles of peacebuilding and development. Africa's large youth population is poised to set the demand for economic and cultural trends throughout the continent and world at large, which has drawn the attention of non-democratic influencers who seek to gain from maintaining weak institutions, and nontransparent governance practices.
IRI is working to empower youth such as our featured YALI fellows to pursue democratic models and promote youth engagement in civic activism, political processes, and innovation to generate the momentum in transitioning patriarchal and dictatorial governance systems toward a new age of democracy.
Despite African youth's numerical power, the pursuit of democracy is often hampered by fear of violent retaliation from oppressive governments, influence from violent extremist organizations, identity politics, illiteracy, cultural traditions, and poverty. Supporting African youth leaders in their initiatives is critical to address these barriers to establishing stable democracies built on national interest and lead by domestic leaders who will sustain IRI's programming efforts, serve as beacons of democracy for other regions in the world, and serve as allies to American interest.
Watch the inspirational speeches and discussion by IRI's featured YALI fellows on the struggles they face within their countries, and their initiatives to pursue democracy, equality, and youth empowerment on IRI's Facebook live stream of the event
HERE
.
Meet the Fellows
SIBA KOULEMOU, Republic of Guinea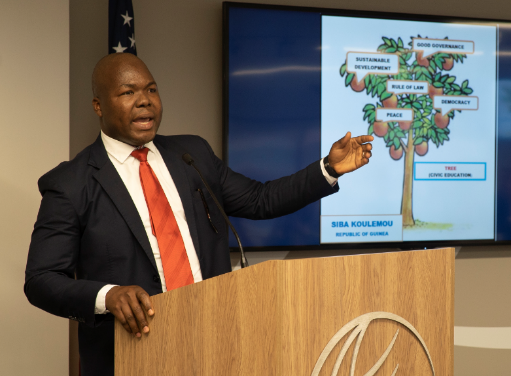 Siba Koulemou has ten years of experiences in education and community service. He is an English language teacher and the president of the American Studies Teachers' Association in Guinea (ASTAG). With ASTAG, he researches Guinean history and collects reliable data for future generations. Additionally, he volunteers his time to improve the quality of education in his home country and is addressing the civic needs of citizens through an NGO called ''Citoyens de Demain.'' He provides free English and adult literacy classes to communities near Conakry. Siba is completing his Professional Development Experience at the National Endowment for Democracy.
LUPAI SAMUEL K. STEPHEN, South Sudan
Lupai Samuel K Stephen is a peace activist and the Founder/Director of the I AM PEACE Initiative— a youth-led NGO which focuses on creating a peaceful environment by empowering young people to be agents of positive change through education and entertainment. Lupai has over seven years' experience in radio broadcasting where he worked as a presenter, producer and music director in various radio stations including Eye radio, City FM, Capital FM, Classic FM, Voice of the People radio and Radio Amani. Lupai, through his media experience, is an event's host and a debate moderator. His hobbies are; listening to music, watching films/movies, going out with friends and swimming.
NASREEN ALI MOHAMED, Kenya
Nasreen Ali Mohamed is the Co-Founder and Chief Financial Officer CFO at Cherehani Africa, a social enterprise that leverages mobile technology to provide financial education and credit to women and adolescent girls who own micro-enterprises. Nasreen controls and manages internal finances, financial reporting, capital structure and accounting at Cherehani Africa and is passionate in ensuring that resources are deliberately allocated to products and services with the most positive impact on women micro-entrepreneurs. She is also a mentor to disadvantaged girls at the Global Give Back Circle (GGBC), a trainer to former sex workers at Ndori Rehabilitation Centre and in several other women and youth empowerment groups. Nasreen holds a BA in Business Management from University of Sunderland, UK and an Advanced Diploma in Business and Law from Edith Cowan University, Australia. She is currently pursuing her Professional Development Experience at Grameen Foundation, Washington DC. Upon completion of the Mandela Washington Fellowship, Nasreen aims to be able to work with other African leaders who are pursuing poverty eradication – with a focus on women empowerment.
CLIFFORD NIBA AKONTEH, Cameroon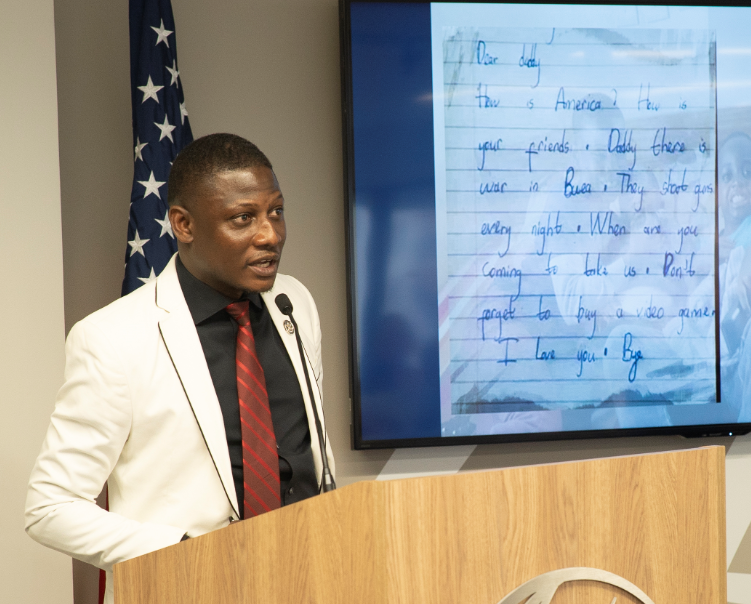 Clifford Niba Akonteh completed his fellowship under the Civic Leadership Track at the Presidential Precinct and is currently doing his Professional Development Experience at the International Republican Institute. He is a barrister at law from Cameroon and a partner at the Poubom and Partners Law Firm. He has over ten years' experience in civil society and youth development in the domain of the rule of law, peace, democracy and human rights. He is the Central African Executive Director of the Youth Alliance for Leadership, Development in Africa, a youth development network existing in 40 African Universities and 16 African Countries. He serves as the National Coordinator of the Movement for Democracy, Development and Transparency (MDDT), an NGO that focuses on youth in human rights, democracy and peace. Clifford is currently pilot of the "Not Too Young to Vote Campaign," aimed at building a platform and mobilizing 2 million young Cameroonians, to advocate for non-violence, electoral justice, to register, to vote and to run for office.
MAMADU SAIBANA BALDE, Guinea Bissau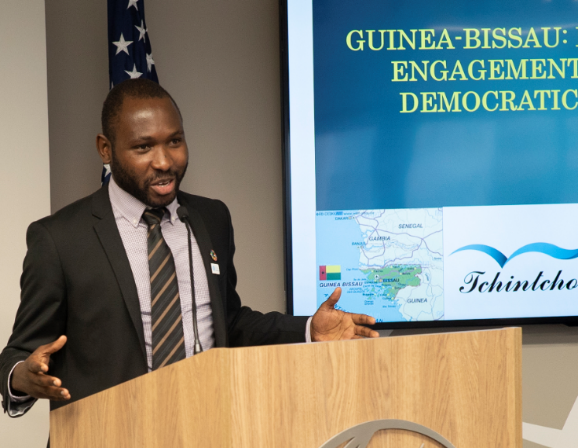 Mamadu Saibana Balde is a project manager, social entrepreneur, and activist. He has a degree in African Studies at the Faculty of Letters of the University of Lisbon. Balde is the founder and chief executive officer of Tchintchor. He is a young professional, with five years of work experience in the field of youth, citizenship, and education. Balde has national and international experience as a volunteer, working with young people and in the domain of citizenship, as well as participation in national and international conferences. Balde is completing his Professional Development Experience at the National Democratic Institute.
Top