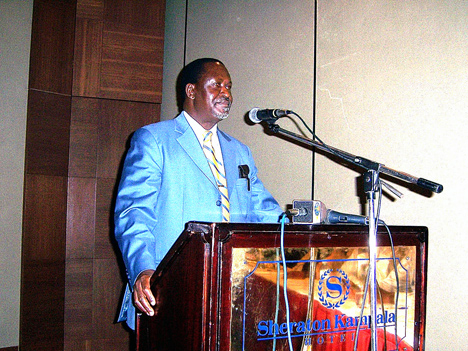 The International Republican Institute (IRI) hosted a political party leadership workshop in Kampala, Uganda yesterday at which Raila Odinga, Kenya's Minister of Roads, Public Works and Housing gave the keynote address. Leaders and representatives from Uganda's political parties attended the workshop.
"Odinga has been a visible figure in the Kenyan government and has worked tirelessly to promote constitutional reform and the creation of a Prime Minister position," said Jeff Krilla, IRI regional director for Africa. "With a wealth of experience at the top levels of leading Kenyan political parties, Odinga can assist Ugandan political parties as they reform their nation's constitution and prepare for their first multi-party election in decades set to be held in early 2006."
Son of the independence hero Oginga Odinga, Raila Odinga is a member of Kenya's Liberal Democratic Party (LDP) and former leader of the National Development Party. Prior to the introduction of multi-party politics in Kenya in 1991, Odinga was incarcerated three times without trial for his opposition to the ruling KANU party.
Odinga ran in an unsuccessful bid for Kenya's presidency in 1997 under the NDP banner to try to unseat the incumbent autocratic Daniel Arap Moi. With President Moi stepping down after 28 years in office and the opening of the political system in 2002, Odinga's NDP join forces with KANU, supporting new leadership for the party under Uhuru Kenyatta in his run for the presidency. Though the KANU-NDP coalition failed to secure the executive in 2002, Odinga now serves as Secretary General of the main opposition party, KANU, and as the chairman of the Parliamentary Select Committee on Constitutional Review.
Also conducting training at the workshop were Dr. Oloka-Onyango, dean of the law school at Makerere University in Uganda and Dr. Sengondo Myungi, professor of law at the University of Dar es Salaam in Tanzania.
Top