Lessons Learned from The Gambia: How the Youth Vote and Peaceful Participation Overturned an African Dictator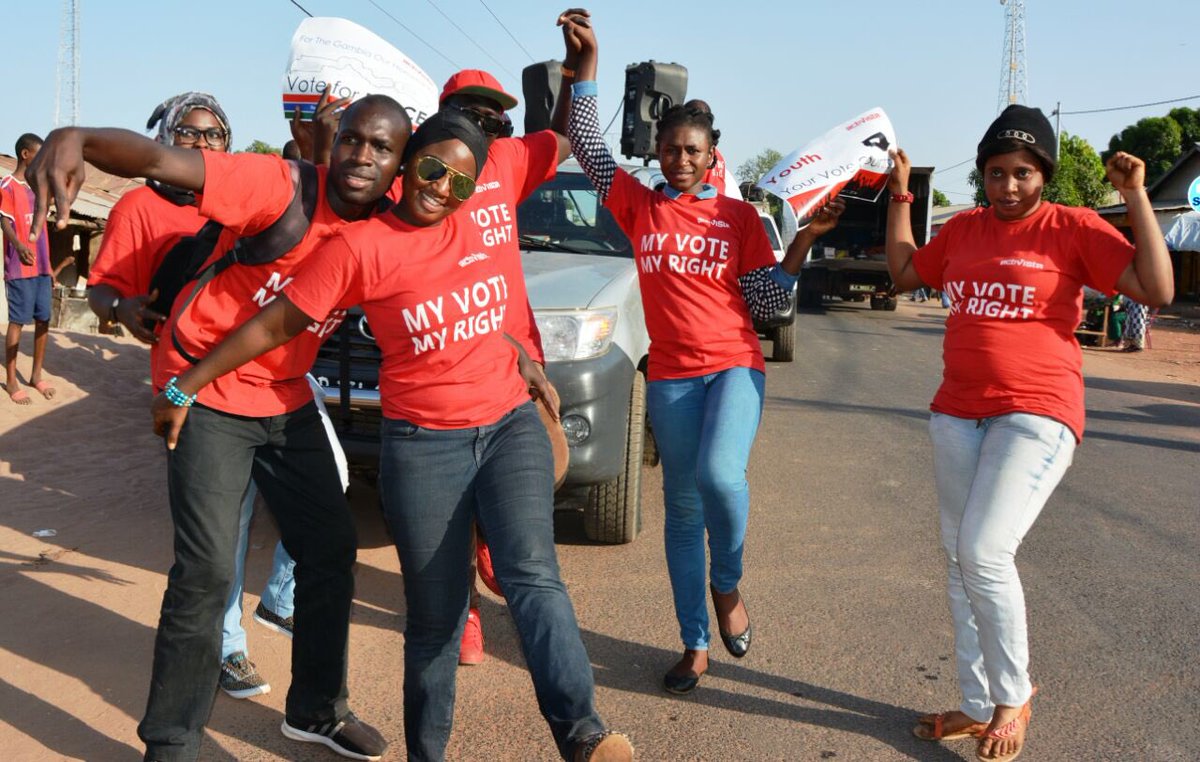 On December 1, 2016, Gambians delivered an unprecedented defeat at the ballot box to 22-year incumbent President Yahya Jammeh and his Alliance for Patriotic Reorientation and Construction (APRC) party. Adama Barrow, the leading opposition presidential candidate representing a coalition of seven political parties, emerged as the winner with 222,708 votes to President Jammeh's 208,487 votes.
A brutal dictator who once claimed a "billion-year" mandate, President Jammeh shocked many when he was defeated by Mr. Barrow and then swiftly conceded. President Jammeh's more than two decades' rule was defined by his manipulation of elections to his benefit and use of the state's security apparatus to repress citizens and silence critics. This is why few were surprised when he later recanted his concession and proceeded to shut the offices of the Independent Electoral Commission (IEC), filed a petition with the nation's Supreme Court requesting a vote recount, and pushed the Alliance for Patriotic Reorientation and Construction (APRC – Jammeh's party) party-controlled National Assembly to declare a state of emergency. Following intense international pressure and the threat of military intervention by the Economic Community of West African States (ECOWAS), President Jammeh eventually relented and fled the country, thus paving the way for President-elect Barrow's inauguration in Banjul on February 18.
In the lead up to the December 1, 2016 presidential election, IRI was one of the few international organizations to actively conduct democracy and governance programming in The Gambia. In early October, IRI held a five-day workshop in Dakar, Senegal for 40 Gambian civil society activists that imparted tools, skills, and knowledge to design and implement non-violent voter education and mobilization programs targeting youth. Following the workshop, IRI issued sub-awards to six local organizations: Activista, the Gambian Press Union (GPU), the National Youth Parliament (NYP), Hopes of Tomorrow (HOT), The Association of Non-Governmental Organizations (TANGO), and the Gambian chapter of the West Africa Network for Peacebuilding (WANEP – The Gambia). With IRI funding and lessons learned from the October workshop, these organizations undertook voter education and mobilization campaigns through November to Election Day on December 1. These activities included cross-country caravan tours, radio debates and discussions, and trainings of journalists and conflict monitors.
Following Barrow's inauguration, an IRI team visited The Gambia to assess the results of its voter education and mobilization projects. During the assessment, IRI found that the pre-election initiatives it supported contributed to the high turnout of youth on Election Day and to the peaceful participation of youth during the presidential election and "political impasse" leading to Mr. Jammeh's departure. Fatou, a member of NYP, explained: "In the Central River Region, we used to have a low level [of voter education] and the [IRI- supported] sensitization increased knowledge greatly. People used to be afraid and now they understand their civic rights and responsibilities." Ms. Anna Jones, executive director for WANEP-The Gambia, added: "We cannot take full credit [for the peaceful election] but during the political impasse, we kept sensitizing and played a great role in maintaining the peace. There was a lot of provocation [from APRC loyalists] and we ensured that people remained calm. ECOWAS may not have intervened if it was not for the peace."
Our partners also mentioned that these initiatives helped counter false propaganda that the government had cameras and spies in polling stations, clarified the content of the amended electoral law such as voting times, and provided national and international stakeholders with incident reports and policy briefs, including ECOWAS.
Working with the IEC and National Commissions for Civic Education (NCCE) provided legitimacy and security to our partners during the project – an important finding for future projects.
The increased engagement of youth to participate in the political process was critical to this election. For example, the use of social networking platforms such as Facebook and WhatsApp contributed to the high turnout and peaceful participation of youth.
After Jammeh fled the country and in the lead up to the April 6 legislative elections, our partners continued to advocate for change through several youth-led petitions and the "Not Too Young To Run" campaign. IRI helped introduce the "Not Too Young To Run" campaign by exposing youth to a similar campaign in Nigeria during the October 2016 training. At least 15 "Not Too Young To Run" candidates were nominated under both party banners and as independents, including three IRI-trained partners.
IRI also met with political and electoral stakeholders to discuss both the impact of its voter education and mobilization project and gauge potential programming opportunities. Ms. Fatoumata Jallow-Tambajang, Minister of Women's Affairs and overseeing the Office of the Vice-President, said: "Organizations like IRI that empowered the youth to vote have contributed to the change that we now have."
President Barrow's transition government faces numerous priorities and challenges, including kick starting the Gambian economy, resolving underlying political tensions and reviewing the Gambian Constitution. During the end-line assessment, IRI identified four key priorities: national reconciliation, National Assembly strengthening, constitutional reform and civil society strengthening. IRI is continuing to work with its civil society partners to enable citizens to understand the roles and responsibilities of their newly elected officials, and will support the Gambian National Assembly to review key legislation in the reform agenda in the coming months.
Top