Local Cambodian University Awards Scholarships to Participants of IRI-YCC Youth Democracy Festival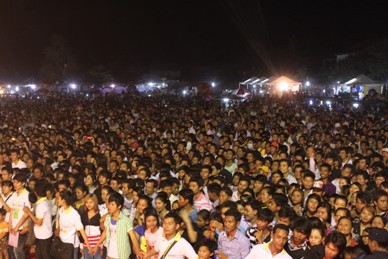 The Angkor City Institute (ACI), a local university in Cambodia, awarded 19 full, four-year scholarship and discounted tuition to more than 700 other participants of the IRI-Youth Council of Cambodia's (YCC) Youth Democracy Festival held in Prey Veng March 26-27.
In Cambodia, according to IRI polling, only two percent of the population older than the age of 18 has a college education and in Prey Veng the median annual household income is approximately $900, making the cost of tuition a nearly insurmountable obstacle for many area youth. Scholarship winners are required to keep a B average to retain the full scholarship, if they fall below a B average they will forfeit half of the scholarship until they raise their grade point average. YCC will monitor the students' grades. Furthermore, all 714 participants trained on activism skills in the days leading up to the festival will receive a 50 percent discount off the standard tuition cost if they choose to attend university at ACI.
IRI youth democracy festivals train young political activists in skills such as debate, advocacy, petitioning and sharing information through social media. The trainings educate youth in how to effectively mobilize their peers in efforts to improve their communities and share their voices and opinions with elected leaders. Each festival is organized in cooperation with YCC and its local network of youth.
In addition to trainings and competitions, the youth festivals educate the larger audience through entertainment. This year's festival in Prey Veng drew a crowd of approximately 42,000 people, and focused primarily on voter registration education. Chhairatt Ros, an emcee at the festival, told the audience at the event, "A ballot of your vote is equal to the destiny of your country."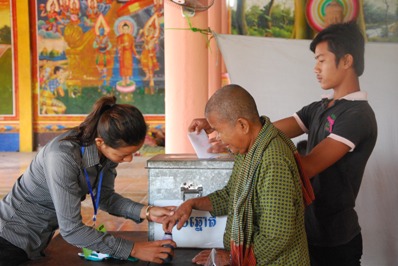 The festival also featured the second-ever election for a youth representative to the commune council, held in cooperation with the local council in Choeung Teuk, Prey Veng. More than 700 citizens registered to vote at one of five mobile voter registration centers. Voters chose from a list of individuals on their ballots; a unique experience that has been absent in Cambodian elections for more than 50 years.
Phearum Sarn, 20, who won the election, said, "First, I talked with the people, and then I developed my policies."
The election was part of IRI's ongoing efforts to increase accountability and issue-based campaigning in the Cambodian political system.
The Prey Veng festival was the 10th in a series of events that are designed to rally youth to get involved and engaged in the democratic process. It was supported through public-private partnerships with the Hello® mobile phone company, a division of Hello Axiata Company Limited, and local businesses whose sponsorship funds contributed approximately 10 percent of the total cost of the events.
The festival received wide media attention, including the Cambodian Television Network, the British Broadcasting Corporation and the Voice of Democracy radio program, among others.
Top