In Nigeria, political parties lack ideology and manifestos. But the People's Democratic Party (PDP)'s town hall meeting marks their first step towards open communication between politicians and citizens.
During a political party town hall with citizens, Hazel Gundiri, a young man from Numan Local Government in Adamawa south senatorial zone, asked, "How do you plan on handling the security problems?"
Conflicts between farmers and herders have led to deadly attacks, serious injuries and houses torched by unknown gunmen attackers in Adamawa State, displacing residents and causing violence. In the past, citizens had asked for town hall meetings with the political parties to voice their security concerns and promote dialogue with their representatives.
Against this backdrop, the PDP Adamawa State held their first-ever town hall meeting in Yola and Numan, Adamawa central and south senatorial zones, in an effort to increase citizen engagement.
Prior to the townhall, IRI provided trainings on intra-party citizen engagement and communication development. The party also received technical assistance in reviewing and customizing the party's manifestos to their states, helping them understand their roles of generating responsive ideas and policies, conducting citizen engagement and building networks with other stakeholders like civil society organizations. The training helped PDP realize the importance of regular communication between the officials and their elected members on the party's policy positions on issues affecting the citizens once elected, and not only coming alive during elections.
During the town hall, PDP representatives promised to help with security, access to clean water, primary healthcare and primary education issues affecting the communities. The party previously lacked participatory decision making, followed a top to bottom process and was centralized. Recognizing the limited citizen engagement, the PDP representatives said they will engage citizens in community policing and instigate a bottom-up approach—starting from the rural head up to the security agents. Promising to restore fundamental principles, the party leaders said they were committed to ensuring communities will access to primary education, focusing on the restructuration of schools which have been destroyed by the Boko Haram insurgents and the welfare of the teachers.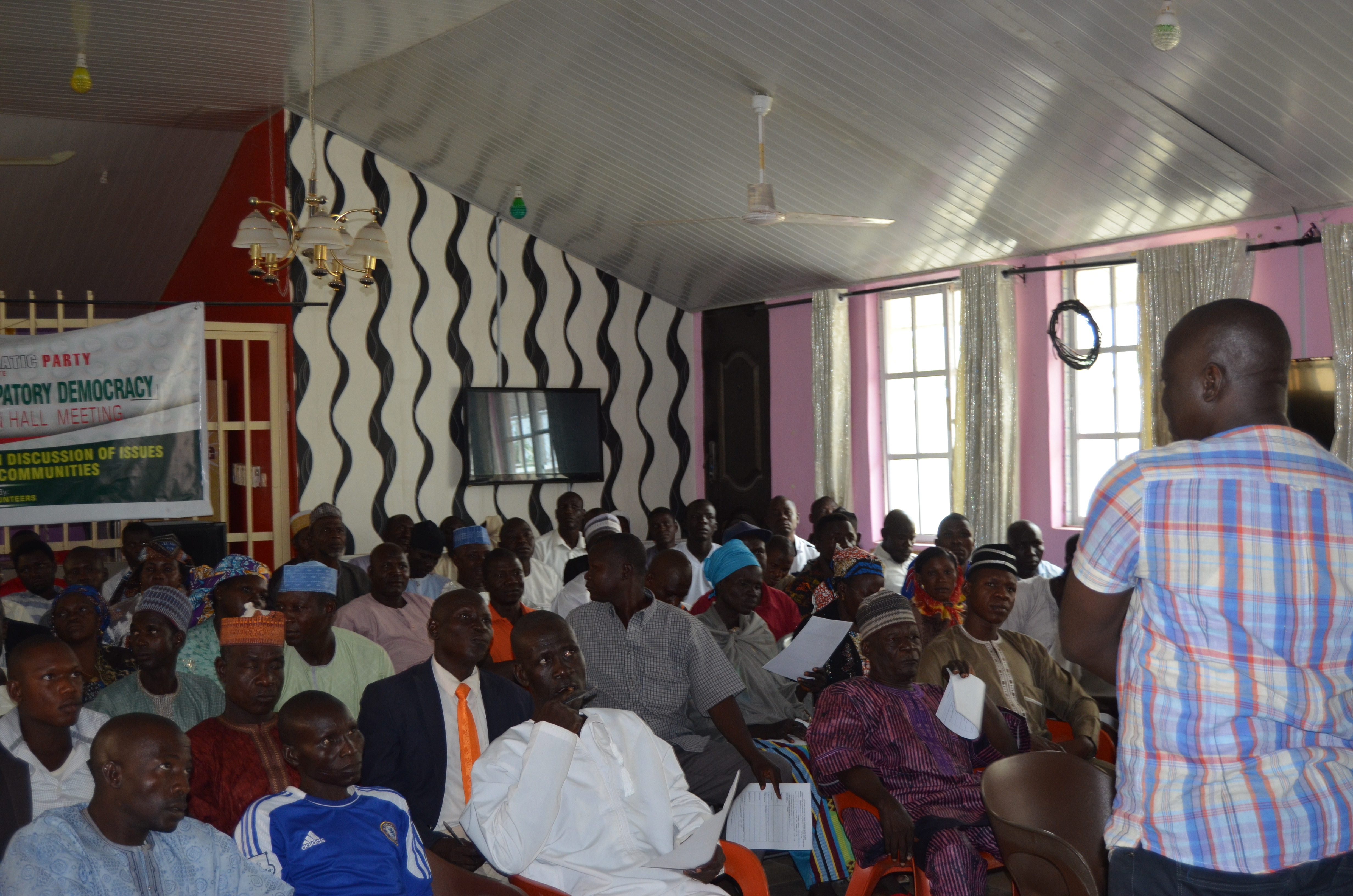 All political parties have a lot of work ahead of them to gain citizen trust. There is currently no framework for regular interaction between political parties and citizens to seek their input into party policies and assess government performance. Additionally, elected officials tend to legislate based on their own self-interests rather than party loyalty. All that leads to parties failing to serve as a united force to inform and drive forward a common policy agenda.
Furthermore, political parties and state legislators lack the incentives to oversee and hold elected officials accountable or engage their constituents on issues of concern. As a result, elected officials are not held accountable for budget expenditures and basic services such as health care, education, water, sanitation and hygiene. This oversight fuels further discontent among citizens toward political parties and elected officials.
IRI, supported by the United States Agency for International Development, encourages sustainable solutions to pressing issues by helping political parties and their politicians respond to voters and constituents swiftly and effectively. When politicians develop platforms to engage citizens in town hall meetings and ensure policies are centered on real issues collected from them, then the society will feel truly represented by the political parties' leaders and their elected members.
The town hall meetings allowed the political parties to articulate their state-based manifestos and hear directly from citizens on service delivery issues affecting them and recommendations on improving political participation. The parties will use these suggestions to develop and advocate for citizen-informed solutions on identified service delivery issues. If Nigeria's political parties continue to engage the citizens in town hall meetings and maintain consistent constituency outreaches, they will become responsive and representative of their voting base!
Top