Nonpartisan research is a valuable resource for legislators in democracies. But in many young democracies, like Timor-Leste, parliamentary research organizations are nascent and face significant obstacles in being accepted as nonpartisan. The International Republican Institute (IRI) and the U.S. House Democracy Partnership (HDP) are working to change this through training and sharing best practices.
Timor-Leste is a young democracy. In 1999, a vast majority of Timorese voted in favor of independence from Indonesia in a referendum. In 2002, Timor-Leste elected its first president and was recognized as an independent nation.
A healthy democracy means strong democratic institutions. That's why the work of the U.S. House Democracy Partnership and the International Republican Institute is so important. This work includes strengthening Timor-Leste's parliamentary research organization.
Many democratic governments around the world have research organizations that support the legislative branch. These research organizations provide nonpartisan, objective and credible information on policy issues to members of the legislature. This research can be beneficial in several ways. It helps lawmakers draft more informed legislation and encourages cross-party alliances on legislative issues. It helps legislators better respond to constituent needs. And, it can strengthen the parliament's ability to engage with the executive branch — and push back when necessary — on issues of importance to citizens. In short, high-quality, objective, nonpartisan research provided to members of parliament in a timely manner contributes to the parliament's influence and effectiveness.
This year, I had the opportunity to visit Timor-Leste as part of a delegation that included two former members of Congress — Nick Rahall (D-WV) and Erik Paulsen (R-MN). The former members of Congress met with members of Timor-Leste's National Parliament to discuss citizen outreach, while I provided training for the parliamentary researchers to show them how to provide objective, nonpartisan research.
The first meetings with the researchers in Timor-Leste also included "bench staff" — staff working directly for committees. They seemed to dominate the discussions, while the researchers appeared to be timid. The bench staff said they could not provide nonpartisan research because they work for committees. The researchers, most of whom assist with committee research requests, also felt they had to work in a partisan manner to reflect the committee's majority party. Additionally, the researchers said that, at times, they did not have enough to do, while the bench staff were very busy. Furthermore, the researchers felt they were not as well respected as the bench staff.
Subsequently, we continued the training with just the researchers. Some of the issues that became clear include that the researchers need to have their own office space separate from the partisan bench staff to help form their own identity as a nonpartisan research group. By working together, reviewing each other's work, and sharing and developing research sources, the Timor-Leste National Parliament researchers can develop their skills and collectively establish a reputation as a competent, nonpartisan and objective organization. Researchers also voiced the need for regular training, including English language training to access a greater variety of research materials and training on data collection software and graphics, to improve their issue expertise.
The Timor-Leste parliamentary research organization is still in its infancy and is facing many challenges. With continued government support and assistance from HDP and IRI, the researchers I met show great promise to play a significant role in assisting Timor-Leste's National Parliament and strengthening the nation's democracy.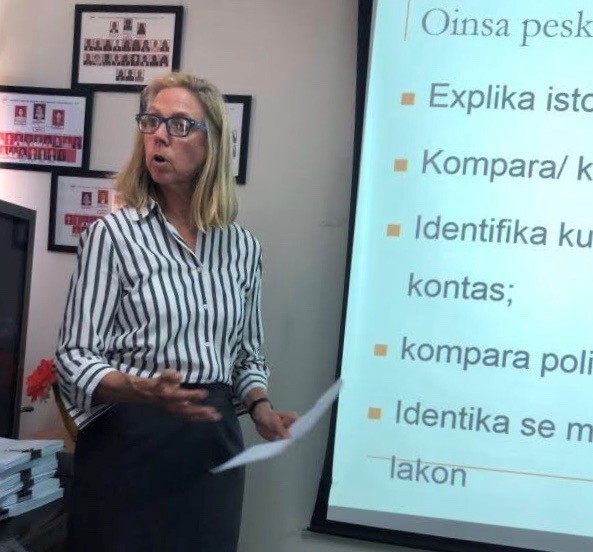 Top