On the Frontlines in Parliament and on the Battlefield: One Ukrainian Member of Parliament's Story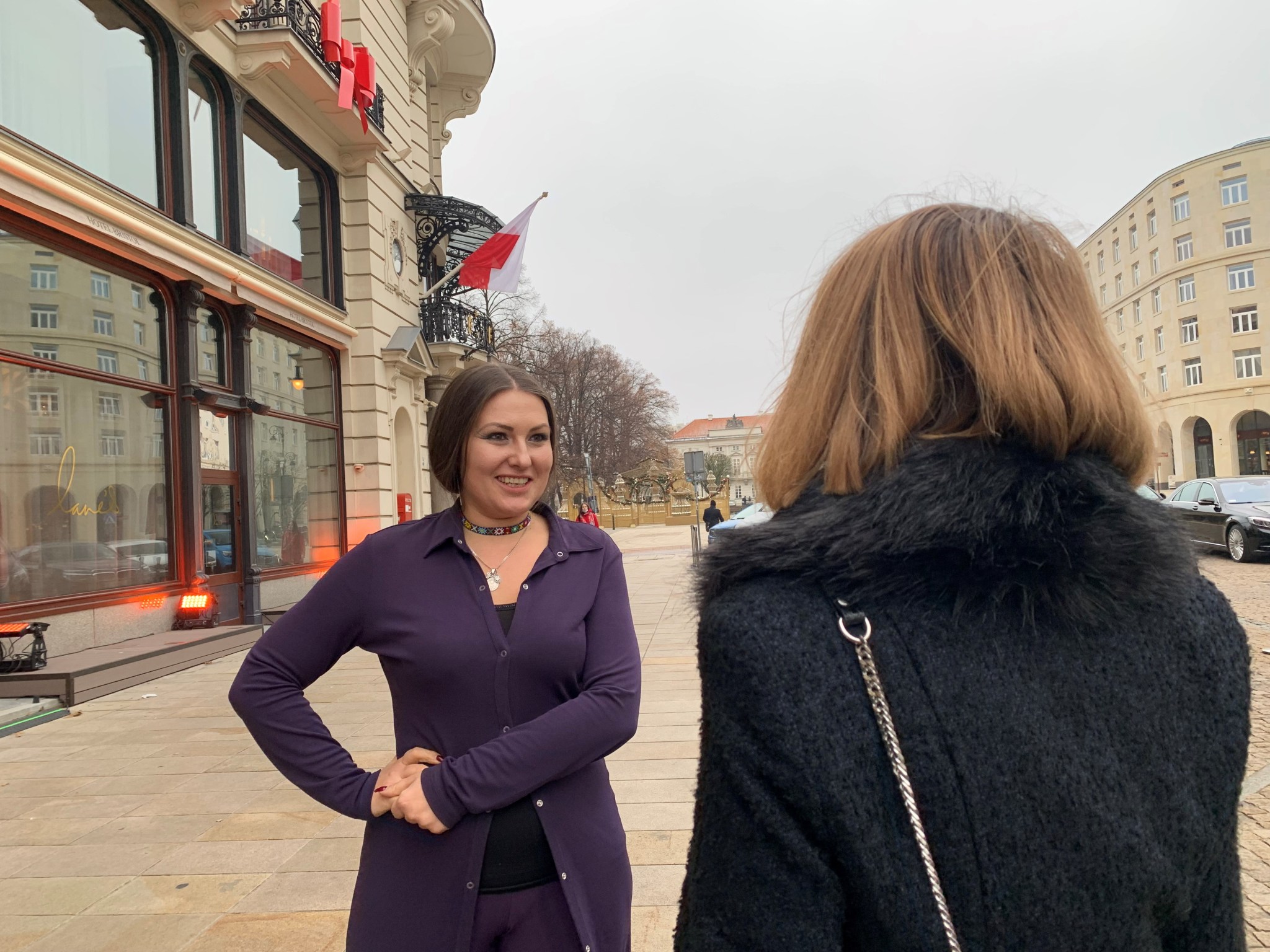 Sofiya Fedyna's strong devotion to the nation of Ukraine and its army is what ultimately got her involved in politics. She's now a Member of Parliament representing the European Solidarity party, a professional singer, and a professor of international relations at the Ivan Franko Lviv National University, commuting between Kyiv and her hometown and constituency of Lviv. "I spend all my time on the train," she says.
Born in 1984, she learned politics early. Her grandfather was a priest and, she says, "heavily persecuted" by Soviet authorities. "I was born a fighter from the beginning," she says. "I am from a very patriotic family, and it was hard to survive in the Soviet times."
The events of winter 2013-14, also known as Euromaidan, shaped Sofiya's political future. This wave of demonstrations was triggered by the Ukrainian government's decision not to sign an accession agreement with the European Union, instead opting for closer ties with Russia. Protestors began demanding the resignation of President Viktor Yanukovych, accusing him of corruption and abuse of power. When Yanukovych's government responded with force, the protests grew.
While there were clashes between protesters and police throughout Ukraine, the center of the movement was in the Maidan, the central square in Kyiv, which antigovernment demonstrators took over and barricaded. After fierce fighting in Kyiv in mid-February, the Yanukovych government agreed to return to a parliamentary-presidential system of government, early presidential elections, and the removal of security forces from central Kyiv. Soon afterward signing the agreement, Yanukovych and other high government officials fled the country. And almost immediately after that, Russia invaded and annexed the Crimean peninsula.
"I was very involved in the announcement of Ukrainian independence, I was a patriot, with the dissidents, and I was the person who conducted meetings as an active member of Euromaidan," explains Sofiya.
And, after the Russian invasion, she became extremely active in supporting Ukrainian soldiers on the frontlines, raising money and awareness, and bringing supplies to the soldiers. "I am professional singer and I raised thousands of dollars for the Ukrainian army. My first task is to make sure that my soldiers come back from the war whole, healthy, and victorious."
About three years ago, Sofiya was asked if she'd like to join parliament as part of European Solidarity, a patriotic party that promotes use of the Ukrainian language, capitalism, decentralization, and supports former Ukrainian President Petro Poroshenko. Poroshenko lost the last election to current President Volodymyr Zelensky of the Servant of the People party.
After Euromaidan, Ukraine passed an election law establishing a gender quota for political parties. The quota mandates that representation of either sex under the proportional system be no less than 30 percent. The quota is loosely enforced, and though some political parties do follow it, many ignore it, and women still face many barriers to politics, including social stereotypes, discrimination, and entrenched political machines that slow change.
Sofiya says being a woman helped her get into parliament. "Our party has the highest percentage of women, and our women in parliament are very active. On the other hand, when people talk about gender discrimination, that only happened once to me, when some man wanted to stop me leading a military march. That was the only time I was discriminated against."
Sofiya remains committed to her work supporting the army, both in parliament and on the battlefield. To best accomplish that, she wants to improve her political and legislative skills and, along with other legislators from Ukraine, as well as from Georgia, Moldova, and Poland, was a member of a House Democracy Partnership (HDP) workshop on communications outreach and countering disinformation in December. IRI works closely with HDP, a bipartisan commission of the U.S House of Representatives that supports and strengthens democratic parliaments around the world.
"I wanted to go into politics to help the army," Sofiya explains. "Our party is aiming to join the EU and is pushing for Euro-Atlantic integration, and it is important to protect that. A key part of this is the reform of the army and building our capacity, together with our allies."
Unsurprisingly, Sofiya is undaunted by criticism, and says she will continue her army advocacy, her singing career, and teaching, and she plans to run again in the next election, currently scheduled for March 2024. She shrugs. "I see it as my job to give alternative views, so people can make their own decisions."
Top