Georgia is the strongest democracy in the former Soviet Union, with aspirations to become a member of the European Union. For many years, Georgia was widely considered a failed state, with an economy and political system crippled by systemic corruption and non-functioning public services.
However, since the Rose Revolution in 2003, Georgia has rapidly risen to become a beacon of democracy. In 2012 Georgia was the first country of the former Soviet Union, excluding the Baltic states, to have a peaceful transfer of power through an election in Post-Soviet space.
As a maturing democracy Georgia understands that a full and robust democracy must include the voice of youth. Therefore, years back political parties set up youth wings, allowing for youth to get involved in the political process at a young age.
In 2009 leaders from Youth Forum, the National Forum Party's youth wing, approached IRI and asked for help organizing a policy-oriented debate series. These debates would include party youth from across the political spectrum, creating an environment where youth parties could productively engage on policy issues. This idea came at a time when opportunities for youth to engage in constructive political dialogue were rare.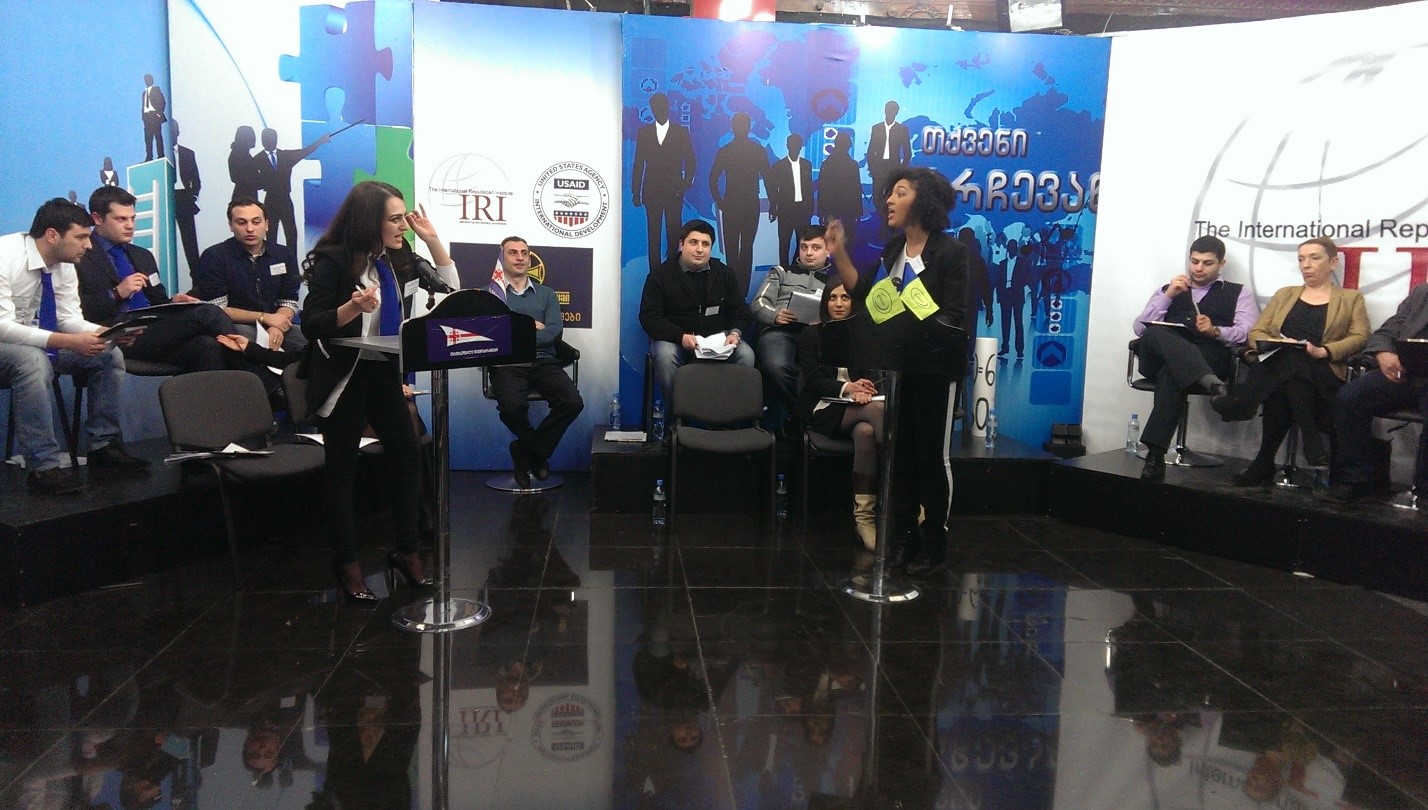 The first series of debates were held in Spring 2010 and consisted of six youth debates between eight teams. In the beginning debates were not broadcast on live television. However, the general public started hearing about the debates and soon they received coverage from several major television stations and the final debate was broadcast live on Kavkasia TV- a station that broadcasts to Tbilisi and surrounding areas.
The debates did not go unnoticed and due to positive reviews, the first ever Tbilisi Mayoral Debate was hosted during intermission. Though these first debates were only attended by the debaters' peers, the forum and substance became an underground hit amongst party youth.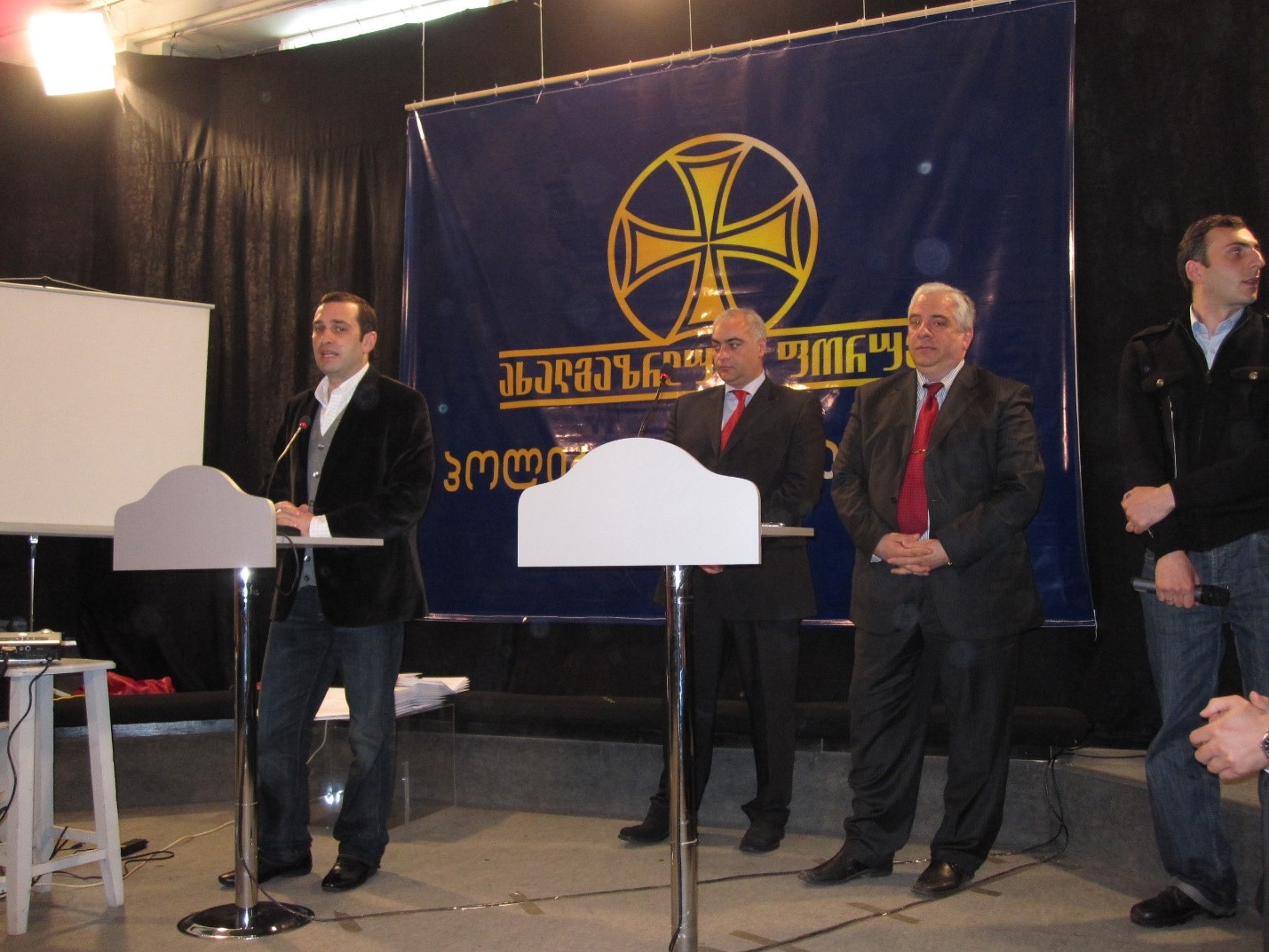 Soon after, party youth were approaching IRI with requests to help organize internal party debates in preparation for the televised round. Since then, IRI has hosted eight series of debates in Tbilisi, four series in other regions and one Pan-Caucasus debate series which included youth from Azerbaijan and Armenia. Since the debates began, close to 100,000 audience members have voted for their favorite teams.
After the first few debates we started to see debate alums making an impact in Georgia politics. Shalva Kiknavelidze, the leader of Youth Forum back in 2010 and originator of the debate idea, is now a second-term member of parliament. Sulkan Glonti, member of the Free Democrats Party, was elected to the Adjara Supreme Council from 2012-2016 and now is head of the Adjara Tourism Agency.
Other alumni are actively involved in politics or other public roles, including: Keti Mamulashvili a member of the Tbilisi City Council; Nutsa Shavladze a member of the Ministry of Foreign Affairs; and Giorgi Papelishvili and Giorgi Taktakishvili who work with a new think tank.
Equipped with the tools from the debate experience, alumni have gone on to national office and public service. These thought leaders have proven to be proficient communicators and work on policies that are inclusive and representative of multi-partisan ideas.
Series Eight of the Tbilisi Youth Debates has started and we look forward to seeing which team will prevail in the end, but also to what this new set of alumni will do in the future.
Top