Persons with Disabilities: A New Frontier for Citizen Engagement in Ukraine
Physical and mental disabilities have long been stigmatized in Post-Soviet countries.
This stigmatization has contributed to the creation of systems that do not prioritize efficient service delivery for persons with disabilities, or the creation of social programs that would directly benefit them, and Ukraine is no exception. Furthermore, Ukrainian citizens with disabilities have largely been left out of social and political discourse. 2.7 million Ukrainian citizens have been excluded from filling important roles within their communities. However, this systematic stigmatization is beginning to disappear. In 2006, the United Nations issued the "Convention on the Rights of Persons with Disabilities," which enumerates the rights of persons with disabilities and stipulates standards of care and services that countries must provide for their citizens with disabilities. Although it took several years, Ukraine's Parliament passed the "National Action Plan to Implement the Convention on the Rights of Disabled Persons" in 2012. The action plan seeks to improve national disability policy, and to promote the rights of persons with disabilities to independence, social integration and full participation in the life of society without any discrimination.
Although this is an important step forward, significant challenges remain. The International Republican Institute believes that creating local systems, which are inclusive of persons with disabilities, is an essential part of effective and representative governance. IRI has a long history of supporting the development of more transparent, participatory and inclusive decision-making processes in local governance throughout Ukraine. Every year, IRI conducts a nationwide municipal public opinion survey, and in 2016, the Institute expanded the poll's scope to include questions about persons with disabilities. The poll surveyed more than 19,000 Ukrainians in 24 cities (oblast capitals) including non-occupied territories in Donetsk and Luhansk. The survey found that progress on disability rights and issues of accessibility has been slow. A majority of Ukrainians believe that accessibility for persons with disabilities is average or bad. In Vinnytsa – among the highest scoring cities in the survey – 38 percent of residents believe that accessibility for persons with disabilities was bad, and only 17 percent believe it was good.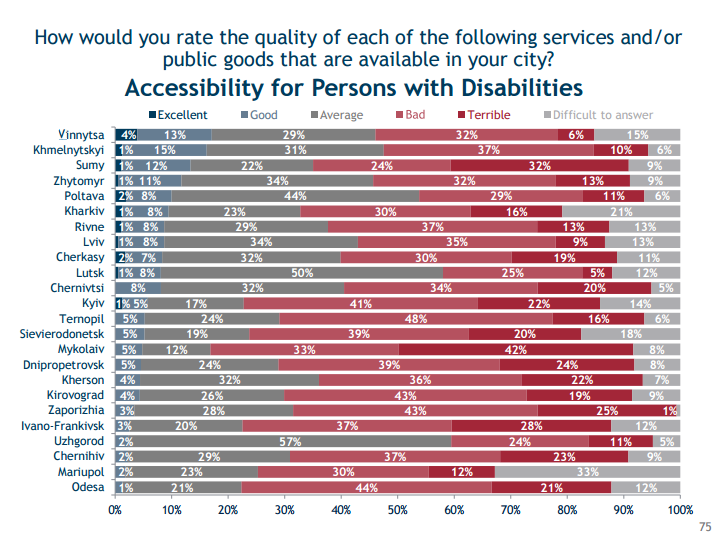 The data also suggests that there is no significant difference between regions. For example, among the lowest scoring municipalities on issues of accessibility, all regions of Ukraine were represented.
Compounding the problem, is an apparent gap between self-perception and Ukrainians' perception of others. According to the poll, 92 percent of residents in Khmelnitsky have a positive attitude toward persons with disabilities, while only 60 percent of them believe that others around them do. This trend of internal/external perceptions is even more dramatic with regard to government officials, with citizens in Khmelnitsky believing that only 40 percent of local and 27 percent of national government officials have a positive attitude. Thus, IRI's poll highlights the need to improve not only accessibility for persons with disabilities, but also to address underlying issues of perception. As representatives of all citizens, local and national government officials can and should take the lead on addressing these issues to foster more inclusive and ultimately, more successful, communities.
Top