On December 7, Ghanaians will go to the polls to vote in presidential and parliamentary elections, against a backdrop of an underperforming economy and an increasingly polarized political cycle. The election is expected to be a close race between the country's two major parties, the New Patriotic Party (NPP) and the National Democratic Congress (NDC) of incumbent president John Mahama.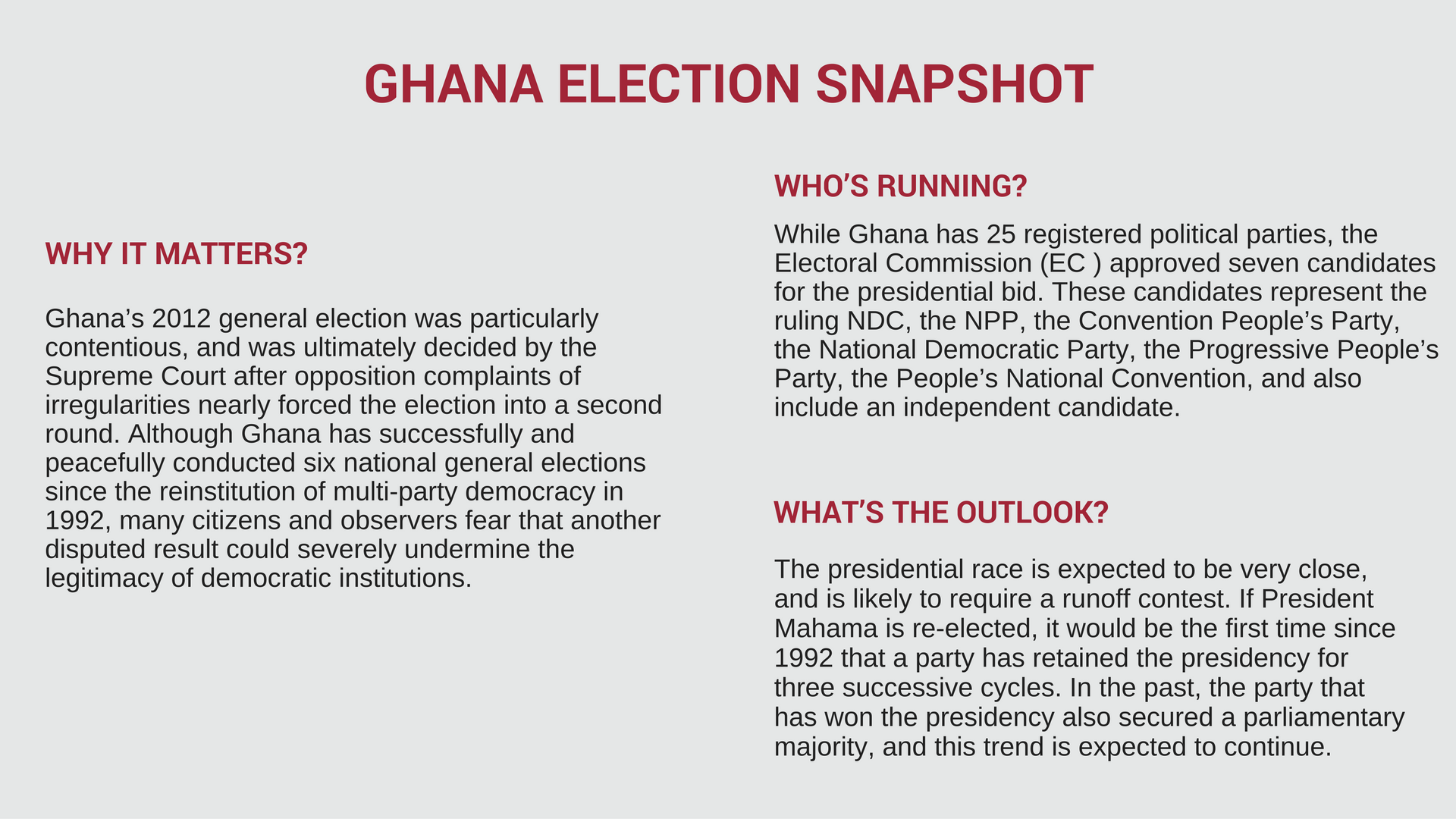 CURRENT CONTEXT
The electoral environment has been characterized by a tense standoff between the NPP and NDC. The opposition has made the electoral process an issue by repeatedly questioning the EC's integrity, challenging the voter registration process and the EC's initial disqualification of all but two minor party presidential candidates.
The economic downturn could undermine the NDC's chances of remaining in power, as polls indicate that undecided or mildly partisan voters are concerned about the economy. Youth unemployment has increased, particularly in rural areas. Inter-religious tensions are also on the rise in the rural northern regions, and stakeholders are concerned that disaffected young political party members could foment election-related violence.
ELECTION OUTLOOK
While the incumbent president has a solid chance of remaining in power, economic discontent and questions surrounding the electoral process could work in favor of the opposition NPP. In the event of a runoff, the outcome could be decided by smaller parties entering into agreements to support either major party in exchange for roles in the next government.
Ghana's most recent elections delivered a high turnout (69 percent in 2008 and 79 percent in 2012), and voter participation is expected to remain high in 2016, with an estimated 15.7 million registered voters. The 2015 by-elections were affected by sporadic, localized violence in some constituencies. Stakeholders have undertaken preparations to prevent election-related violence in the 2016 elections, but the polarized environment has added to the risk of isolated disturbances.
Top