Kenyans will go to the polls to vote in general elections on August 8, 2017, against a backdrop of mounting political tensions, increased competition and fears of electoral violence.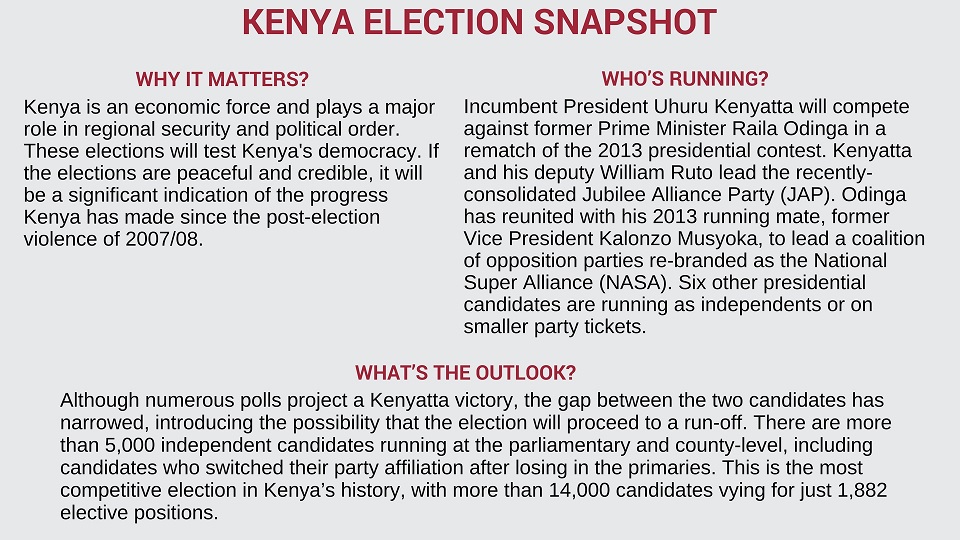 Current Context
The level of competitiveness of the presidential race, the nature of campaign rhetoric and the degree of confidence citizens have in the electoral process will serve as key indicators of the likelihood of electoral violence. The Independent Electoral and Boundaries Commission (IEBC) remains besieged by numerous lawsuits—hampering the Commission's ability to focus on final election preparations and further eroding public confidence in the electoral process.
While the 2013 general elections proceeded relatively peacefully, Kenyans were traumatized by the 2007-2008 post-election violence in which nearly 1,500 people died. Recent attacks by al-Shabaab in northeastern Kenya and Lamu County have led security forces to introduce curfews in those areas, and the fear of further attacks could drive down voter turnout. Tribal and pastoral clashes in other parts of the country are also heightening local tensions.
Candidates and their campaigns continue to use social media for both conventional campaigning and to threaten opponents. The Kenyan government has arrested one parliamentary candidate for hate speech, and several other investigations are ongoing. Some communities have reported an increase in the purchase of weapons during the campaign period, and many citizens are reportedly planning to return to their villages for Election Day in an effort to avoid violence.
Election Outlook
While most national public opinion polls show Kenyatta with a slim lead, a few show Odinga leading by one or two percentage points. To win in the first round, a single candidate must attain both more than 50 percent of the total votes as well as 25 percent of the vote in half of Kenya's 47 counties. It will be very difficult for one candidate to achieve both criteria and the election may therefore go to a run-off.
It is unclear whether the government and the IEBC are prepared for a run-off, or for a transition of power in the event Odinga wins. Moreover, the Supreme Court does not appear to have the capacity to properly adjudicate disputes if one of the candidates were to reject the results. Given the heightened political tensions between Kenyatta and Odinga supporters and the increased competition at the county level, post-election protests are likely, and there is a chance that violence may break out if the veracity of the results is called into question.
Top