On September 18, 2016, Russians will go to the polls to vote in parliamentary elections for all 450 seats in the State Duma. The contest is not anticipated to meet international standards of free and fair elections, and will likely return a majority for the ruling United Russia party—though the expected low turnout could reflect popular dissatisfaction with the dismal economic situation.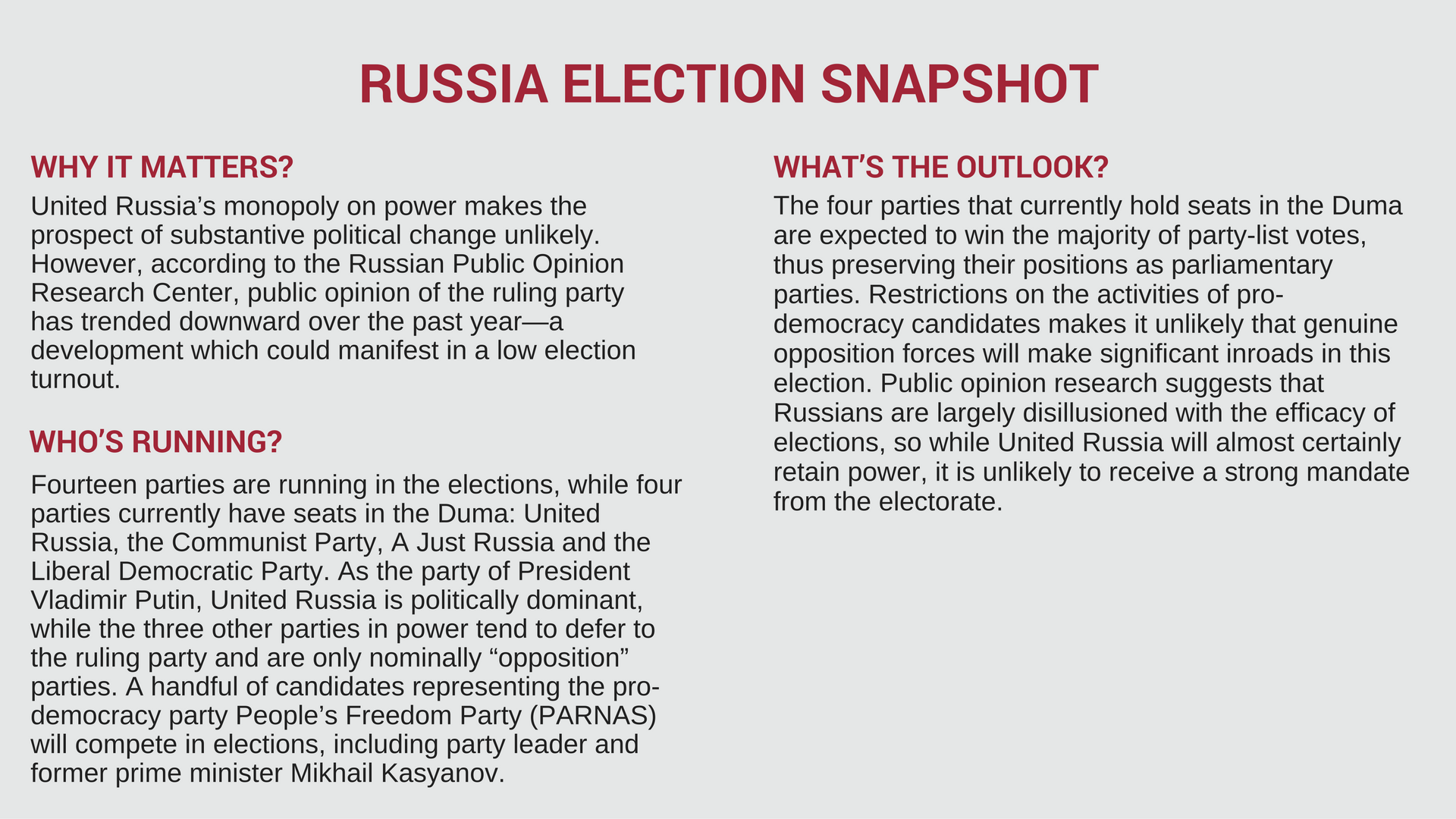 The limited democratic gains made in post-Soviet Russia have steadily eroded over the past 16 years. Restrictions on party registration, the use of intimidation to undermine the growth of a powerful opposition movement and repressive laws limiting political expression have undercut Russia's pro-democracy forces. Non-parliamentary parties and their affiliated single-mandate candidates have been shut out from traditional media, especially television—the main source of news for most Russians. This has left non-parliamentary parties with very low name recognition.
The Russian economy has strongly declined over the past two years as a result of collapsing oil prices, sanctions, and underinvestment in infrastructure and economic diversification. In addition to high unemployment, as of August 2016 real income has been in decline for 21 consecutive months. Public opinion research indicates that poor economic conditions are contributing to a drop in active support for United Russia, whose popularity has always depended on the ability to deliver year-after-year economic growth.
Putin's United Russia and its satellite "opposition" parties will continue to dominate the State Duma, but with support at its lowest level in recent years, voter turnout is expected to be weak. Voter intimidation and low turnout are anticipated in occupied Crimea, and artificially high turnouts are expected in the North Caucasus.
Across Russia, opposition party candidate lists were routinely rejected by the election commissions during the campaign period due to alleged problems with signature collection. A combination of these types of tactics throughout the campaign period and the state monopoly on media outlets has made the prospect of significant wins by the opposition highly unlikely.
Top