Reconstruction of Ukraine: Project Management and Local Governance in Bakhmut and Chornobayivka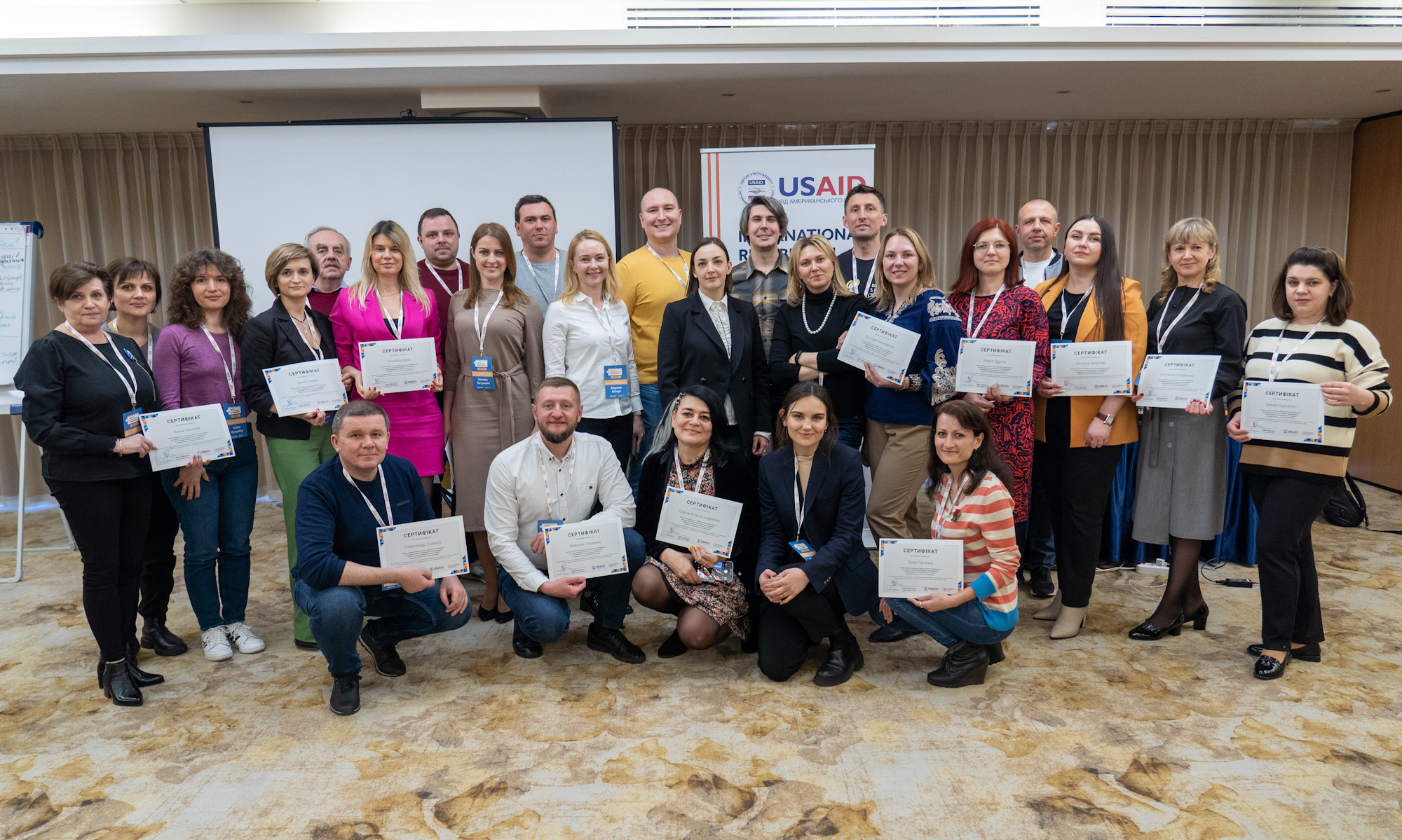 Russia's full-scale invasion of Ukraine has caused incredible destruction to communities throughout Ukraine. More than 150,000 residential buildings worth $54 billion USD, have been damaged or destroyed over the last 14 months, according to the Kyiv School of Economics. Reconstruction involves implementing a great number of projects in communities that require diverse planning skills and high-quality management. That is why the International Republican Institute (IRI) launched a project management training series for local government officials with the support of the United States Agency for International Development (USAID).
"Our task is to build a network of reconstruction managers at the local level throughout the country," said John Bush, Internal Political Unit Chief at the US Embassy in Ukraine, during the final conference of the "Project Management School for Local Government Officials" in Kyiv. "This is a pilot project, but international organizations such as the International Republican Institute and other USAID-funded organizations are thinking about how to continue working in this direction."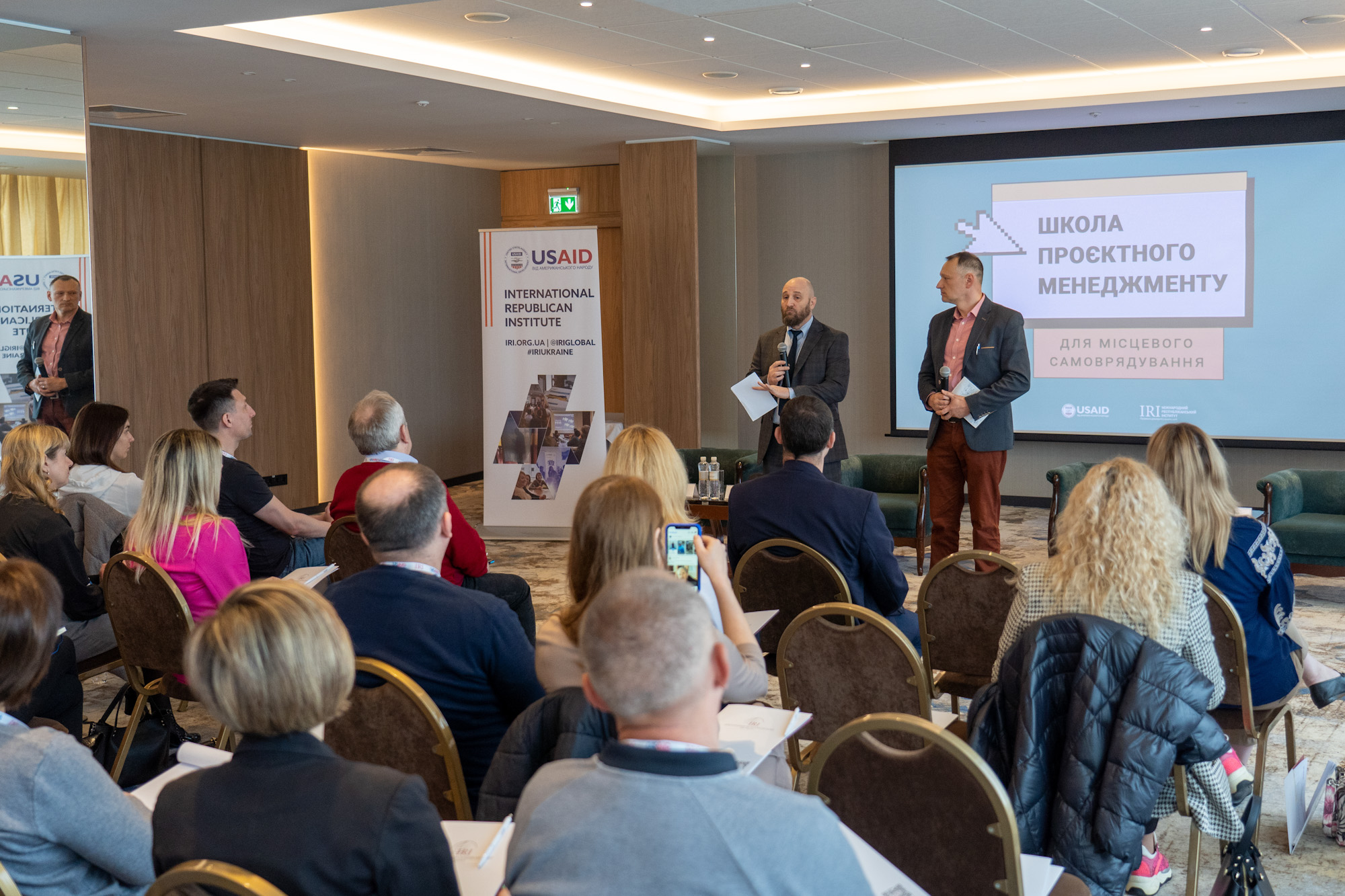 Over the course of three months, 30 local officials representing different areas of Ukraine – from Kherson to Lviv – were trained at IRI's "Project Management School for Local Government Officials." Participants learned how to identify community priorities for reconstruction, develop budgets during crisis, and compile project implementation teams.
The program concluded with a conference in Kyiv, where participants presented their projects and received recommendations on funding opportunities from domestic and international donors. The projects developed included a mine clearance program in Bakhmut and the construction of a refuse sorting station in Chornobayivka.
Mine clearance of Bakhmut
While intense fighting continues for control over Bakhmut, municipal leaders are already conceptualizing ways to safely and effectively implement future de-mining initiatives across local and surrounding territories. Iryna Gotsulenko, head of the Territorial Development Unit of the Economic Development Department of the Bakhmut City Council, is currently working with local and international organizations to learn evidence-based communication strategies and successful approaches to structure de-mining campaigns.
"Warsaw is a city that was reconstructed very quickly," says the author of the project. "One of the reasons is that the population didn't wait [for] the government to take action. There was an active local community, which is the same type of community we have in Bakhmut. Our residents are ready to return to the city as soon as Russian troops leave, and to help rebuild and implement social projects." 
Ms. Gotsulenko currently works out of her home region of Odesa but has lived in Bakhmut for an extended period and considers the community a second hometown.
Bakhmut's future de-mining efforts will require significant financial commitments, with early estimates indicating $3 million USD needed to successfully de-mine the approximately 1 square km of land. Thanks to their participation in IRI's "Project Management School for Local Government Officials," the project's leader stated she now has the knowledge, strategies, and connections necessary to submit successful international project proposals and manage future community rebuilding campaigns.
Solving the refuse problem in Chornobayivka
After Russian troops left Chornobayivka, the settlement was overrun with garbage and debris. The Chornobayivka community could not handle this cleanup without assistance, so constructing a refuse sorting station was a good solution. Such a project was started by Zorie Ganieva, an employee of the Chornobayivka Village Council, and will include the creation of a solid household waste sorting and composting station.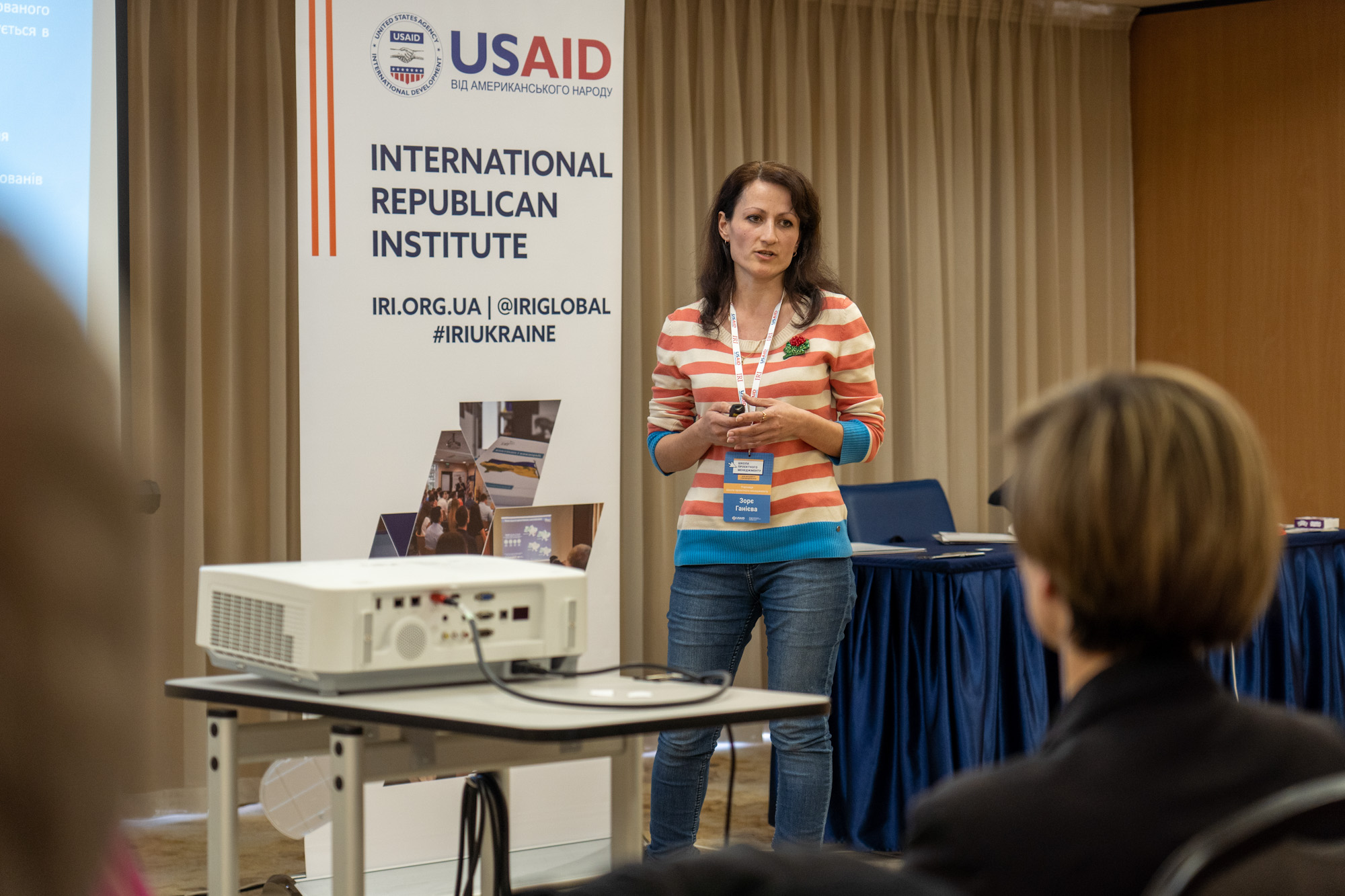 "Now, we really need a sorting station to process all this garbage," explains Ganieva. "What we can compost, we will use for the needs of the community. For example, we will process the fragments of construction material into crushed stone and use it for paths. We will sell the rest of the debris for funds to invest in the community." 
According to the project plan, the sorting station will produce a pay off in 10-12 years. The project will also be expanded into neighboring communities in the Kherson region.
---
Michael Druckman, IRI Ukraine Resident Program Director, explains "Local communities are learning fast, finding creative solutions, and demonstrating incredible engagement and readiness to start working on the reconstruction of the country right now. And we will continue to support them in this process."
Top