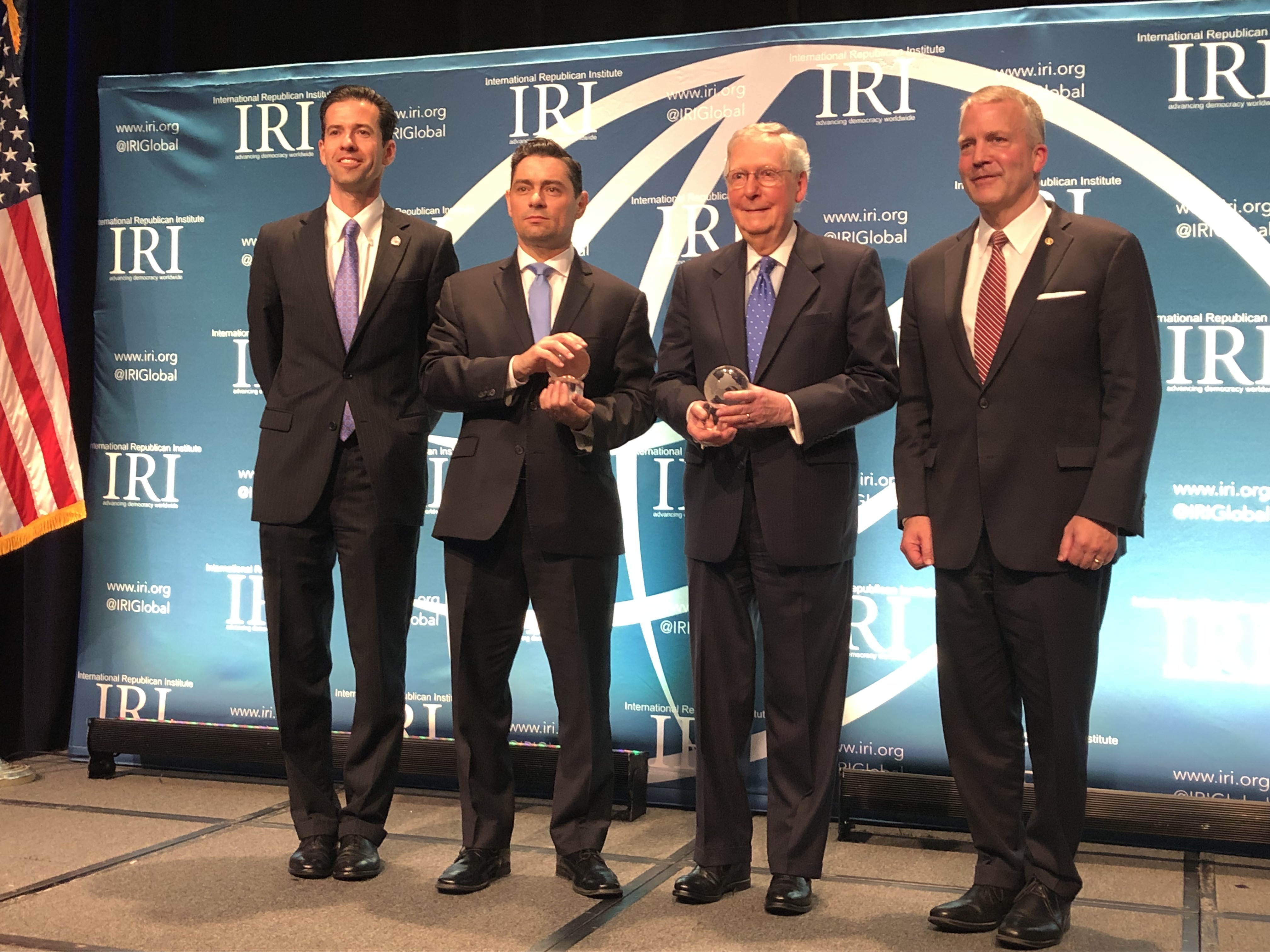 Washington, DC—U.S. Senate Majority Leader Mitch McConnell praised the International Republican Institute (IRI), saying "American leadership is what IRI is all about," after accepting IRI's John S. McCain Freedom Award on May 7, 2019.
Leader McConnell was honored with IRI's John S. McCain Freedom Award alongside Cindy McCain and Venezuelan Ambassador Carlos Vecchio, accepting on behalf of the Venezuelan people. Additional speakers included IRI board chairman Senator Dan Sullivan, board members Senator Mitt Romney and Senator Lindsey Graham, Senators Martha McSally and Rick Scott, and U.S. Special Representative for Venezuela Elliott Abrams.
In a rousing call for freedom in Venezuela, Ambassador Vecchio said "I stand before you as ambassador because of the courage of the Venezuelan people," thanking IRI for its ongoing support and praising the U.S. and the international community for standing up for democracy.
Elliott Abrams also praised IRI's work as "vital to preserving democracy" in Venezuela, and declared that "A people who love freedom will in the end be free. And with the support of the U.S. and allies around the world, Venezuela will be free."
Speakers including IRI chairman Senator Dan Sullivan and IRI board member Mitt Romney emphasized the vital connection between IRI's work promoting democracy and freedom worldwide, and American leadership in confronting authoritarian threats from countries such as China and Russia.
Freedom Award recipient Cindy McCain offered a touching reflection on the legacy of the late Senator McCain in her own humanitarian work, and thanked "IRI for keeping the faith every day that all human beings have a moral right to be free."
Speakers including Senator Lindsey Graham, leading Russian democracy activist Vladimir Kara-Murza and Mayor of Kyiv Vitali Klitschko paid tribute to the late IRI chairman Senator John McCain, praising his commitment to freedom and democracy worldwide as inextricably linked to his patriotism.
In honor of Senator McCain's legacy, IRI also announced a new initiative entitled the McCain Fellowship for Freedom, which will support a cohort of young, rising leaders from around the world who are committed to the promotion of political and economic freedom in their countries.
About IRI and the John S. McCain Freedom Award
Since 1995, IRI has presented the Freedom Award to individuals who have made exceptional contributions to the advancement of democracy and human freedom. Past recipients include President Ronald Reagan, President George H.W. Bush and slain Russian opposition leader Boris Nemtsov.
Founded in 1983, IRI is a nonprofit nonpartisan organization that works with political parties, civic groups, and legislatures in more than 100 countries to strengthen democratic institutions, safeguard elections, advance citizen engagement, and promote open and accountable government.
Top