SheVotes: Barriers to Women's Political Engagement in Georgia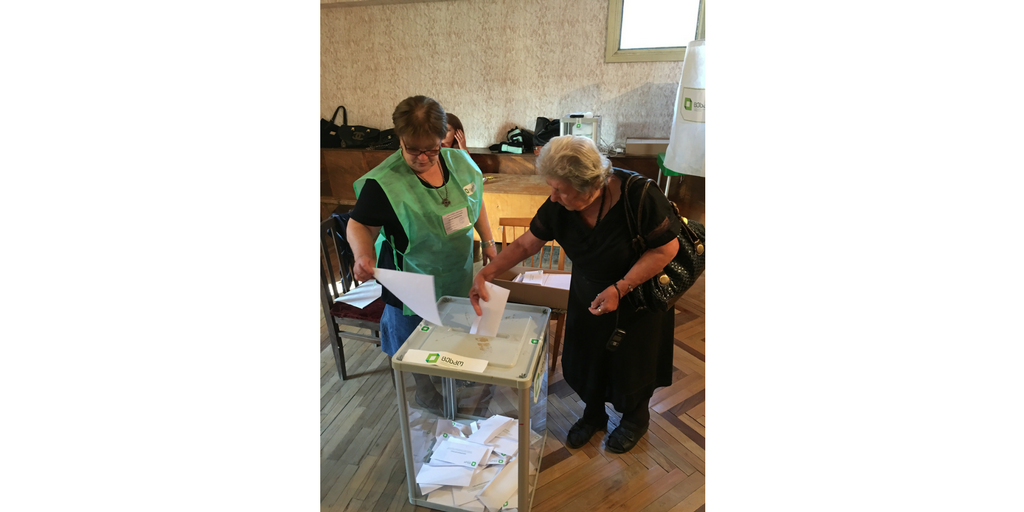 The Women's Democracy Network (WDN) has developed a framework to identify key barriers to women's political engagement. The "SheVotes" gender assessment toolkit can inform the design of interventions to increase women's political participation and leadership.
In partnership with IRI's Georgia team, WDN first launched the use of the toolkit in Georgia during the October 21, 2017, municipal elections and the mayoral runoff contests held in six cities on November 12.
Georgia has been on the path to democratization since it gained independence from the Soviet Union 25 years ago. However, elections have only recently been deemed to be "free and fair" by international observers, and challenges remain in ensuring the population is equally represented in the political process. Despite some efforts to improve representation for women, the number of female politicians in Georgia remains low. According to the International Parliamentary Union, women hold only 16 percent of seats in Georgia's parliament. Prior to the October municipal elections, sakrebulos (local councils at the municipal level) included only 245 women (11.8 percent) out of 2,083 total seats. The report was timely, as Georgia's parliament is currently debating legislation that would set a gender quota for party lists at the local and national level.
The lack of female representation was just as evident in the recent Georgia elections, where no women participated in the runoffs. The "SheVotes" toolkit analyzed the root of this issue. WDN will apply the results of the assessment to guide its own programming in the country.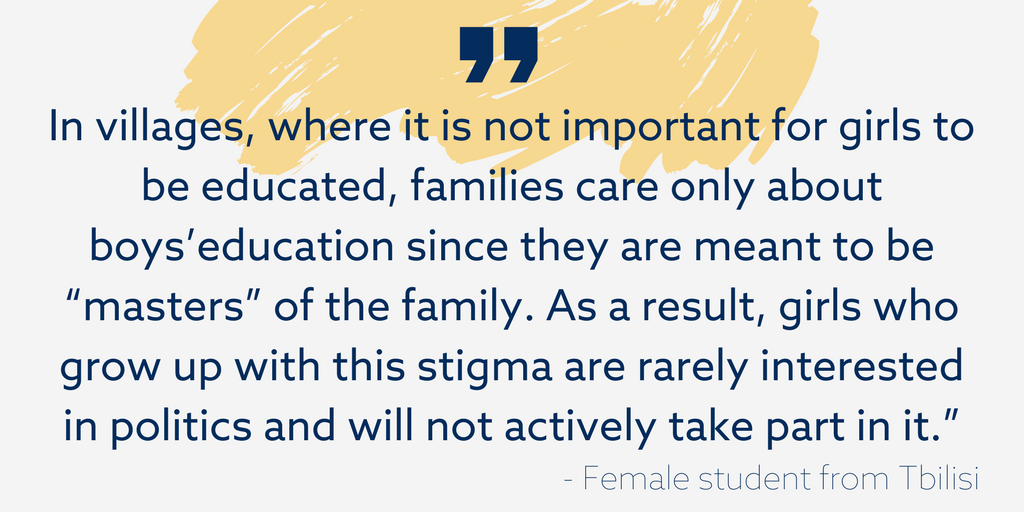 Informed by desk research and the input of IRI experts, WDN considered two overarching questions to guide the assessment prior to deploying to Georgia:
1) Do sentiments about women's political participation differ between rural and urban areas? If so, how?
2) How do party officials feel about the proposed gender quota? How can it most effectively be implemented?
Our research found that women in urban and rural regions of Georgia face different barriers. Interviews with citizens and political representatives revealed that women in urban regions have a definite advantage over women from rural areas. The main cause of this disparity is the greater access to opportunities and more freedom of movement in urban centers such as Tbilisi. Women in rural areas, on the other hand, face the full constraints of a patriarchal society, where they are relegated to traditional roles of caring for the family and do not have the time or ability to participate in politics. Civil society organizations can address this problem by conducting trainings in rural areas to raise awareness of political challenges.
Another part of the problem is that political parties do not prioritize recruitment of and outreach to women. A mayoral candidate from the European Georgia Party in Ambrolauri said that even though her party has a women's wing that is focused on hiring female members, the party platform lacks an institutionalized mechanism to recruit female members. Other responses echoed these sentiments. WDN believes that political parties should work closely with their women's wings/organizations to mainstream women's voices and issues into the party platform, as well as engage with women outside of election season.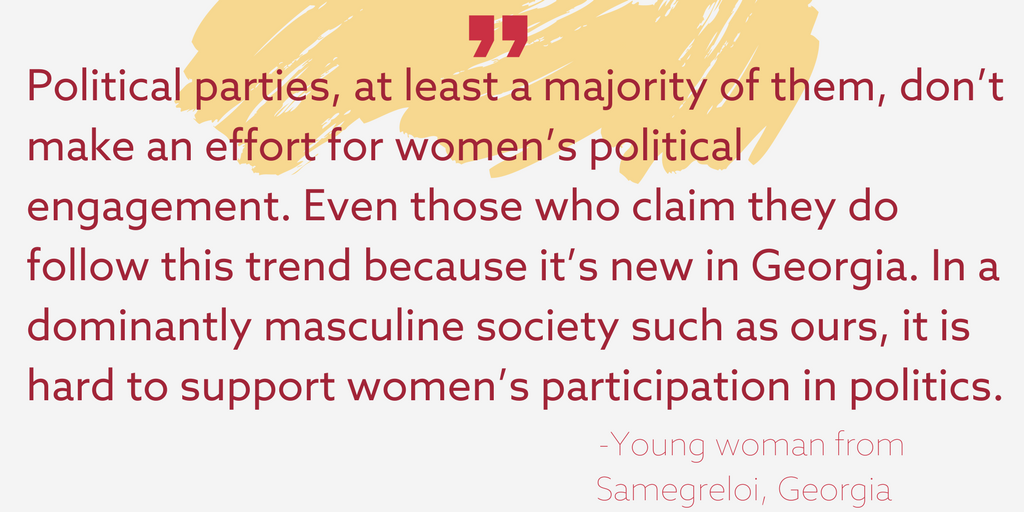 While focusing on governmental and societal barriers, an underlying individual barrier became evident during the interviews conducted. Multiple women, from both rural and urban areas, told us that women do not have the confidence to speak up for themselves because they think that their voices won't be heard. WDN believes that civil society organizations can be instrumental in making the political culture more inclusive by engaging with girls at a young age. An early introduction to politics will allow young women to grow up believing that there is a place for them in politics. For a democracy to truly flourish, it's important for women – who make up more than 50% of the world's population – to be actively engaged in the political and civic life of their country.
Read the full report here for a WDN's complete findings and recommendations.
Top