"Business as usual will never lead to growth and development. Only through innovation and change will you see real progress!" – Mohammed Dewji, Pan-African Entrepreneur
Life in the Sahel region brings many challenges for young people; whether these challenges stem from violent extremism, poverty or weak institutions, youth struggle to achieve their economic, social and financial aspirations. In 2014, Niger, Mali, Burkina Faso, Mauritania and Chad formed a regional conglomerate, known as G5-Sahel, to fight the spread of violent extremism in the region and promote development and sustainable economic growth.
IRI's Sahel Regional program seeks to provide youth with opportunities to positively affect their communities and engage with local governance officials and community stakeholders. As part of these efforts, IRI organized the G5 Sahel Investment Conference on September 27, 2018 in Bamako, Mali to encourage youth, local stakeholders and G5 Sahel officials to engage in interactive learning and dialogue to chart new paths toward integrative development.
Ninety-seven youth participants and 14 guest speakers attended the one-day conference, during which youth and stakeholders addressed a series of challenges and opportunities that they face in investing and developing the Sahel region. Guest speakers from IRI's Regional Youth Council, the Malian Employers Council, the G5-Sahel organization, the Industrial Employers' Organization and the international youth chamber provided insight to the youth audience on their various experiences engaging in investment in the region.
Defined as persons under 35 years of age, youth consist of over 70 percent of citizens in the Sahel region. And while the G5-Sahel organization was initially created as a military alliance to collaborate efforts to fight violent extremism and promote development, development components have received less attention so far. Despite the diversity of culture, languages and economic infrastructure between Mauritania, Mali, Burkina Faso, Niger and Chad, IRI's programing aims to support youth leaders from these five states as positive change-makers in their community. The challenges of investment and economic development served as pivotal themes during IRI's conference.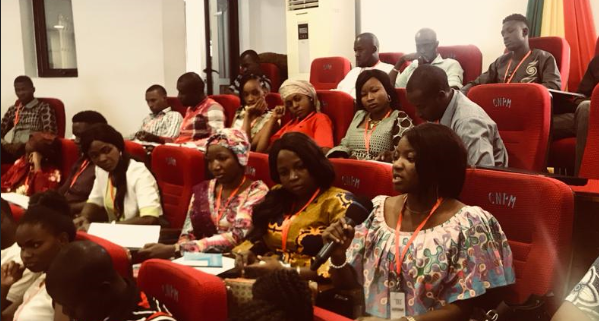 IRI's ten Regional Youth Council representatives, two from each of the G5-Sahel countries selected to conduct youth lead programing in their target communities, highlighted the outcomes from their initiatives aimed at generating dialogue and youth participation through issue-based forums and unity festivals. Youth council members from their respective communities in Chad, Mauritania, Mali, Niger and Burkina Faso paired into teams of two to simultaneously implement their initiatives in their target communities from September 20-25. The outcomes from these activities were shared with the audience at the Economic Investment Conference, highlighting the recommendations gathered from youth during these initiatives along with photos and videos of their events and the unique approaches each team utilized in addressing the themes of combating violent extremism and promoting youth empowerment in the Sahel.
Ms. Valerie Beilvert, vice president of the National Malian Employer's Council, presented at the investment conference on the various ways youth can invest and generate development within their communities. During her presentation, she praised IRI's work with youth and entrepreneurship, and stressed the need for local and international business stakeholders to support youth in their entrepreneurial adventures as a way to prevent and solve major crises, including migration and violent extremism. Ms. Beilvert also recommended that attendees engage peers in co-developing youth lead initiatives and learn from the mistakes of older institutions to build more sustainable and collaborative youth-led ventures. Ms. Beilvert highlighted the need for youth to collaborate and drive new businesses as they are the dominate consumer population in the region poised to generate the Sahel's economic growth.
Mr. Cherif Hamidou Ba, a representative of the G5-Sahel, presented at the conference on the connection between security and development in the region. Mr. Ba stressed that ongoing security and defense initiatives are limited immediate actions that are needed to stabilize the environment for other development and investment projects to be undertaken as long-term solutions to the current regional problems. Mr. B lectured youth participants on the negative effects of military action without social, political and economic development. He cited terrorism, drug and human trafficking, environmental problems and the lack of access to basic needs as the most prevalent compounding issues. Mr. Ba also presented information on how participants can engage with the G5-Sahel's Integrated Youth Strategy, a regional strategy adopted by the five-member countries to integrate and engage youth in political, social and economic initiatives.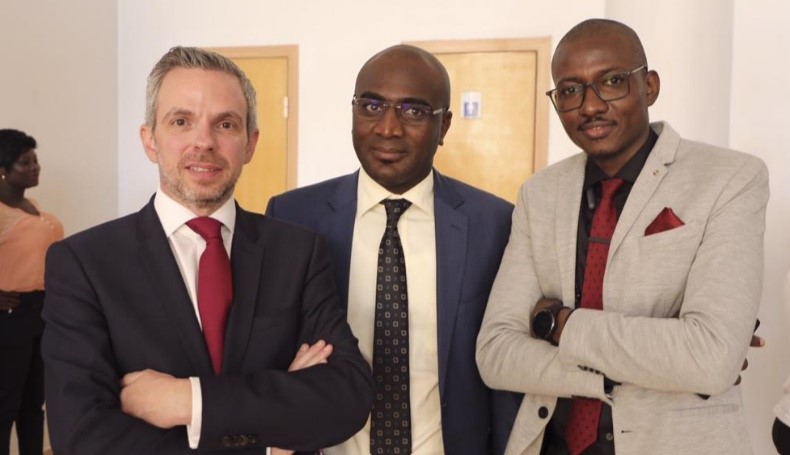 Mr. Mamadou Yatassaye, the vice president of the Industrial Employers' Organizations (OPI) and CEO of "TRANSFOPAM," spoke on the theme "Investing in the Sahel: Difficulties and Opportunities." Mr. Yatassaye shared the difficulties he encounters in his work, including limited access to energy, poor security, limited state support for innovation and youth-led business initiatives, and competition with cheap Chinese products. Mr. Yatassaye highlighted new industries that will revolutionize critical economic sectors, such as agriculture, as inspiration for youth to engage in innovation and entrepreneurship to make a difference in their local economies.
Mr. Moustapha Sanogo, executive vice-president of Jeune Chambre Internationale, a Mali based youth organization aimed to promote youth empowerment through sports and civic engagement, presented on the various initiatives his organization is implementing in the Sahel region, and the various opportunities for youth to contribute to their community building efforts.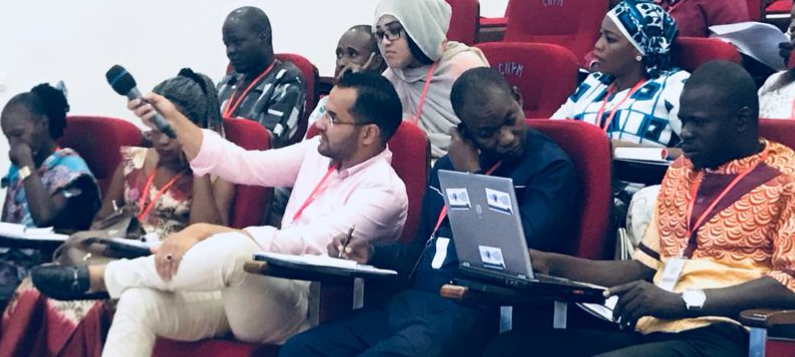 Efforts such as IRI's regional youth program are critical to exposing youth to the opportunities for investing and engaging in their communities at local and state levels. Encouraging youth to explore innovation and entrepreneurship are not only beneficial for motivating economic growth but is needed to inspire youth to want to invest in their communities and combat narratives of violent extremism and economic driven migration. Having access to resources, mentors and motivated peers can set the environment for youth to pursue ideas and economic ventures that could transform their community and the Sahel region at large.
Top