Thirty-eight years ago on Monday, President Ronald Reagan delivered his historic Westminster Address to the British Parliament, in which he called for a worldwide initiative to advance democracy that led to the creation of the International Republican Institute (IRI). At a time when the future of the Soviet Union appeared secure and scores of countries lived under the communist yoke, few could have anticipated that this visionary speech would prove a turning point in the Cold War and a harbinger of the world's pivot towards democracy. Here's a look at how some of the formerly communist countries of that era transitioned to democracy, with support from IRI.
In his Westminster Address, President Reagan prophesied the end of the Cold War and set the United States on a course to defending freedom across the globe. "We must be staunch in our conviction that freedom is not the sole prerogative of a lucky few, but the inalienable and universal right of all human beings," he said. Just one year later, President Reagan's call for a "global campaign for democracy" resulted in the founding of the National Endowment for Democracy and its four core institutes, including IRI.
Since our founding, IRI has been proud to accompany our partners in formerly communist countries on their path toward democracy. In the relatively short period since the collapse of most communist dictatorships in the early 1990s, we have seen formerly sclerotic autocracies transform into vibrant, citizen-centered governments.
In Mongolia, pro-democracy demonstrations brought an end to the country's one-party Communist rule shortly after the Soviet Union's collapse. Mongolia held its first free and fair elections in 1990, and since that time IRI has worked in the country to institutionalize political parties, strengthen legislatures and facilitate the exchange of democratic values in the region. Our programming continues to focus on consolidating Mongolian democracy. Today, as Mongolians prepare to hold their eighth election since 1990, IRI is helping to ensure informed civic participation and elevating the voices of young democratic leaders.
West of Ulaanbaatar, Ukraine has made impressive strides in its democratic development since declaring independence from the Soviet Union in 1991, and IRI has been privileged to work alongside the country's champions of democracy for over two decades. Since 1994, we've collaborated with local governments, political parties and civic activists in Ukraine to strengthen multiparty competition and promote representative government institutions.
And while the transition to democracy hasn't been easy, Ukrainians across the country have demonstrated their unwavering commitment to forging an independent, democratic and European path. From the 2004 Orange Revolution that brought hundreds of thousands of Ukrainians to the streets in protest of rigged elections, to the 2014 Revolution of Dignity, Ukraine has shown, as President Reagan said, that "man's instinctive desire for freedom and self-determination surfaces again and again."
Just across Ukraine's western border, Slovakia has also overcome a variety of hurdles in its post-1989 path to democracy – perhaps even more than its Central European neighbors. Faced with implementing democratic reform while also building an independent nation after the break-up of Czechoslovakia in 1992, Slovaks have prevailed over a unique set of challenges in their fight for freedom. The country fell under an anti-reformist government led by former Prime Minister Vladimir Meciar in 1991, meaning that while other countries were implementing major overhauls of their economic and political systems, Slovakia's development was stalled and its hopes for NATO and European Union membership were delayed.
Through widespread civil society engagement and with the help of IRI, Slovakia ultimately achieved its dreams of a pro-reform, pro-Western government under former Prime Minister Mikulas Dzurinda in 1998. By providing training and technical assistance to a wide array of pro-democratic parties throughout the 1990s, IRI was a critical force in Slovakia's success. Today, we've worked alongside thousands of political party representatives, civil society activists, thought leaders, media-monitoring and election analysists and government officials in the country to continue to push Slovakia's young, but vibrant, democracy forward.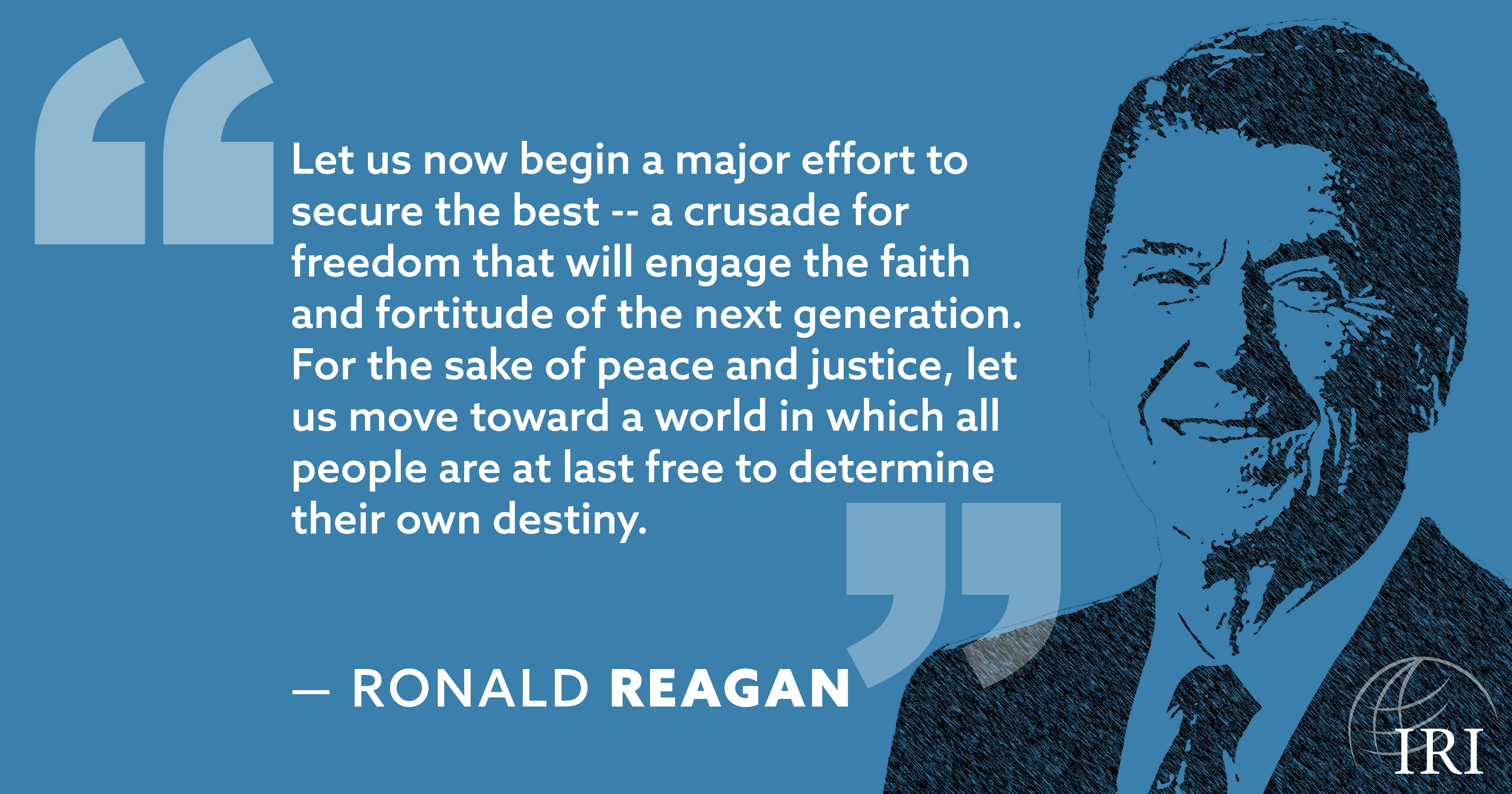 From the dissidents of the Soviet era to the protestors in Hong Kong, President Reagan's recognition of the universal desire for human freedom rings as true today as it did 38 years ago. We at IRI are proud to carry that legacy forward and remain committed to our pursuit of "a world in which all people are at last free to determine their own destiny."
Top