Last week, IRI's Center for Insights in Survey Research released the findings of an extensive public survey conducted in Kyrgyzstan.
It is the first public survey in the country since a controversial constitutional referendum that was held last December. This new poll provides vital insights about the mood of the population as the country prepares for presidential elections later this year.
Among the most remarkable findings was that public perception of relations with Uzbekistan has improved sharply. For twenty-five years, relations between the two countries have been plagued by conflicts about border demarcation and uneven access to water, pastureland, natural gas, and electricity. The poll results seem to show that many citizens now believe it is plausible to resolve those problems.
The two countries share a partially-demarcated border of more than 1300 kilometers, including four Uzbek enclaves surrounded by Kyrgyz territory and one Kyrgyz enclave surrounded by Uzbek territory. Oftentimes it is not clear which country's police have jurisdiction in a given place or whose civilians have rights to water or pasture. The persistent issues with the disputed border have been as demoralizing domestically as they have been in foreign policy.
The most sensitive areas of the border are where Soviet infrastructure projects were later split, such as the dam of the Kasansay Water Reservoir. This reservoir sits on the territory of today's Kyrgyz Republic but was originally financed by the Uzbek Soviet Socialist Republic and was meant to irrigate farmland in today's Uzbekistan. Most recently, the site hosted a tense military standoff in the spring of 2016 after Kyrgyzstan refused to admit a group of Uzbek engineers to do repair work. Later, in August of the same year, Uzbek police arrested a group of four Kyrgyz workers operating a telecommunications antenna on the summit of the disputed Ungar-Too mountain and detained them for 16 days.
With the memory of these incidents still so fresh, it is remarkable that the recent poll found 48 percent of Kyrgyzstan residents considered their country's relationship with its neighbor to be "good," a striking improvement of 19 points over the previous year. This is the first time since IRI began asking the question in May 2011 that more respondents have rated the relationship as "good" than "bad."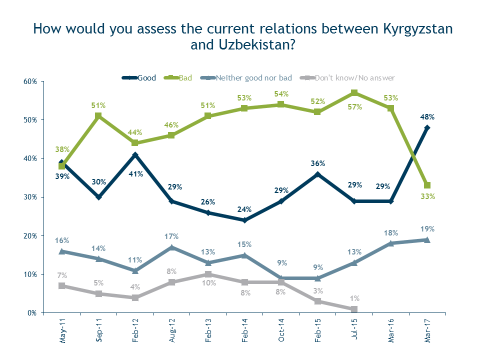 The same poll found a drop of 11 points in respondents viewing Uzbekistan as a threat and a 12 point increase in viewing the country as a partner. It is a great contrast with the situation in 2014, when disputes over the price of natural gas imported from Uzbekistan left the southern half of Kyrgyzstan without this crucial resource for eight months. When IRI conducted a survey during the middle of the crisis, in October 2014, nearly half of respondents listed Uzbekistan as a threat: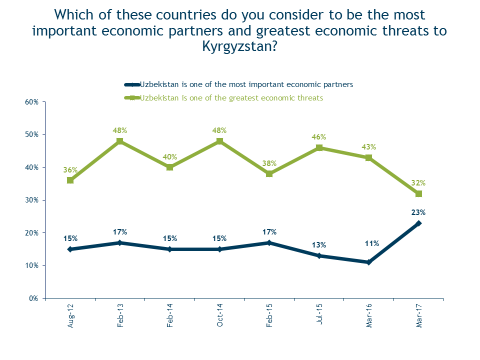 Relations improved after gas supply was restored to southern Kyrgyzstan late in 2014, but energy remains a tense issue and one in which foreign policy has an immediate and keenly-felt effect on the lives of average citizens. The Soviet infrastructure plan for Central Asia had relied on easy exchange of natural resources between different republics, but following the collapse of communism this exchange has not been so easy. Water is the bargaining chip for Kyrgyzstan, which provides irrigation and hydroelectricity to its neighbors and imports natural gas and electricity from other sources in return. If political relations are at a low point, resources can get cut off as they were in 2014. This crisis was heavily covered by the media and the governments of both countries were criticized for their failure to make and implement a deal.
Ultimately the security and economic prosperity of both countries will be ensured only when their respective governments come to mutually satisfactory agreements about the disputed areas of the border, and what's equally important, the residents of both countries gain confidence that the agreements will hold. It is for that reason that this year's survey data is so encouraging. It indicates a growing public confidence that political institutions will be able to come together for the benefit of citizens in both countries.
Last week Uzbek Foreign Minister Abdulaziz Kamilov and Kyrgyz Prime Minister Sooronbai Jeenbekov stated that their monthly meetings on border delimitation and demarcation have been showing results. As Mr. Kamilov said, "We have been successful in many areas of cooperation with Kyrgyzstan, in particular regarding such a complicated and sensitive issue as this."
Top