Few countries have gained their independence from a single vote. But in the case of Timor-Leste, a single vote is where the nation began.
On August 30, 1999, the UN held a referendum in the Indonesian-occupied territory of Timor-Leste. On the ballot were two choices – either to accept or reject the proposed special autonomy within Indonesia. After 24 years of occupation, the Timorese were finally given the opportunity to determine their own future. Getting to this point wasn't easy; it is estimated more than 250,000 Timorese – a third of the East Timorese population – perished as a direct result of the Indonesian occupation, the highest per capita death toll of any conflict in the 20th century.
In the weeks prior to the ballot, violence from Indonesian militias had forced much of the population into the hills and mountains surrounding the towns and villages. Many feared violence on Election Day would prevent them from voting, so they arrived at the polling stations before dawn to patiently wait in the darkness. When the polls opened at 6 am, more than 3,000 people were witnessed queuing in the dark in the eastern village of Maliana – 2,000 of them having returned after escaping violence the week prior. By the time polls closed that afternoon, 98 percent of registered voters had cast their ballot in what would soon become one of the world's newest nation.
The results of the referendum were announced on September 4, 1999: 94,388 in favor and 344,580 against the proposed special autonomy. Despite the fear of reprisal and the uncertainty of what the vote would bring, 78 percent of Timorese voters had rejected integration with Indonesia and expressed their desire to transition towards independence.
Fast-forward eighteen years and Timor-Leste is ranked by the Economist Intelligence Unit as the most democratic country in Southeast Asia. Despite the obstacles it faced then and currently, Timor-Leste has shown dogged determination in its commitment to democracy and optimism towards the future. As measured in IRI's May 2017 national public opinion poll, 68 percent of respondents believe that Timor-Leste will be better off in the coming year and 45 percent believe Timor-Leste is better off than the year before.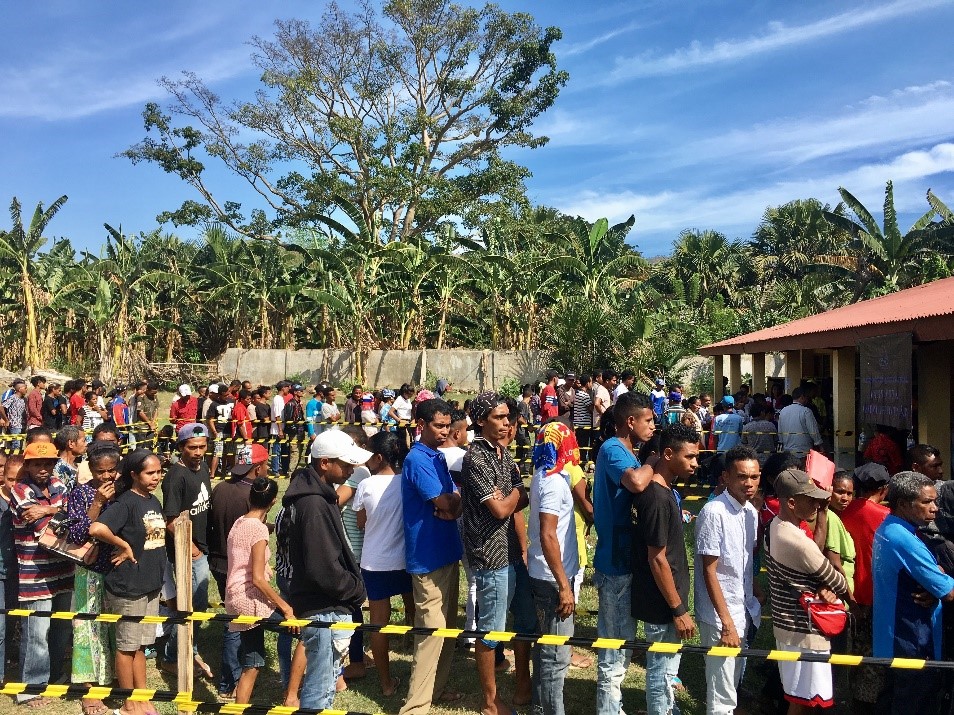 This past July, IRI fielded an international election observation mission to observe Timor-Leste's fourth parliamentary elections. I was fortunate enough to join as an accredited international election observer. As in 1999, voter turnout was high at 77 percent of registered voters. Missing from this year's elections, however, was the violence and voter intimidation that plagued the 1999 ballot. As stated in IRI's official statement, July's elections were orderly and well-administered, with voters once again patiently queuing and showing a clear admiration for the power of the vote. As described by one observer, the mood felt "festive" with neighbors and friends keeping each other company and young kids chasing each other between their parents' legs.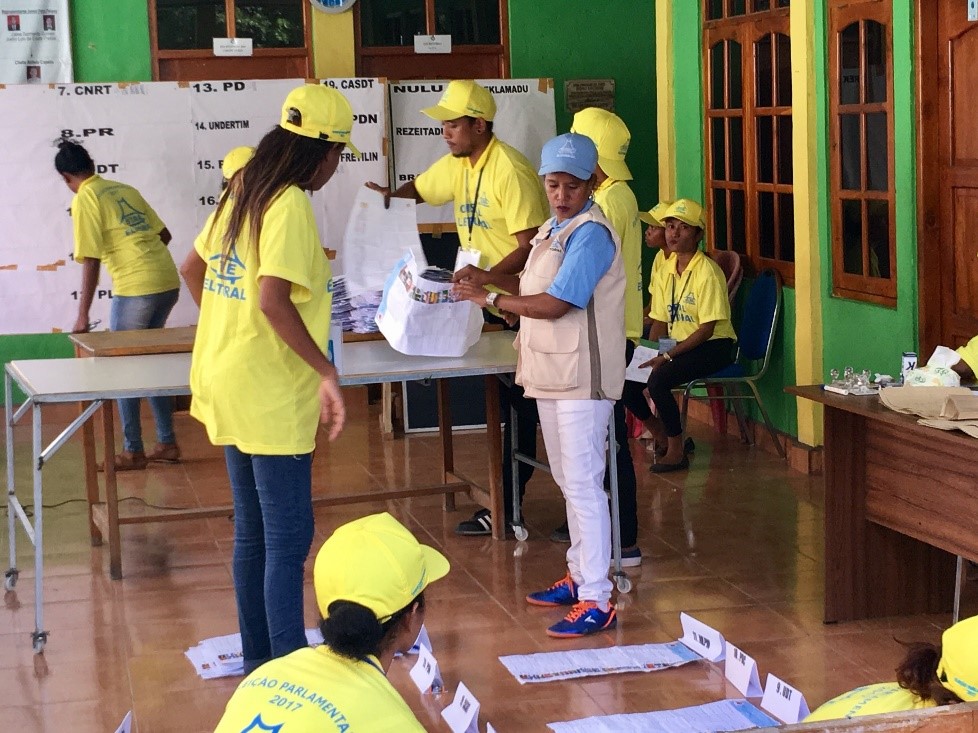 Also noticeable was many female polling officials – all of whom exhibited a great deal of authority in managing their staff and administering their assigned polling centers. In the polling center where I observed closing procedures, the female president was not only sufficiently competent but exhibited an air of confidence that left no one in doubt of who was in charge. She not only set an example for her team but left me in awe of her ability to control a rambunctious and potentially unwieldy crowd.
This month, as Members of Parliament, take their seats and begin the crucial process of governing, we are reminded that the legitimacy of these elected positions is due to the strength and credibility of Timor-Leste's electoral system. Just as in 1999, the Timorese commitment to democracy remains firm. Through the power of the vote, Timor-Leste's citizens have been able to choose their own elected leaders – a premise once thought unimaginable eighteen short years ago.
Want to hear more about Timor-Leste's 1999 referendum? Listen to IRI's Global podcast episode on Timor-Leste. Find it here.
Top