Three Things You Need to Know About Guyana's Elections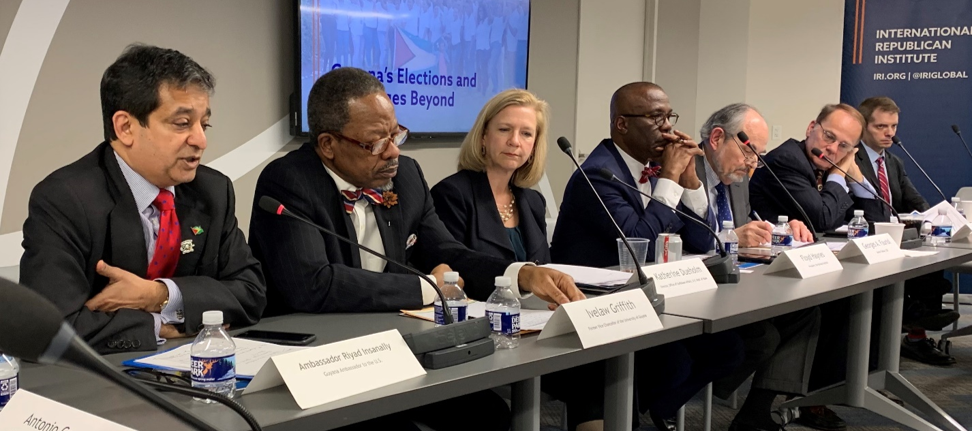 March 2, 2020, Guyanese voters will head to the polls for their eleventh national democratic election. This small country in northeastern Latin America rarely makes headlines, but its strategic position as a neighbor of crisis-stricken Venezuela and the recent discovery of quantities of petroleum reserves off its coast are giving Guyana new regional and international importance.
Here are three things you need to know before the elections:
​Two main groups will contest the presidency, while nine parties will be on the national ballot for parliamentary seats.
Guyana is a representative democratic republic in which parties or coalitions vie for 65 National Assembly seats, with the majority party empowered to name the president. The People's Progressive Party (PPP) and A Partnership for National Unity/Alliance For Change (APNU/AFC) coalition are the most prominent parties, with Irfaan Ali and incumbent President David Granger leading their respective tickets. In 2015, the PPP lost to the newly formed APNU/AFC after 23 years in power. Even though the APNU/AFC won by a single seat, the transition was peaceful. In the past, political affiliations were based on ethnicity with the PPP relying mostly on an Indo-Guyanese base, while the APNU/AFC included parties that coalesced around an Afro-Guyanese base. Today, both groups compete for votes among all ethnicities.
The victorious party must be prepared to manage the petroleum boom.
By 2025, Guyana is set to become the largest per capita producer of oil, extracting nearly one barrel of oil per citizen per day. (Saudi Arabia produces around 0.33 barrels of oil per person per day.) This presents an incredible opportunity to increase the standard of living, but also invites the risk of mismanagement and corruption, which would deal a serious blow to the country's democratic development. Though some of the oil contracts have been negotiated and signed, many remain in progress—leaving the incoming president with the responsibility of overseeing the process in a manner that is transparent and democratic.
A well-administered election will confirm Guyana's position as a bulwark of democracy in a troubled region.
As Guyanese citizens prepare to exercise their voting rights, Nicolas Maduro continues his onslaught against democracy in neighboring Venezuela—the consequences of which are resonating throughout northern South America with the massive exodus of asylum seekers fleeing the Maduro regime. Peaceful, fair elections, along with wise management of the vast oil and mineral resources, will secure Guyana as a democratic leader in the region and an engine of economic development.
IRI has been a proud partner in the efforts to strengthen Guyana's democratic institutions—working with the national government and civil society organizations (CSOs) to help boost voter turnout and awareness of electoral procedures. In addition to hosting trainings supporting youth in eight CSOs to participate in voter education campaigns and election observation, IRI is supporting the Guyana Elections Commission to enhance neutrality, transparency of the electoral processes, as well as its internal management capacity.
Top