When IRI contacted me about returning to Timor-Leste to be a long-term observer (LTO) for the 2018 parliamentary elections, I jumped. Occupying the eastern portion of a tropical island, Timor-Leste offers a diverse array of spectacular scenery, from idyllic beaches to jagged mountains.
As an LTO you get to access remote areas that most visitors to, indeed most citizens of, Timor-Leste will never see as you travel across the country to meet electoral officials, security forces, and political party representatives, as well as to observe campaign rallies and activities – and support democratic development in the process.
It's hard to explain the pageantry of electoral campaigns in Timor-Leste – the chanting supporters arriving at rallies in a convoy of motorcycles and yellow dump trucks, the party colors vibrantly displayed on flags, hats, t-shirts, and, how could I forget, painted bodies. Elders and dancers in traditional garb greet arriving party leaders with ceremonial pomp; they chew betelnut, share a smoke, and award the leaders with tais – the traditional weaved scarf of Timor-Leste, signifying honor and respect. Once these rituals are completed, every rally commences with the national anthem, the party march/song, and a moment of silence for those who perished during the fight for Timor-Leste's independence. Yes, every party has its own march! During most rallies, speeches are interspersed with song and dance. It is a performance unmatched in other countries around the world where I have observed elections.
As an LTO for IRI for the July 2017 parliamentary elections, I was pleasantly surprised at how well-received I was by all the interlocutors that I met. Officials from electoral management bodies and security services were keen to show me – and the world – the progress their country had made in consolidating democracy less than two decades on from its independence. Political party leaders echoed this message at campaign rallies, urging their supporters to demonstrate to the world the maturity of democracy in Timor-Leste by following the law and respecting other political parties. I was impressed.
The positive reception from key interlocutors was not solely due to this desire to demonstrate Timor-Leste's democratic progress; as the first non-governmental organization to work directly with political parties in Timor-Leste and the only one to do so continuously since 2000, IRI is well-known and respected by all of the major electoral stakeholders in the country. In my experience conducting two long-term observation missions for the organization in Timor-Leste, it was rare indeed to find any political party or electoral management body officials unfamiliar with the work of IRI. Building resilient government institutions, political parties and electoral processes is a long-term project, and IRI is well-placed to contribute to that democratic consolidation in Timor-Leste.
While last July's parliamentary elections were evaluated as free and fair by IRI as well as other international observation missions, implementation of the results did not go as smoothly. Contrary to the expectations of many, the two leading parties, Fretilin and CNRT, did not re-establish their grand coalition. Fretilin, which received just 0.2 percent higher vote total than CNRT and 23 seats compared to CNRT's 22 in the 65 seat parliament, was forced to seek to partner with one or more of the other three parties which passed the four percent threshold – the PLP, PD, and KHUNTO parties. After long negotiations, PLP and KHUNTO eventually dropped out of these discussions, leaving Fretilin and PD to form a minority government with only thirty of the 65 seats in parliament. When this minority governing coalition was unable to push through its budget proposal, Timor-Leste President Lu Olo decided to call another round of elections.
The electoral cycle provides for an almost perfect frame to the project cycle for those organizations which work with electoral management bodies and political parties. Observation of an election establishes a natural baseline, allowing for identification of needs and areas for improvement, often as laid out in a set of explicit recommendations in the reports of observation missions, as well as through direct observation of the campaign strategies and tactics of political parties. From these recommendations and observations, programs, projects, and activities can be developed and implemented, with the next election providing an opportunity to measure and evaluate their impact and move on to the next cycle if appropriate.
Early elections in Timor-Leste, less than ten months after the previous round, dramatically accelerate that process. On the one hand, I was personally excited to be able to return and to see so soon whether the electoral management bodies and the political parties had managed to progress. On the other hand, program implementation is typically done over years rather than months. Would ten months be enough time to change anything, especially considering a non-functioning government during that period?
A blog post is not the space for a full or formal evaluation, nor is an LTO properly placed to do one. But I wanted to see how electoral management bodies and political parties would respond to lessons learned, recommendations made, and programming implemented by IRI after last July's parliamentary elections. Would voter rolls be publically posted and candidate lists publically disseminated? Would more polling stations be equipped with electric lighting and be accessible for persons with disabilities? Would counting procedures be improved and training for electoral officials and party agents strengthened? While I will have to wait until the 12 May Election Day or longer to get answers to some of these questions, I was pleased to see candidate lists publically disseminated this year (were voter rolls posted?) and additional training in counting procedures provided.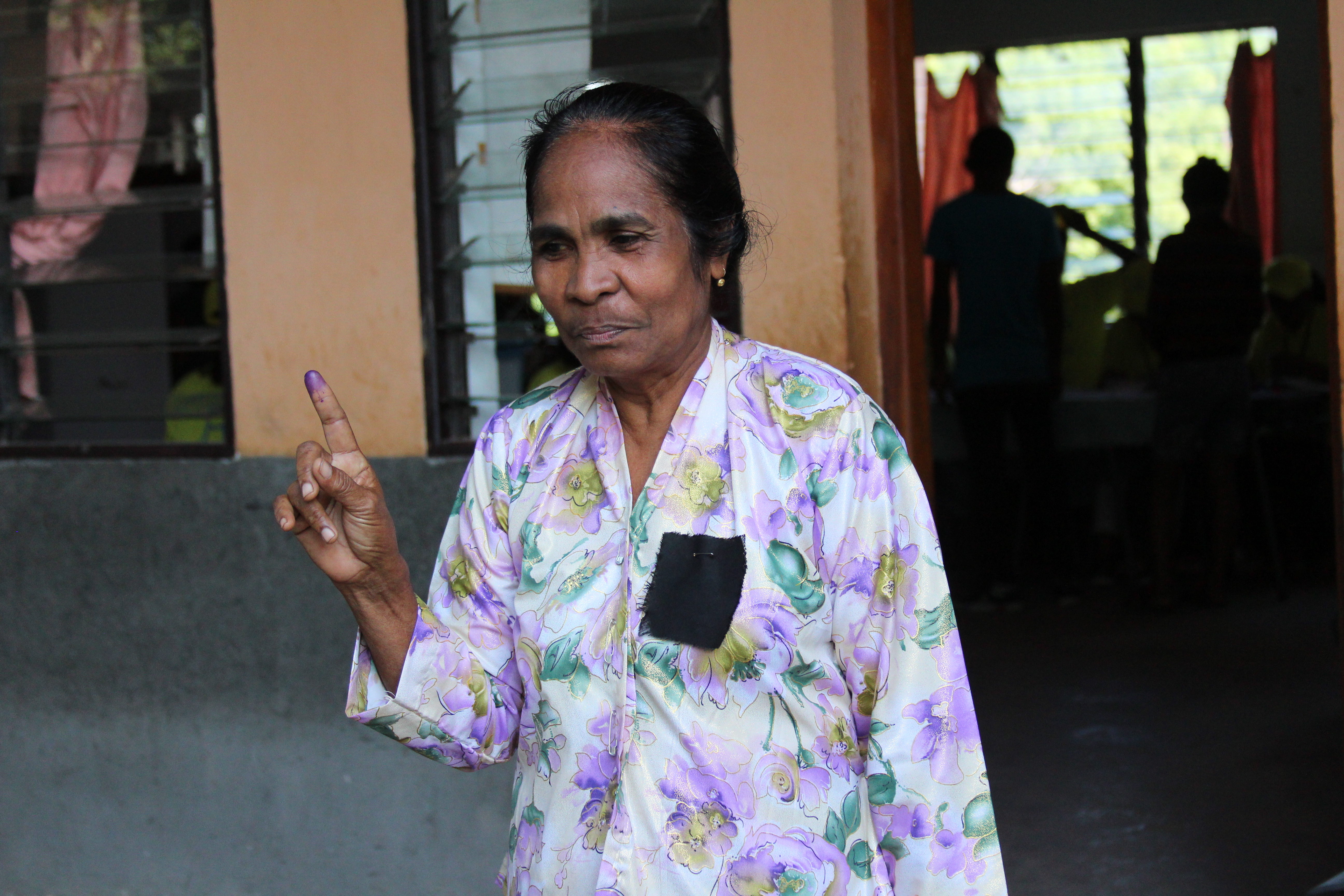 While technical details of election management are enormously important, as a political junkie what I was excited about was to see how the parties would respond to the previous campaign and the lessons learned. The most dramatic change in the political scene of Timor-Leste since the 2017 election was the formation of a new coalition, the AMP, from the three parties in government that remained in opposition – the CNRT, PLP, and KHUNTO. On the surface, this looked like a smart move which should allow the three parties that together held a majority of seats in the last parliament the first opportunity to form a government after the elections. But could three charismatic leaders – two revolutionary heroes who had been at loggerheads during the last campaign and the founder of a martial arts group – work together to form a coherent platform, party identity and message for voters? Another new coalition the FDD, formed from four smaller parties that together brought in about seven percent of the vote in July 2017, also looked wise in light of the threshold and faced similar issues. As an LTO, I was in the front row to watch.
IRI has been working with political parties and coalitions to deal with just such challenges as these new coalitions faced, helping them to improve their capacity to plan and implement more inclusive issue-based campaigns. For example, Campaign Management Schools were offered to help parties develop effective campaign strategies that include grassroots citizen engagement, communicating consistent messages to the public, fully engaging women and youth members in campaigns, candidate recruitment, and leadership development.
Observing the campaign this past month, the incremental improvement parties were making compared to July 2017 was readily apparent. While the revolutionary credentials of AMP's leading personalities remained a very important element of its campaign, the coalition was also taking steps to develop and communicate an issue-based program as well. And in contrast to CNRT's campaign in July 2017 which focused almost exclusively on big rallies in the largest towns and cities in Timor-Leste, based on the star power of its leader, Xanana Gusmao, during the 2018 campaign the AMP coalition was also getting its leaders out to the smaller towns and villages to spread its message to the grassroots. Fretilin, which had a much more developed platform in 2017 than CNRT, had further refined its program. More impressively, the party was implementing a strategy to get its senior leaders out to villages all across Timor-Leste and, unlike any other party, to give attendees at such smaller campaign events a chance to engage directly with these senior leaders in question and answer sessions. PD and the FDD especially were bringing youth into the campaign processes, and marketing themselves as parties to transition from the revolutionary heroes to the next generation of leaders. The PD promoted a particularly well-developed platform, while the new FDD coalition also appeared to have unified the visions of its four constituent parties into a coherent, issue-based program. The major parties and coalitions have also taken some steps to further integrate women into campaigns and gender equality into their programs, though much work remains to be done.
No one knows how the elections on 12 May in Timor-Leste will turn out. Whatever the result, it is clear to me that IRI is having an impact in consolidating democracy in this young country. I am happy to have been able to play some small part in that process.
Top