Tunisian Rising Stars Learn from Hungary's Democratic Transition
To support their country's democratic transition a delegation of Tunisian political activists spent one week in Hungary meeting and talking with experts, academics, government officials and civil society organizations who played an important role in that country's successful democratic transition. Reflecting the issues of concern to most Tunisians, the delegation of six – each representing a different political party – was most focused on learning about Hungry's experience with the role of government in a market economy, defining corruption and how to fight it, and how to control income gaps and inequalities.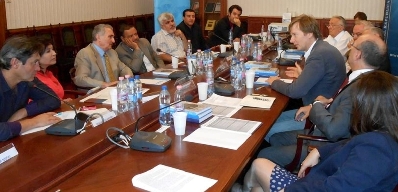 Hosted by IRI's Rising Stars program and the Hungarian International Centre for Democratic Transition, the program allowed participants to engage in both academic and practical discussions. The academic portion was conducted by professors from the Central European University Business School, and addressed topics including transitional economic policy and global best practices, transparency and anti-corruption, public management and economic development theory. A dynamic discussion took place regarding public management, as Professor Maciej Kisilowski described the traditional model of public management based on a vertical relationship with voters compared to the new public management model based on market-type mechanisms with a focus on citizens as customers.
On the practical side, the delegation met with government officials, including the Minister of State for the Ministry of Foreign Affairs, and the Deputy State Secretary for the Ministry for National Economy. They also spoke with a number of civil society organizations regarding their role in Hungary's democratic transition. The Tunisians had a unique opportunity to meet with individuals who participated in the 1989 Hungarian Roundtable Discussion, which were negotiations among the opposition parties after the withdrawal of the Soviet Union that led to a signed agreement guaranteeing free elections and free media access, the exclusion of political crimes from the criminal code, and a prohibition on the use of violence.
This trip was the third Rising Stars exchange that IRI has hosted with Tunisians since that country's revolution in 2011. The others, held in Tunis for political party and civil society leaders, focused on lessons learned and best practices in policy development, transitional economics and anti-corruption from leaders including Margaret Spellings, former U.S. Secretary of Education, and Giorgi Baramidze, former Vice Prime Minister of Georgia and State Minister for European and Euro-Atlantic Integration.
Launched in 2007, IRI's Rising Stars program works to ensure the leaders of new democracies are equipped with skills in effective democratic governance. Through exchanges, IRI cultivates the global network of tomorrow's democratically-minded leaders.
Top