U.S. House of Representatives Empowers Female Parliamentarians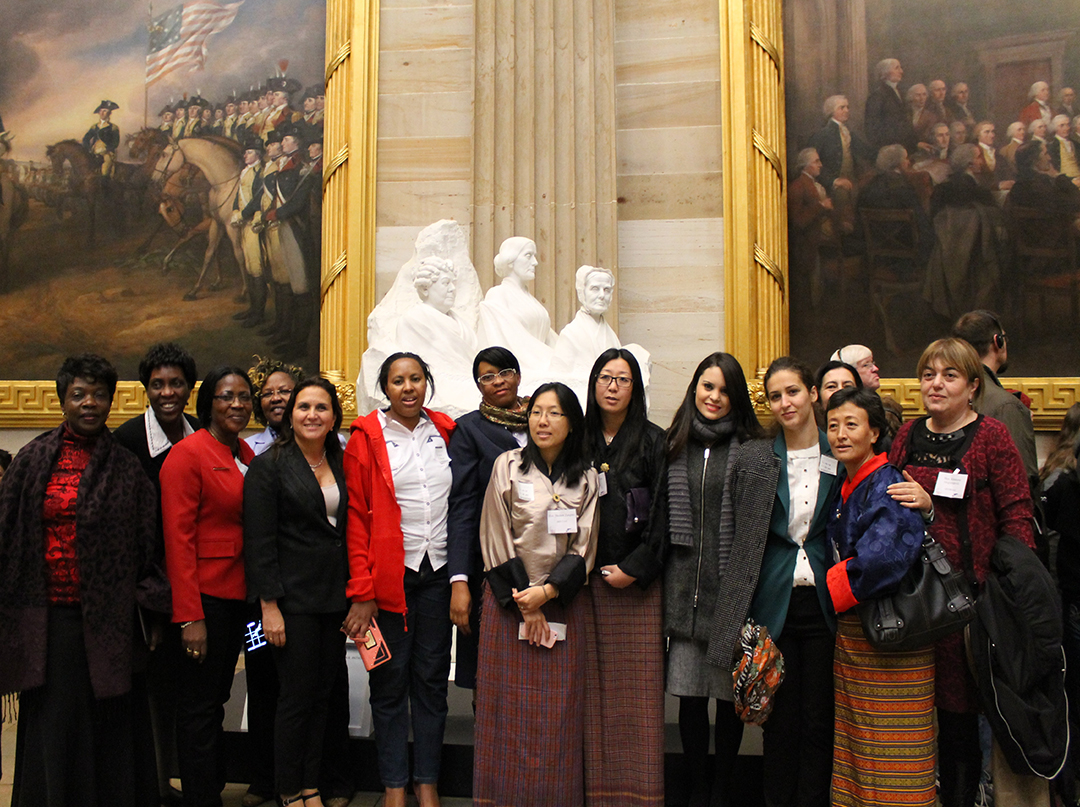 With support from IRI, the House Democracy Partnership (HDP), chaired by Representative Peter Roskam (R-IL) and co-chaired by Representative David Price (D-NC), hosted a delegation of 17 female parliamentarians in Washington, DC for a legislative exchange looking at successful strategies to achieve sustainable development goals.
The delegation – which included women from Afghanistan, Albania, Bhutan, the Democratic Republic of the Congo, Georgia, Honduras, Kenya and Peru – met with policy experts and members of the U.S. House of Representatives to discuss issues including the role of gender in development, how female legislators can effectively caucus and how to encourage young women to take part in politics.
While in Washington delegates met with Tina Tchen, chief of staff to the First Lady of the United States and the executive director of the White House Council on Women and Girls, as well as with senior gender officials at the U.S. Agency for International Development, the U.S. State Department and the World Bank. The delegation also met with their peers in the U.S. Congress, meeting with Representatives Roskam and Price, Representative Diane Black (R-TN), Representative Susan Davis (D-CA) and Representative Dina Titus (D-NV).
Throughout the week delegates shared their experience as women in legislators, domestic initiatives to support the role of women in politics, as well as ways to bridge the gap in public opinion between how male and female legislators are treated.
Recognizing the importance of such exchanges, the Honorable Joyce Emanikor from Kenya said that the meetings strengthened her view that "women are not a minority but a significant segment of society that deserves its rightful share."
The Honorable Kinley Om from Bhutan agreed, stating that women legislators especially must work together to "correct the government if it is wrongly serving the people."
Following their time in Washington, the delegation traveled to New York to attend the Inter-Parliamentary Union's (IPU) Annual Parliamentary Hearing taking place at the United Nations on November 20, 2014. At the hearing the delegates discussed the United Nations' sustainable development goals, which build upon the Millennium Development Goals. In addition, the delegates also met with Ambassador Elizabeth Cousens, U.S. Representative on the UN Economic and Social Council, as well as representatives from UN Women, the UN Development Program and the IPU.
After the conclusion of the meetings, the delegates thanked the HDP for hosting such a valuable exchange and many expressed interest in follow-up seminars to further exchange best practices related to legislative issues delegates are championing in their home legislatures and to build on the lessons learned during the exchange through peer-to-peer dialogue.
HDP was established in 2005 as a bipartisan commission of the U.S. House of Representatives which works directly with partner countries around the world to support the development of effective, independent and responsive legislative institutions.
Top