Ukrainians Turnout in High Numbers to Elect President, Stand for National Unity in Face of Aggression
Kyiv, Ukraine – Ukrainians in large numbers went to the polls on May 25 to elect a new president and move their country past the corrupt and unpopular regime of Viktor Yanukovych. Despite foreign-inspired violence in the east and attempts in a few places to prevent the election from taking place, Ukraine has chosen a path of democracy and elected their new president in the first round.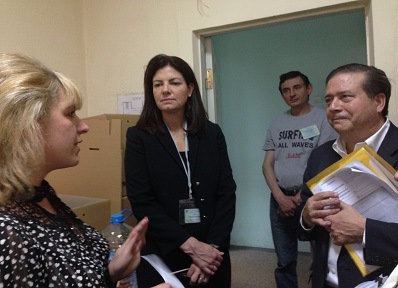 "I was inspired to see the Ukrainian people turn out to vote in large numbers and stand against Russia's aggression towards their country," said Senator Kelly Ayotte, the leader of the IRI's delegation. "Ukraine was not just choosing a president, they were standing up for the sovereignty of their country."
With the exception of areas of Donetsk and Luhansk, where foreign-supported militants suppressed voting, and in Crimea, where Russian authorities denied people the opportunity to vote, turnout was high throughout the country, including in the south and east. The Central Election Commission (CEC) has preliminarily reported that turnout was more than 60 percent, which is significant in the face of Russia's aggression and even higher than turnout in 2010.
A vast majority of Ukrainians were able to cast ballots. In areas of the country where nearly 87 percent of the population lives, polls were open and voting went smoothly. In areas where voting was denied or suppressed – Crimea, Donetsk and Luhansk – it was due to either Russian occupation or interference.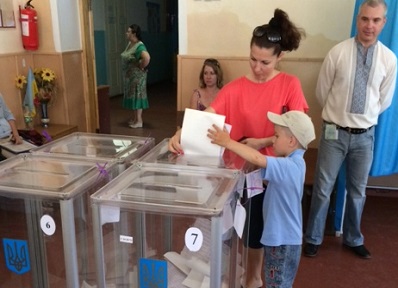 IRI observers visited more than 100 polling stations in Cherkasy, Chernihiv, Dnipropetrovsk, Kharkiv, Kyiv, Mykolaiv, Odesa, Ternopil and Vinnitsya. IRI observers reported only minor irregularities and none that would impact the outcome of the election. At every polling station IRI visited there were observers representing the candidates, political parties and the Maidan. These observers, of which IRI trained more than 5,000, helped ensure the transparency and legitimacy of the electoral process.
IRI observers also reported that the election was well-administered and polling officials should be commended for the role they played in the process. Officials were knowledgeable and approached their job seriously, working long hours, without breaks to ensure that the election was free, fair and democratic. They also represented the true Ukraine, with many speaking both Ukrainian and Russian. Even in the east, where militants attempted to suppress the election, poll workers did attempt to carry out the process, but in many cases were stopped.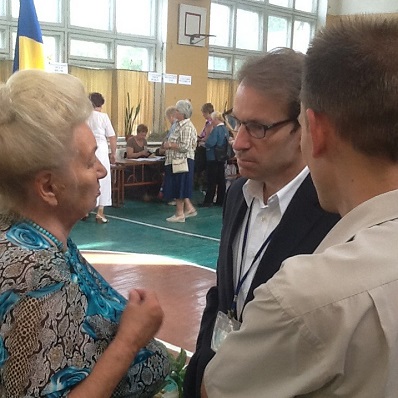 Yesterday's election presented a contrast in images. On the one hand, we saw Russia-backed militants smashing ballot boxes, attacking polling stations and terrorizing citizens. This is in comparison with the long lines of voters who waited patiently in the heat and even through a hailstorm, to cast their ballots and choose their leader. Both the Russia-backed militants and the Ukrainian people have spoken, and clearly, democracy has triumphed.
IRI's delegation praises the CEC for its administration of the election and its dedication to carrying out an open and transparent process. Days before voting, there was an outside attempt to hack into the CEC vote tabulation system. Fortunately, authorities prevented this attack from compromising the system and were able to provide accurate results.
The delegation encourages the CEC to continue to improve the election process. Ukraine still faces issues of access to polling stations for those with disabilities and the elderly. While the mobile ballot box is helpful, Ukraine needs to find long-term solutions to this problem. Additional poll workers at polling stations would also help improve the process and would help to alleviate the long-lines of voters waiting to cast their ballots.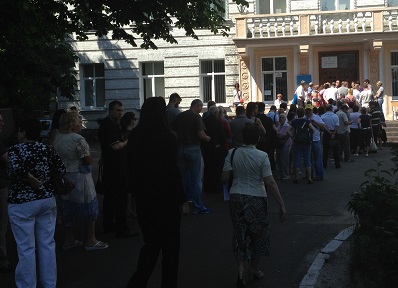 With the election now over, it is time for all of Ukraine to unite and for its new leader to undertake the reforms voters have demanded. This will require the commitment of all of Ukraine's political parties and civil society, including the new activists who have risen from the Maidan. To take the necessary steps to create a country that is prosperous, at peace and democratic, all of Ukraine must work together. This process has already begun and IRI's delegation praises Yulia Timoshenko and others, who have recognized the results and encourages them to work with the new government to implement the democratic reforms the people have desired.
Since 1983, IRI has monitored more than 155 elections in more than 47 countries, including Ukraine's 1994, 1998, 2002, 2006, 2007 and 2012 parliamentary elections and the 1999, 2004 and 2010 presidential elections.
IRI's delegation was led by U.S. Senator Kelly Ayotte (NH) and included Congressman Peter Roskam, who represents Illinois 6th District and serves as chief deputy whip and chairs the House Democracy Partnership, and Mark Green, president of IRI, former U.S. ambassador to Tanzania and former U.S. congressman representing Wisconsin's 8th District.
Other delegates were:
Gahl Hodges Burt, vice chairman of the American Academy in Berlin and a member of IRI's Board of Directors;
Nadia Diuk, vice president of programs for Africa, Central Europe, Eurasia, Latin America and the Caribbean at the National Endowment for Democracy;
Rich Galen, political consultant;
Barry Jackson, a member of the Board of Directors of the National Endowment for Democracy and a strategic advisor at Brownstein Hyatt Farber Schreck, LLP;
Michael V. Kostiw, former Republican staff director of the U.S. Senate Committee on Armed Services;
Tami Longaberger, chief executive officer of the Longaberger Company, chair of the Arab Women's Leadership Institute's Board of Directors and a member of IRI's Board of Directors; and

Olin Wethington, member of IRI's Board of Directors, founder and chairman of Wethington International LLC and former special envoy on China.
Prior to the election, delegates were briefed by representatives from the U.S. Embassy, political party representatives, local observer groups and Ukrainian election officials. They were also briefed on the rights and responsibilities of international observers and Ukrainian election law. Delegates were then deployed throughout the country where they observed polling stations and identified and evaluated strengths and weaknesses in Ukraine's election system, including campaign regulations, the balloting process, vote tabulation and reporting.
Top