Ukraine's journey as a nation has been full of as many challenges as hard-won successes. One challenge Ukraine faces today is to rebuild and assert its independence while facing ongoing aggression from a revanchist Kremlin. Despite this challenge, Ukrainians have maintained a strong sense of national identity. As Ukrainians mark their national Day of Unity, recent polling by IRI confirms a historic milestone for a country that is united in the desire to chart an ambitious course of democratic reform.
Recognizing that the foundations of a strong democracy lie in responsive local governments, IRI has dedicated much of our Ukraine programming to helping implement and advise upon municipal governance reforms. As part of these efforts, the Institute has conducted a uniquely ambitious municipal poll of 24 Ukrainian cities over the past five years to gauge the progress of Ukraine's democratic development from the grassroots.
According to IRI's first poll in Ukraine since the 2019 parliamentary election (with a sample size of nearly 20,000 adults), all of the 24 surveyed cities are more optimistic, energized and engaged with local politics than ever before. Across each city, there is a noteworthy rise in citizen perception of their local elected officials' responsiveness, indicating that Ukrainians are feeling heard.
For example, in Lutsk, the percent of respondents who believe Ukraine is moving in the right direction rose from 21 percent in February 2018 to 62 percent in September 2019. Likewise, residents of Sumy reported a remarkable 42 percent positive change in Ukraine's direction, up from just 11 percent in 2018 to 53 percent in 2019.
For the first time in IRI's Ukraine polling, more respondents think Ukraine is heading in the right direction than in the wrong direction in 23 out of 24 cities surveyed. Additionally, in all cities surveyed, a higher percentage expect Ukraine's economic situation to improve over the next 12 months, and an overwhelming majority in nearly all cities linked their appraisal of the improved national economic situation to personal experience. Ukrainians have more confidence in the trajectory of their cities than in previous years and enjoy greater economic gains in their households than during previous polling years.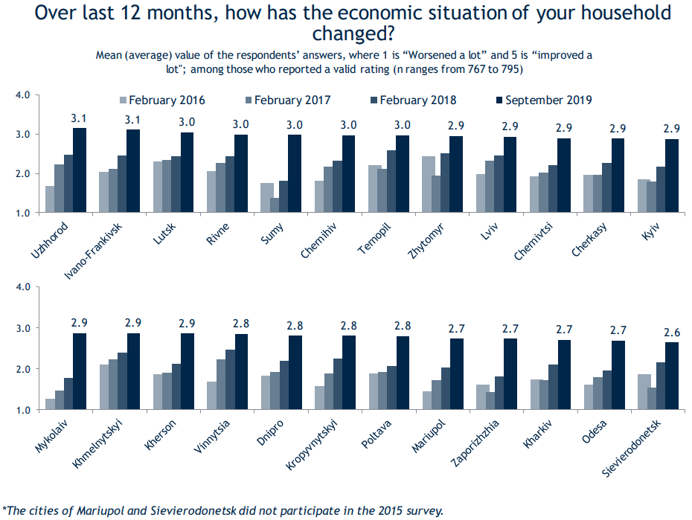 This sense of optimism is also reflected in the enthusiasm for democratic participation. Across all cities polled in the run–up to local elections, which are expected to be held in October 2020, a majority of citizens report a desire to participate in local elections should they be held next Sunday.
Of course, much work remains to be done to instantiate the democratic reforms that are needed at all levels to take Ukrainian democracy to the next level. Public commitment to remaining on this path—and the public's sense that these reforms are delivering a better future for their country—are crucial to the ambitious reform agenda set for 2020. According to this most recent poll, the signs are encouraging, and IRI is proud to continue our 27-year partnership with the Ukrainian people in their democratic journey.
Top