As IRI's global youth initiative Generation Democracy takes off around the world, I was excited to learn about the impactful youth programs underway in Latin America.
I spoke to my colleagues Christine Zaino and Marcelo Quiroga last week about the innovative program they are conducting in Panama and how they transformed an existing model from IRI work in Guatemala to help build democratic principles and practices elsewhere in Latin America.
Two forces came together to lay the foundation for their new program, the Ideathon, or "Tengo Una Idea" in Spanish. First, my colleagues had planned to follow IRI's highly successful program model from Guatemala, a traditional "Hackathon" that featured a competition to promote civil engagement of youth by using technology. Christine and Marcelo wanted to bring this model to their work with mayors in San Miguelito and Panama City, but because decentralization is just starting in Panama and the mayors' offices had limited resources and little technological capacity, Christine and Marcelo had to consider a different theme for their project and one that did not involve reliance on technology.
The second force that emerged was the desire of young people to have their voices included in the design of projects. During an assessment of citizen security in Panama, it became apparent that young people had a great desire to be directly engaged in policy making. As one young participant of a focus group discussion with at-risk youth said, "No one really asks us what should happen to us!" In response to these two factors, the lack of technical capacity and the desire for young people to have a say in municipal programs meant for their benefit, my talented colleagues adapted the program from Guatemala to better meet the political and program realities in Panama. Thus, the concept of a Hackathon was transformed to the Ideathon – a "marathon of ideas" competition that asked young people to generate ideas for projects that would contribute to citizen security in their communities.
The Ideathon was launched in March and close to 100 at-risk youth from the municipalities of San Miguelito and Panama City competed to present ideas for community projects in categories ranging from recuperating public spaces to preventing drug and alcohol abuse. The winning teams' projects will start to receive funding this month and the young participants will see their dreams of being a positive agent of change in their own communities become a reality. (link to web story here)
The Ideathon was created with a goal of starting with ideas, not technology, and it was apparent that the program participants were most excited about that fact that their ideas "were taken into account." The top response in evaluating the project, was that "I was able to share my ideas." Prior to this program, the youth said their local government did not ask them to help identify the needs in their neighborhoods, and did not necessarily understand their greatest challenges. But through the competition, the young people were able to talk directly with their mayor and to help provide ideas to solve problems in their own community.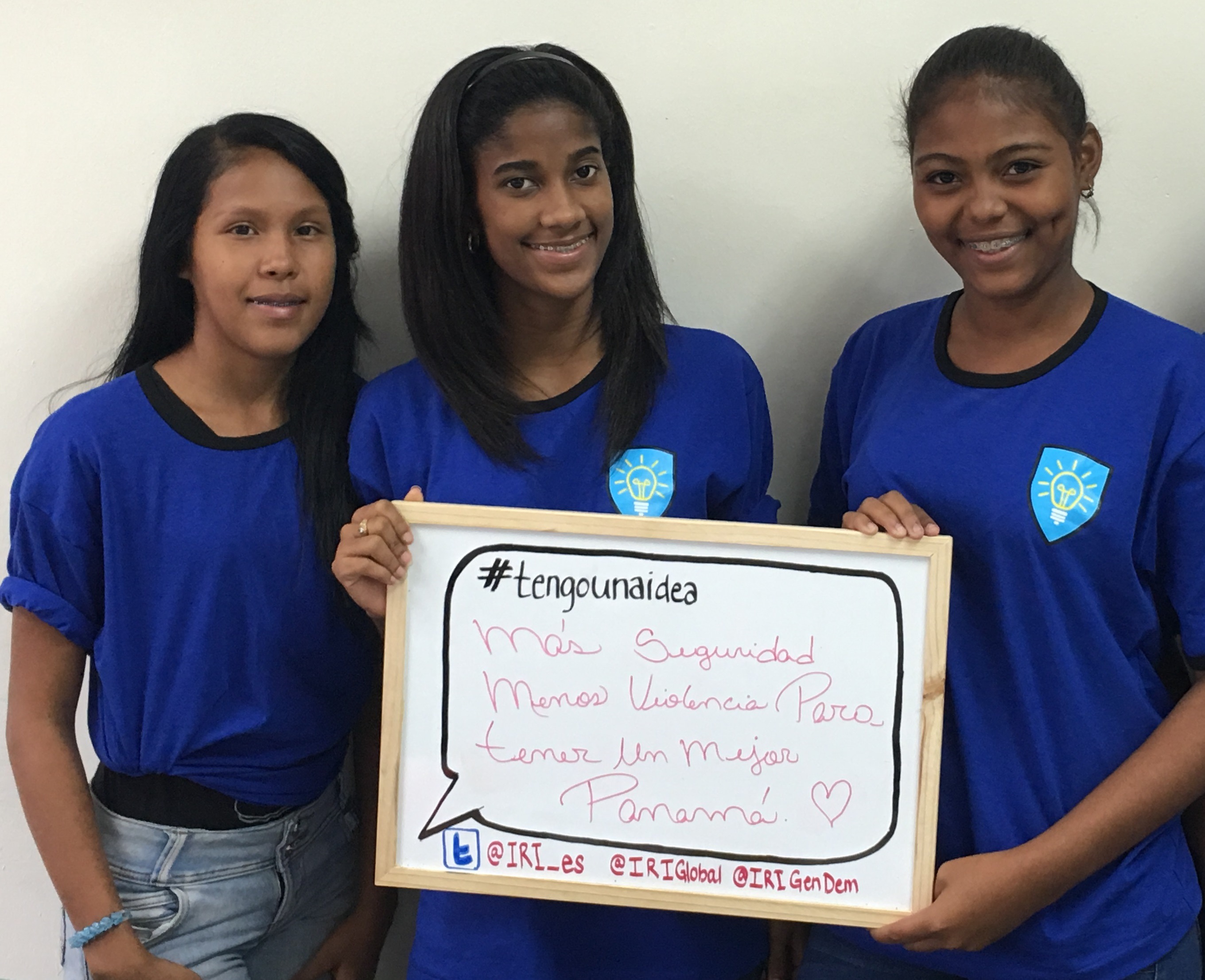 As my colleagues working in Latin America readily identified, one of the most important factors when conducting work with young people is to include them in the program design. Through their ability to adjust their original program concept, particularly through using the input of young people themselves, Marcelo and Christine showcased a new example of citizen engagement programming. The project was the first time the mayors' offices had participated in programs that not only involve youth as beneficiaries but also youth as project designers and implementers. Today, my colleagues' work is helping a group of extraordinary young people exemplify the next generation of democracy in Panama.
As Generation Democracy launches programs around the globe, these young activists from Panama will be invited to share their ideas and best practices with their peers from other countries in Latin America and beyond. Sharing best practices peer-to-peer is a hallmark of Generation Democracy's approach to bring new skills to young democratic leaders around the world. The young leaders from Panama who participated in IRI's Ideathon will certainly have a lot to contribute.
Top