WDN Attends Events During the United Nations General Assembly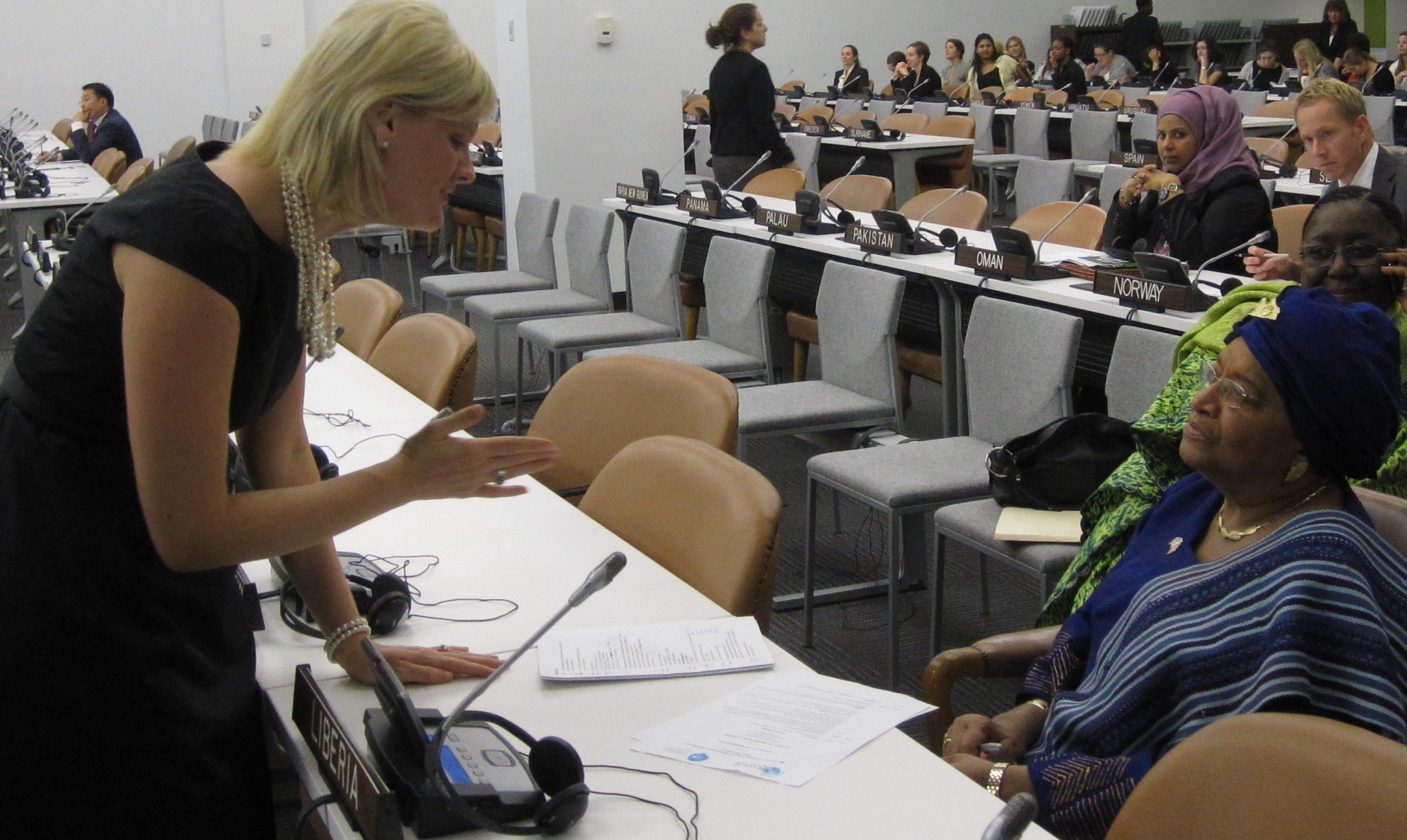 The Women's Democracy Network (WDN) Director Michelle Bekkering and Deputy Director Erika Veberyte attended the Women as a Critical Force in Democratic Governance panel at the United Nations (UN) during the UN General Assembly meeting in September.
The panel discussion was organized by the Council of Women World Leaders, in partnership with the Community of Democracies and gathered an impressive group of women presidents and prime ministers along with UN officials to discuss the essential role women play in the democracy-building process.
Critical force will be needed to bring together women's voices and perspectives, to be able to make a meaningful impact on democracy
Panelists included the co-hosts of the event, the President of Finland Tarja Halonen and the President of Lithuania Dalia Grybauskaitė; former President of Chile and current head of the UN Entity for Gender Equality and the Empowerment of Women Michelle Bachelet; the Prime Minister of Mongolia Sükhbaataryn Batbold; Administrator of the United Nations Development Programme and former Prime Minister of New Zealand Helen Clark; the President of Liberia Ellen Johnson Sirleaf; the President of Kyrgyzstan Roza Otunbaeva and the Prime Minister of the Netherlands Antilles Emily de Jongh-Elhage. The discussion was moderated by UN Special Representative on Sexual Violence in Conflict Margot Wallström.
Panelists reflected on women's participation as leaders in the development and support of democratic systems and discussed what they personally have achieved to ensure gender equality policies in their own respective governments. President Grybauskaite stated that women's issues are global not regional, and President Halonen emphasized that networking is a vital aspect to ensure a woman's success. A highlight of the discussion was the speech by former President Bachelet who stressed the importance of having a gender perspective in all public policies.
In her remarks, President Johnson Sirleaf said, "Critical force will be needed to bring together women's voices and perspectives, to be able to make a meaningful impact on democracy and to sustain the effort for the empowerment of women and the representation of women."
Introductory remarks were provided by Minister of Foreign Affairs of Lithuania Audronius Azubalis and U.S. Ambassador-at-Large for Global Women's Issues Melanne Verveer, with closing comments from U.S. Under Secretary of State for Democracy and Global Affairs Maria Otero.
The event provided the WDN the unique opportunity to meet notable leaders from around the world to discuss WDN's activities to promote women's political and civic empowerment. Started in 2006, WDN has active membership in 40 countries worldwide.
Top