WDN in Kenya: Building Young Women's Capacity to Promote Peace and Prevent Violent Extremism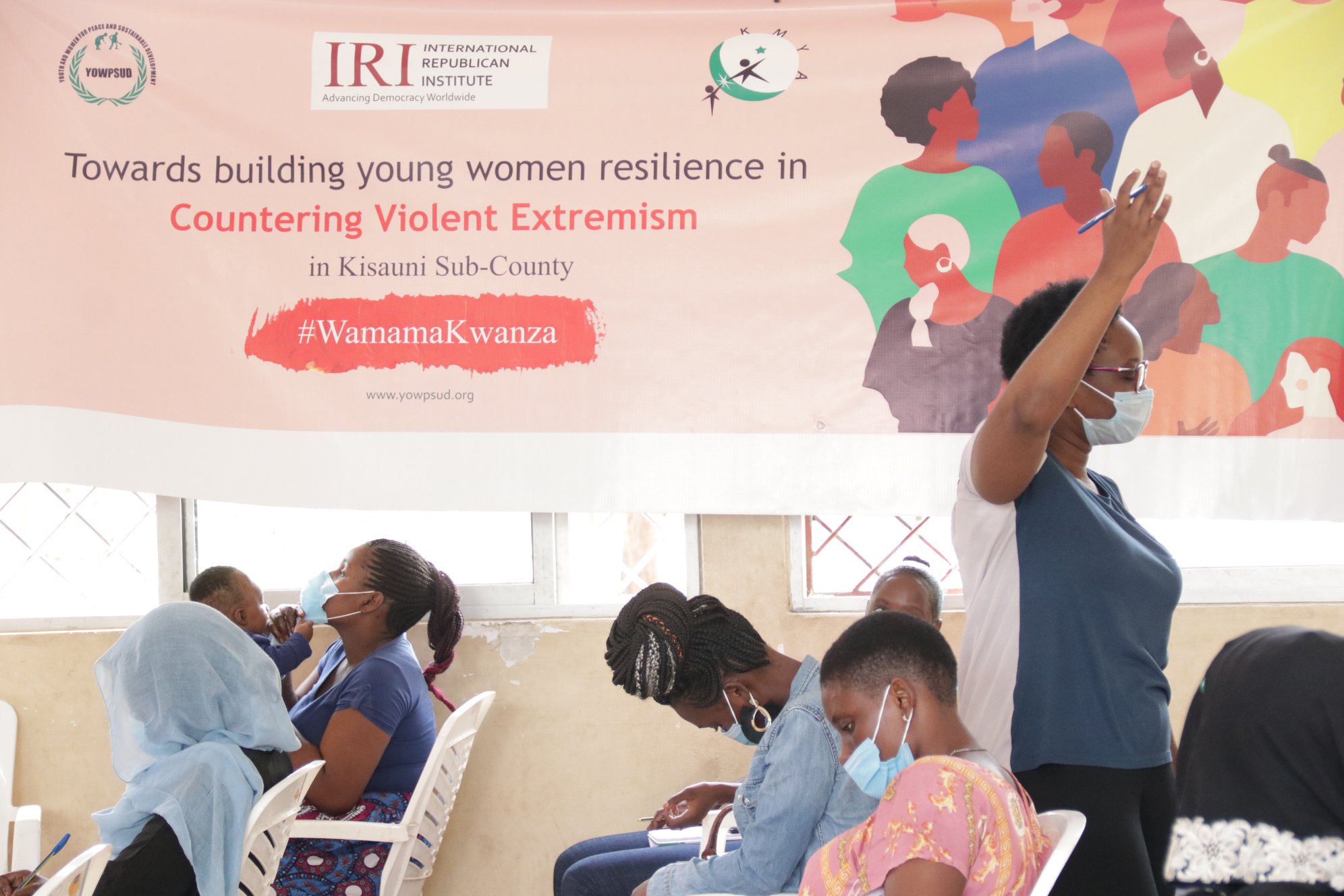 Women have a crucial role to play in cultivating peace and countering violence in their communities. There is growing research and recognition of the impact women have on building sustainable peace. This research shows peace agreements that involve the participation of civil society organizations, including women's organizations, are 64 percent less likely to fail than those that exclude civil society groups. Additionally, a peace agreement is more sustainable and better implemented when women participate in the negotiation process. IRI's Women's Democracy Network (WDN) launched the Building Inclusive Peace and Security (BIPS) program to boost women's meaningful participation in the peacebuilding processes of post-conflict Colombia and Kenya.
IRI's local partner, Kenya Muslim Youth Alliance (KMYA) recently completed an initiative through the BIPS project that aimed to build the capacity and resilience of young women to prevent violent extremism in their communities.
KMYA centered its programming on four youth groups in the Mvita, Likoni, Kisauni, and Changamwe sub-counties. The four groups received training on proposal design, understanding the context of violent extremism in Mombasa County and advocacy as well as mentorship opportunities with civil society organizations and other community leaders to build their capacity to effectively develop and implement community projects. The Alliance provided funding for these four groups to carry out their projects, which were geared towards increasing local women's participation in peacebuilding. KMYA focused on young women because they have great potential to create impactful change in their communities. In addition, youth are frequently the targets of recruitment to violent extremist organizations and criminal gangs, yet most prevention programming focuses on young men. Through empowering young women and providing them with information on available local economic opportunities, they can become peacebuilders in their communities who help other at-risk youth reach their full potential.
KMYA equipped young women in Mombasa County with economic empowerment training and applicable skills in conflict prevention and management. Following the economic empowerment training, one participant opened her own boutique and used the network of women that was established through this training to advertise her products. The network of young women became a safe haven for her to discuss her challenges and gain support. Before the training, she was unemployed with a small child. Now her fellow trainees are helping her gain an income by offering to collaborate on economic enterprises. In the conflict prevention and management training, women learned strategies to address urgent issues in violent extremism and received training in basic counseling skills and referral mechanisms. These women were able to immediately apply these skills in their communities by providing victims of violent extremism access to counseling services to help them cope with psychological trauma.
Another barrier to achieving peace in Mombasa County is the disconnect between police authorities and the community. KMYA worked with one youth group to implement a peacebuilding initiative consisting of a forum with community members, police, and local administrators. In the meeting, community members discussed grievances with police, including unlawful arrests. As a result, an effective channel of communication was established between the community, administration, and police.
KMYA's successful programming demonstrates women's astute capabilities in peacebuilding. Together these women uplifted one another to cultivate lasting change in their communities. Engaging women in measures to prevent violent extremism is crucial to creating sustainable peace. These strong, young women were equipped with leadership skills to prevent other youth from participating in such violence. To further its work of building the capacity of youth as peacebuilders, the Alliance is looking to implement similar projects in neighboring counties. This ongoing KMYA project represents just one of many success stories of the Women's Democracy Network. WDN continues to support initiatives like these to empower women all over the globe to become active political and civic leaders in their communities.
Top