WDN Toolkit Addresses Gender Inequality Through Policy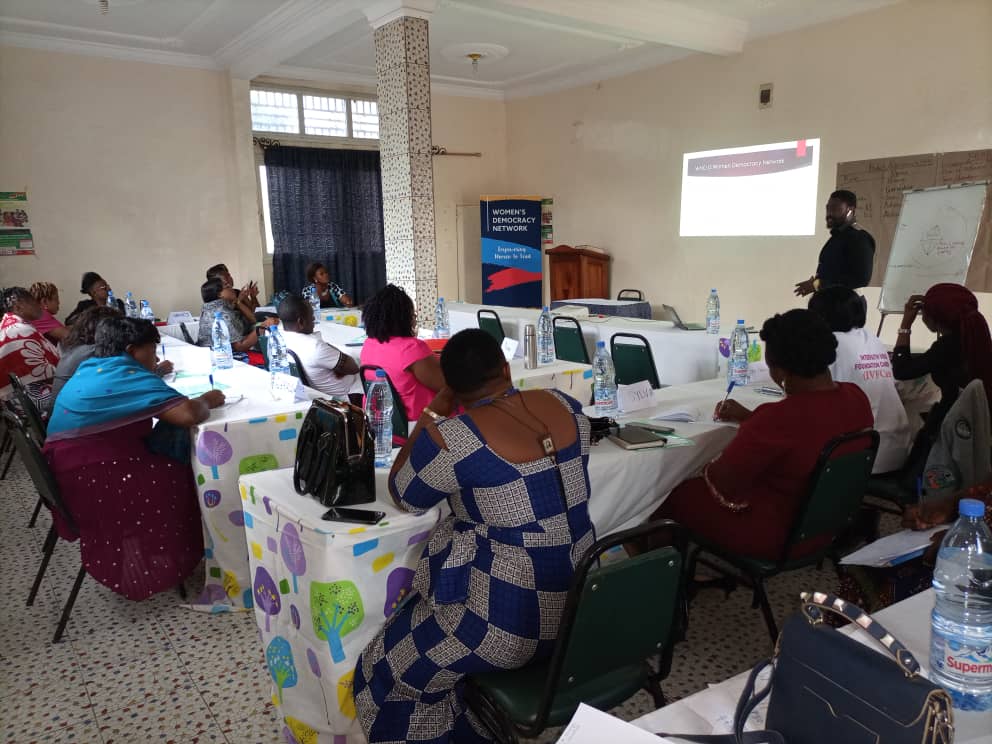 As women's history month comes to a close, IRI's Women's Democracy Network (WDN) is showcasing how policy development can create a more equitable world.
To promote women's participation in policymaking and highlight their role in advocating for policy reform, WDN held a panel on March 8 titled From Problem to Policy: Gender-Responsive Policymaking. Bringing together leaders from country chapters in Albania, Georgia and Zimbabwe, the panel facilitated an important dialogue on the challenges to and opportunities for developing and implementing gender-responsive policies. This March, WDN reaffirmed its dedication to amplifying women's voices and addressing gender disparities in policy through training elected officials and civil society members on gender-responsive policymaking.
In recent years, governments have made strides in advancing gender equity and empowering women across the globe. With these milestones has come an understanding that equality is more than a noble goal for countries, but essential to addressing local problems. Women's overwhelming exclusion from decision-making processes eliminates their voice in policy development, resulting in a decrease in consideration of women's gender-specific needs and barriers.
When women's issues – such as equal access to finance or education – are prioritized, communities flourish as a result. In the case of our Uganda Country Chapter, rural women leaders trained on policy implementation and advocacy identified issues on women's economic empowerment. The identification of these issues and the advocation for their reform led to their inclusion in Uganda's 2021-2026 National Women's Manifesto and the manifestos of four political parties.
Despite the importance of prioritizing women's needs, cultural gender roles often exclude women from the benefits of policy interventions meant to facilitate development. Our Georgia Country Chapter, for example, reported that women still faced significant challenges regarding economic empowerment, despite Georgia passing several policies to address gender inequality within the last decade. Even with considerable progress made in the legislative and policy landscapes, challenges remained in implementation and impact. Women's limited access to economic self-reliance opportunities, professional programs and childcare institutions reduced the efficacy of these policies and highlighted additional gender-specific barriers to women's full economic empowerment. Exclusion from policy interventions leaves a negative impact on not only women and girls, but on the community as a whole. Instead of moving their communities forward, members continue to feel the effects of women's limited economic and political participation.
The first step to securing women's political inclusion is conducting gender analyses within local and national governments across the globe. To support this worldwide endeavor, WDN's Gender-Responsive Policymaking Toolkit (GRPT) equips elected leaders and civil society members – both male and female – with the tools to identify policy gaps through gender analysis and incorporate gender into policy design. Consisting of six modules, the toolkit provides foundational knowledge on each phase of the policymaking process with guidance on how to include gender perspectives throughout. Specifically, the toolkit offers sessions on designing gender-responsive budgets and creating gender-responsive communications plans – two components that are critical in informing and advocating for policy interventions.
WDN's GRPT promotes gender equality through the training of policymakers on the mainstreaming of gender in policymaking. Supplying policymakers with the knowledge to identify, revise and propose gender-responsive policy in turn strengthens the voice and autonomy of the women in their communities. Through addressing gender inequality at the structural level, progress is made towards the equal redistribution of power and resources between genders.
One of the most essential outcomes of the GRPT curriculum is the engagement of men and boys on issues of gender. During the From Problem to Policy: Gender-Responsive Policymaking discussion, WDN Albania Country Chapter Director Blerta Brovina discussed her experiences with incorporating men in the fight for equality. "When it comes to gender issues, it is usually women participating, as they think that it is solely their issue. We allowed many CSO participants to join as attendees so that we could sensitize them to this issue. In doing so, we reached men and boys working in the civil society sector who were not previously aware," she said.
WDN's Zimbabwe Country Chapter also saw the increased engagement of men and boys through the use of the GRPT curriculum. Following trainings of male and female officials, the Harare City council partnered with WDN-Zimbabwe to address gender-based violence in women's access to public transportation. Additionally, one of the participants used the toolkit to create a new initiative called Fathers Against Abuse, which aims to provide gender-responsive policy trainer workshops to men and boys specifically.
The inclusion of men and boys in the cause for gender equality and other GRPT accomplishments create sustainable change in our partners' communities. Building on that change, WDN will continue to support the initiatives of elected officials and civil society that increase women's representation in policymaking and inspire men and boys to get involved as well.
Top