In early December 2015, Tanzanians took to Twitter with the hashtag #WhatWouldMagufuliDo to remark about the campaign of their newly-elected president, Dr. John Magufuli, to cut wasteful spending and tackle rampant corruption in government.
The hashtag inspired creative speculation by Tanzanians on Twitter as to the lengths the reform-minded Magufuli would go to to achieve his goal: insist citizens reuse toothpaste instead of buying a new tube? Replace all government vehicles with wheelbarrows? De-ply toilet paper to make the roll last longer?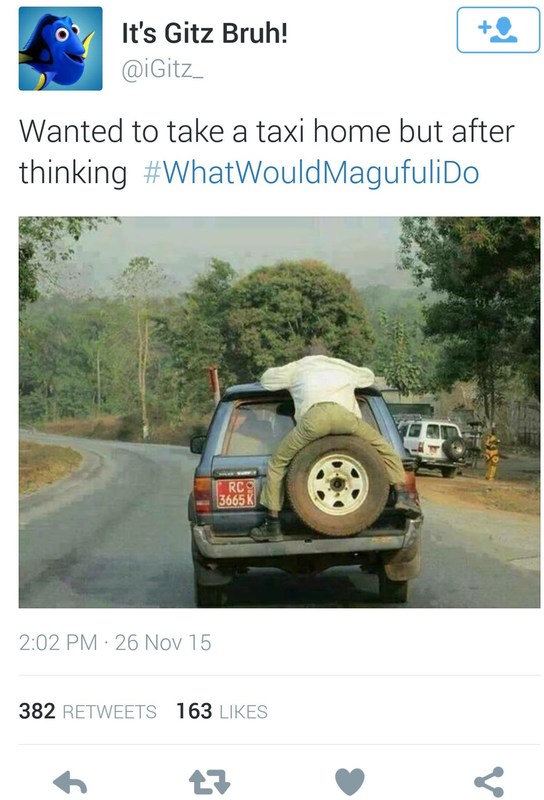 Jokes and speculation aside, Magufuli's campaign to tackle wasteful spending and corruption is serious business. In just under five months after taking office, Magufuli has been relentless in his pursuits to put more money back into government coffers and prevent it from being wasted. In his first weeks in office, Magufuli banned foreign travel for public officials except the president, vice president and prime minister, which significantly cut the nearly $1.5 billion in expected cost for foreign travel in 2016. Public officials may now only travel abroad after receiving explicit permission from the president or chief secretary. Following the discovery of a tax evasion scandal at the Tanzania Ports Authority, Magufuli swiftly sacked the Ports Authority director general, board chairperson and the permanent secretary for transportation. The president also greatly reduced the cost of his own inauguration party from $100,000 to $7,000, announced a cabinet that is nearly half the size of that of his predecessor, canceled Tanzania's lavish Independence Day celebrations, and initiated a ban on government-funded Christmas and New Year's cards.
In 2016, Magufuli so far has shown no signs of letting up on his reformist agenda. In January, he insisted that all permanent secretaries publicly sign and recite an integrity declaration with strong anti-corruption provisions. Since then, Magufuli and his administration have threatened to sack cabinet ministers who did not declare their assets and recommended that East African heads of state fire their underperforming employees appointed to the East African Community.
While this public show of intolerance for wasteful government spending and corruption by Magufuli is refreshing to many Tanzanians who have longed for meaningful government reform, there have been some equally concerning actions. In January, the government banned a weekly newspaper for printing stories warning of violence in Zanzibar, while the information minister announced that the government would only fund daily summaries of parliamentary proceedings as a cost cutting measure in place of standard live coverage. The announcement sparked outrage and protests by MPs and even an offer by leading opposition party, CHADEMA, to cover the costs for continued live broadcasts. Then in early February, Magufuli's foreign minister announced restrictions on government officials' interactions with international organizations or foreign embassies.
In the midst of all these changes, Tanzania also plans to hold a repeat of elections in Zanzibar on March 20. The main opposition party in Zanzibar, Chama Cha Wananchi (CUF), has pledged to boycott the polls and many foreign diplomats have condemned the re-vote, citing the Zanzibar Electoral Commission's failure to produce evidence of the irregularities that allegedly marred the original vote. Tanzanians are also expected to return to the polls in Spring 2016 for an anticipated referendum on a new constitution that many complain fails to reflect recommendations from previous public consultations such as changes in government structure, term limits for members of parliament and a 50 percent vote requirement for the winning presidential candidate.
Citizens and international organizations now need to follow Magufuli's reforms closely, being careful to discern between the stated goals of cutting costs and corruption, and the recent moves that seem more focused on consolidating the power of Magufuli's party, Chama Cha Mapinduzi. Tanzanians and the world no longer need to speculate #WhatWouldMagufuliDo. The question now is, what else will Magufuli do to rid the country of corruption, maintain peace through a period of transition and lead Tanzanians to peace and prosperity in 2016 and the rest of his term in office?
Top